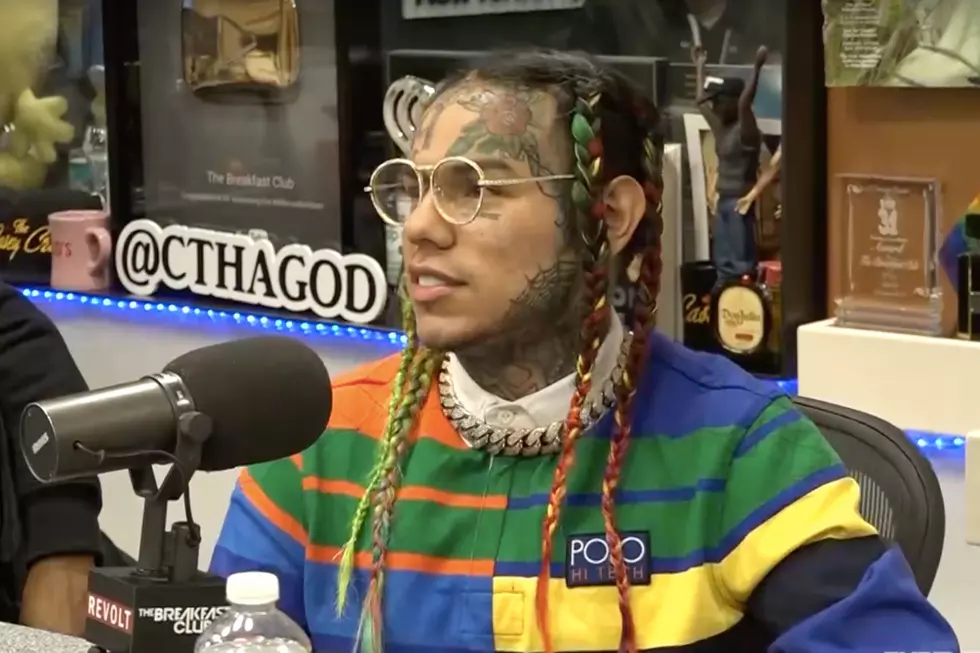 6ix9ine Claims He Fired His Team Because They Stole From Him
Breakfast Club Power 105.1 FM via YouTube
Nov. 17: A rep for MTA Booking has stepped forth to say that 6ix9ine is lying about them shorting him money. They tell TMZ there was never a $3.6 million concert deal, and that they paid him a total of $860,000 for 16 dates across the U.S., Mexico and Germany. They also say they handled his security and transportation.
Responding to those claims, 6ix9ine's attorney Lance Lazzaro said, "We have asked [MTA] to show us any contracts with Tekashi69's signature showing they were acting as an agent to book performances on his behalf and they haven't provided us with any to date ... Their cooperation has been very limited."
MTA is reportedly considering taking legal action against 6ix9ine for making these accusations against them on the radio.
Less than a full day after jumping onto Instagram and telling the world that he'd fired his team, 6ix9ine appears on Power 105.1's The Breakfast Club and offers up an explanation for why.
During the interview, Tekashi spotlights the perceived shady dealings that led him to make his drastic decision."There's so much money out there to be stolen, you know what I'm saying," he says to begin his explanation, one he delivered earlier today (Nov. 16). From that point on, the Brooklyn rapper begins telling a story about how at some point people he'd been working with ended up shorting him money—and a lot of it.
According to 6ix9ine, the story begins with MTA Booking, who allegedly convinced him to accept $60,000 for a show even though he says he usually doesn't perform for less than $100,000. He says they told him that venues were scared to book him and that they wanted to try and clear his name, so 6ix9ine eventually agreed to perform.
From there, 6ix9ine says he eventually linked up with some L.A. based people looking to set him up with a show. He doesn't say their names, but it appears this group of people is separate from MTA Booking. It was through a deal this group of people helped facilitate that 6ix9ine says he learned that his show money was getting skimmed.
"So I'm in L.A. right? I meet with—just say I meet with some people right? They about their shit, right? I'm not gon' say who, I just meet with some people, I make a deal, they about their shit," Tekashi begins for this portion of his story. "They like, 'Yo, we booked this show for you.' The day of the show was yesterday. They like, 'Yo come to...you got a show here,'' Tekashi continues, explaining the set-up for the show.
"I say, 'I'm not going to the show.' '[They say] why you not going to the show?' It's $60,000. Everybody know my rate is 100k and over. They call me and say, 'Are you crazy? We just put the 80,000 front end in.'" That's when 6ix9ine got suspicious, as he'd been led to believe he was getting paid $20,000 less than that—and that was just the front end.
From that point, Tekashi says, someone from the unnamed group of people he was working with for the aborted show told him that promoters had called them told them his mother's address so they could do harm to her if Tekashi didn't perform.
At another point, 6ix9ine seemingly jumps back to a conversation he was having with the unnamed L.A. person who'd told him about his promoters making threats toward his mother. It was then that the person told 6ix9ine that he'd been signed to a $3.6 million deal for 15 upcoming show dates. The promoters he'd been working with had told him that he'd be making a few hundred thousand dollars.
Upon piecing together these events and transactions and presumably confronting his promoters about the situation, Tekashi says they threatened to tell TMZ about his personal affairs if he didn't do as they wanted—which was to keep performing. That same day, he fired his team and canceled the rest of his Tr3y Way Tour.
Watch 6ix9ine speak on all of these events for yourself below. The part about his reasoning for firing his team comes in at about 13 minutes.
See Photos of 6ix9ine on the Red Carpet and More