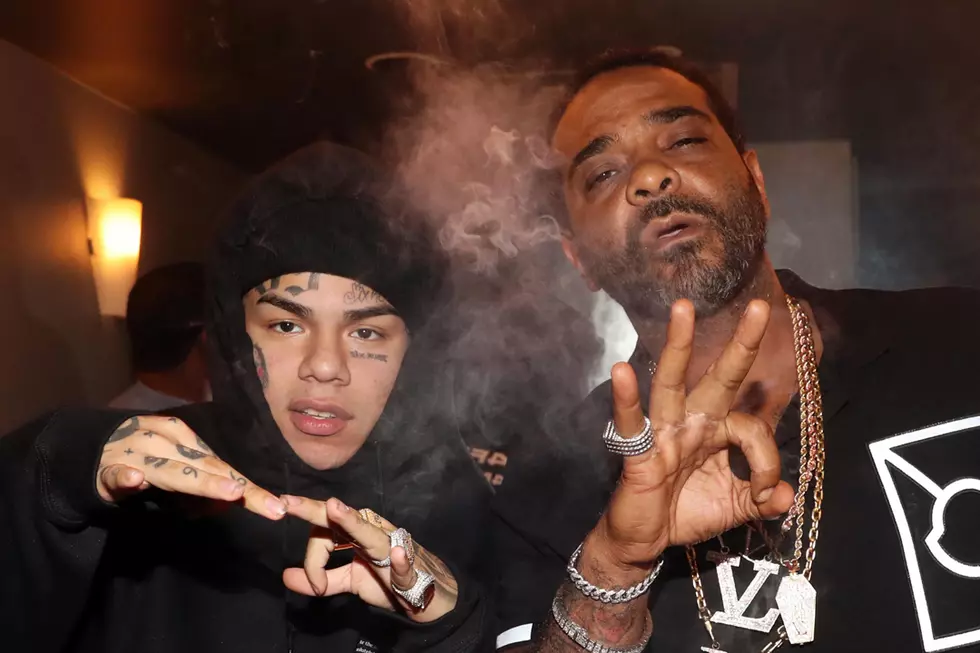 6ix9ine Testifies That Jim Jones Is a Nine Trey Gangsta Bloods Member, Calls Him a Retired Rapper: Report
Johnny Nunez, Getty Images
On Thursday (Sept. 19), the embattled rapper took the stand for day three of his testimony against former associates Anthony "Harv" Ellison and Aljermiah "Nuke" Mack. According to a series of tweets from Inner City Press reporter Matthew Russell Lee, 6ix9ine was asked who Jim Jones is, and he called Jim a "retired rapper" and said he is a part of Nine Trey.
"He's a retired rapper," 6ix9ine reportedly told prosecutors when asked him who Jim Jones is. Tekashi then replied by saying "yes"  when asked the question, "Is [Jim Jones] a member of Nine Trey?"
Jim and 6ix9ine seemingly had a relationship prior to 6ix9ine being jailed, as they'd been photographed together at various events. However, back in June, Jim spoke on the incarcerated rapper during an interview with The Cruz Show on Real 92.3 in L.A. The Harlem rapper called him a rat and "unmentionable."
"Screw him," Jim said. "He did some actions that he can't come back from, so his name non-mentionable. If you a rat, then you're a rat forever. That's a subject we don't even have to touch on."
"69 going up in s federal courthouse today kids! Message of the day don't be a Internet gangsta... be yourself! #cloutisnottheroute get money," reads Meek's tweet.
See tweets documenting 6ix9ine's testimony below.
See Photos of Every XXL Freshman Ever Inducted Into the Freshman Class Over the Years