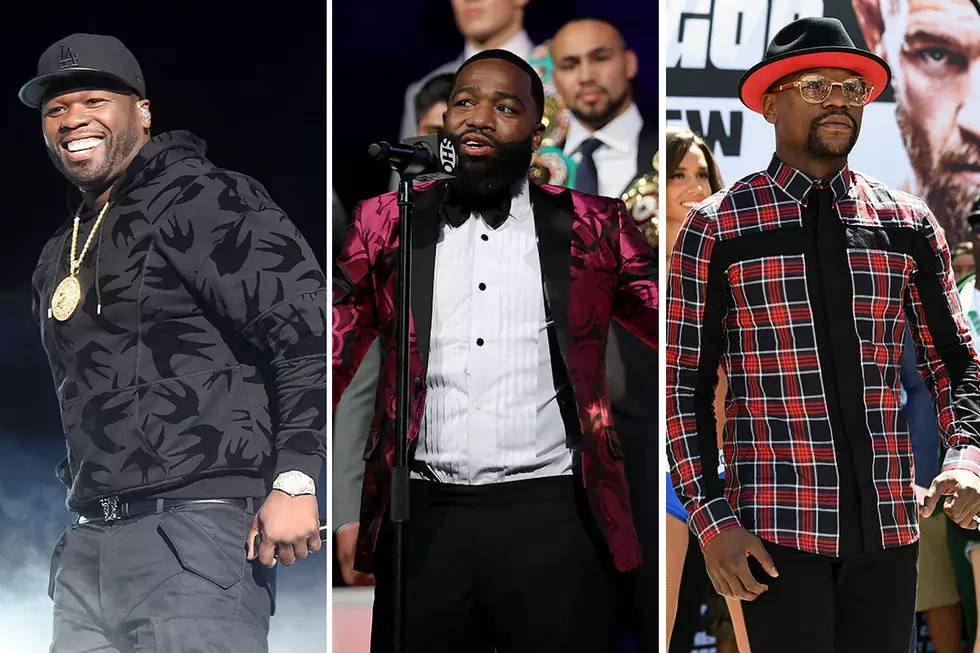 Boxer Adrien Broner Wants 50 Cent and Floyd Mayweather to Make Amends
Abbie Parr / Jamie McCarthy, Getty Images (3)
On Monday night (July 30), the boxing star was spotted by TMZ as he was leaving a Los Angeles nightclub. Accompanied by fellow athlete Gervonta Davis, Broner shared a message to Fif and Floyd regarding their ongoing feud. "Aye, Floyd and 50 y'all on some bitch ass shit man," Broner begins. "Y'all brothers man. Y'all some bitch ass niggas. Y'all need to stop it man."
"I'm mad as fuck y'all doing that in the public, man," he added. "50 go to his house right now and y'all will be laughing together. Get that shit together, man. I love both of y'all man. We Black, man. They already want us to lose, man."
The seemingly never-ending saga between the former business partners was reignited last week after Floyd posted a lengthy open letter to the rap mogul on his Instagram. In the letter, the pro-boxer delivered some below-the-belt jabs including claims that 50 was a police informant and lacks a personal relationship with his eldest son Marquees. The rapper, however, didn't hesitate to retaliate on social media as he threw subtle jabs of his own including jokes about Floyd allegedly being illiterate.
It looks like Broner could be getting his wish, as an Instagram post on Saturday (July 28) showed 50 Cent speaking relatively kindly of Mayweather and even referred to him as his "little brother."
The jokes and insults aside, it's good to see Broner step in between his two friends and ask them to make amends.
Check out Broner's statement below.
See Photos of 50 Cent's Different Looks Over the Years