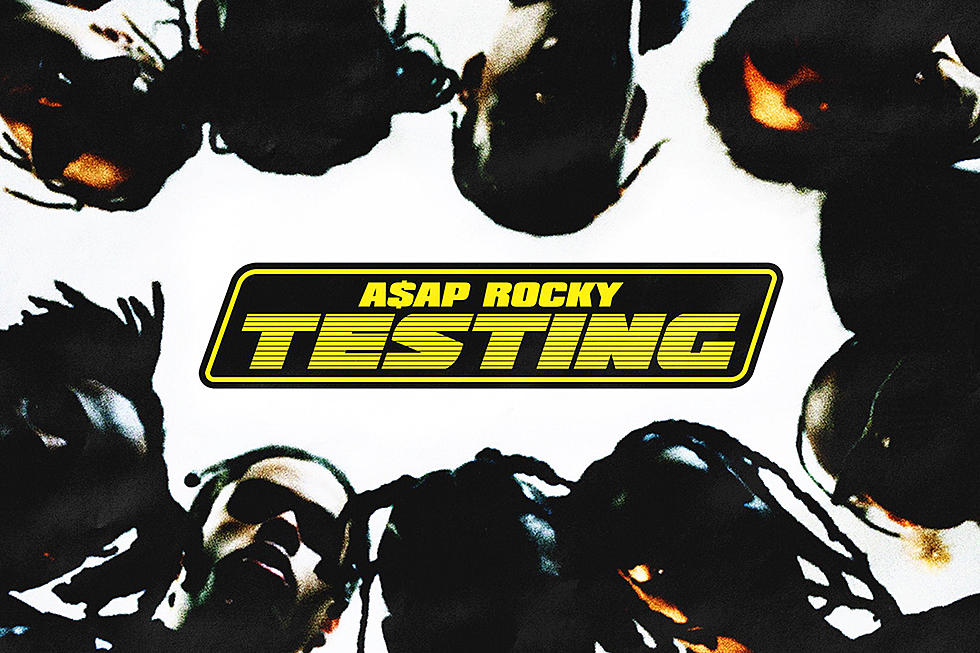 ASAP Rocky Unveils 'Testing' Album Tracklist and Production Credits
RCA Records
Looks like A$AP Rocky is excited to watch Solo this weekend. Hours before the suspected release of Flacko's new album, Testing, he shared the tracklist and production credits in the form of a Star Wars-style crawling scroll today (May 24).
The video, shared on Rocky's social media, reveals that the 15-track project includes features from Kid Cudi, Moby, FKA Twigs, Skepta, Kodak Black, Playboi Carti, Smooky Margielaa, French Montana, Dev Hynes, and Frank Ocean, who appears on two songs. The final track also features Lauryn Hill, although it's presumably just a respectful nod to the track's sampling of her song, "I Gotta Find Peace of Mind."
Rocky's longtime collaborator Hector Delgado handles much of the production, with additional contributions from Skepta, Clams Casino, Dean Blunt and Dev Hynes, among others. The esteemed Juicy J earns an executive producer credit.
On Sunday, the A$AP Rocky leader teased the project in a performance art piece featuring Rocky trapped inside a glass box, and further toyed with fans' minds with a cryptic Instagram post on Monday that featured the caption, "525," leading many to believe the project will drop on May 25. The album follows the Harlem rapper's 2015 album At. Long. Last. ASAP. as his third studio full-length.
A$AP Rocky Testing Tracklist
1. "Distorted Records" (Produced by Hector Delgado, A$AP Rocky, Mario Loving and Nesbitt Wesonga)
2. "ASAP Forever" featuring Kid Cudi and Moby (Produced by Hector Delgado and A$AP Rocky)
3. "Tony Tone" (Produced by FnZ, Hector Delgado and A$AP Rocky, Supporting Vocals by Puff Daddy)
4. "Fukk Sleep" featuring FKA Twigs
5. "Praise The Lord (Da Shine)" featuring Skepta (Produced by Skepta)
6. "Calldrop" featuring Kodak Black (Produced by Boys Noize, Supporting Vocals by Dean Blunt)
7. "Buckshots" featuring Playboi Carti and Smooky Margielaa (Produced by Kelvin Krash, Supporting Vocals by Kelvin Krash)
8. "Gunz N Butta" (Produced by Hector Delgado, A$AP Rocky, Mario Loving and Nesbitt Wesonga, Additional Production by Boys Noize, Supporting Vocals by Juicy J)
9. "Brotha Man" featuring French Montana and Frank Ocean (Produced by Rico Love and D-Town The Great, Supporting Vocals by Snoop Dogg)
10. "OG Beeper" (Produced by Hector Delgado, A$AP Rocky, Mario Loving and Nesbitt Wesonga, Additional Production by Boys Noize, Supporting Vocals by BlocBoy JB)
11. "Kid$ Turned Out Fine" (Produced by CharlieMumbles and Estiee, Additional Production by Hector Delgado and A$AP Rocky)
12. "Hun43rd" featuring Dev Hynes (Produced by Devonte Hynes)
13. "Changing" (Produced by Jim Jonsin, FnZ, Hector Delgado and Flacko, Additional Production by Jerry "tizhimself" Powell and Khalil)
14. "Black Tux" (Produced by Clams Casino and Tank God, Additional Production by Hector Delgado, Flacko and Krash)
15. "Purity" featuring Frank Ocean and Lauryn Hill (Produced by Dean Blunt, FnZ, Hector Delgado and A$AP Rocky)
See New Music Releases for May 2018