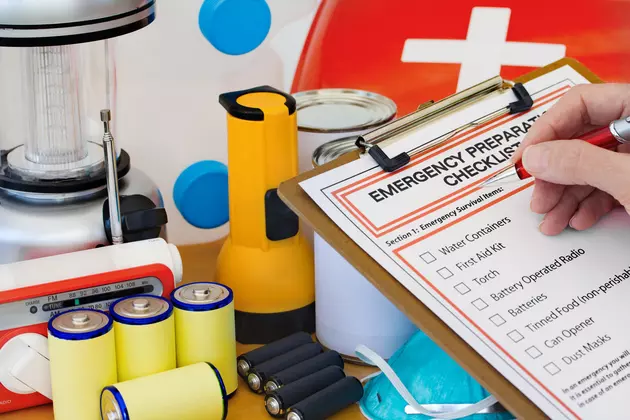 Citizens of Calcasieu Parish Urged to Prepare for Severe Weather Threat
Pixsooz
Calcasieu Parish Sheriff Tony Mancuso is encouraging residents to be prepared for the threat of severe weather, like a hurricane, in Southwest Louisiana. As the current threat continues to evolve, he's urging everyone to "be prepared for hurricane-force winds by Saturday with possible rainfall totals anywhere from 10-20" which would result in significant flooding". 
"All of the law enforcement agencies, as well as Office of Homeland Security, in Calcasieu, have been in contact with each other and we are all on the same page," says Sheriff Mancuso. "Our main concern for all of us is the safety of our citizens."

The Sheriff's Office has all of their high water resources deployed on both sides of the parish. "We are prepared for a worst case scenario but hoping for a best-case scenario," says Sheriff Mancuso.

"Awareness and preparedness are the keys to securing the safety and well-being of your family and property".
Below is a list of preparation tips:
---
Plan an evacuation route.
Have disaster supplies on hand (flashlights and extra batteries; first aid kit and manual; battery-operated radio and extra batteries; emergency food and water; nonelectric can openers; essential medicines; cash; credit cards and sturdy shoes).
Make arrangements for pets.
Ensure that family members know how to respond after a hurricane.
Teach children how and when to call 9-1-1, police or fire department.
Protect windows.
Trim back dead or weak branches from trees.
Check into flood insurance.
Develop an emergency communication plan so that family members can reunite if separated.
DURING A HURRICANE WARNING
Listen constantly to a battery-operated radio or television for official instructions.
If in a mobile home, check tie-downs and evacuate immediately.
Store valuables and personal papers in a waterproof container on the highest level of your home.
Avoid elevators.
Stay inside. Keep away from windows or glass doors.
Keep a supply of flashlights and extra batteries handy. Avoid open flames such as candles.
If power is lost, turn off major appliances to reduce power "surge" when electricity is restored.
Leave as soon as possible. Avoid flooded roads and bridges.
Unplug appliances and turn off the electricity and the main water valve.
Tell someone out of the storm area where you are going.
Elevate furniture to protect it from flooding, if time permits.
Bring pre-assembled emergency supplies and warm protective clothing.
Take blankets and sleeping bags to shelter.
Lock up home and leave.
Sheriff Mancuso had one last thing to add,
"While we can't stop the forces of a hurricane or tropical storm, we can take steps to limit our vulnerability to their destructive nature. Now is the time to devise an emergency preparedness plan for you and your family. Our goal is to help keep you safe. The Calcasieu Parish Sheriff's Office is prepared. Are you?"
Take this time to seriously ask yourself, are you prepared? If not, get prepared, right now. Don't hesitate. It's better to be safe than sorry.