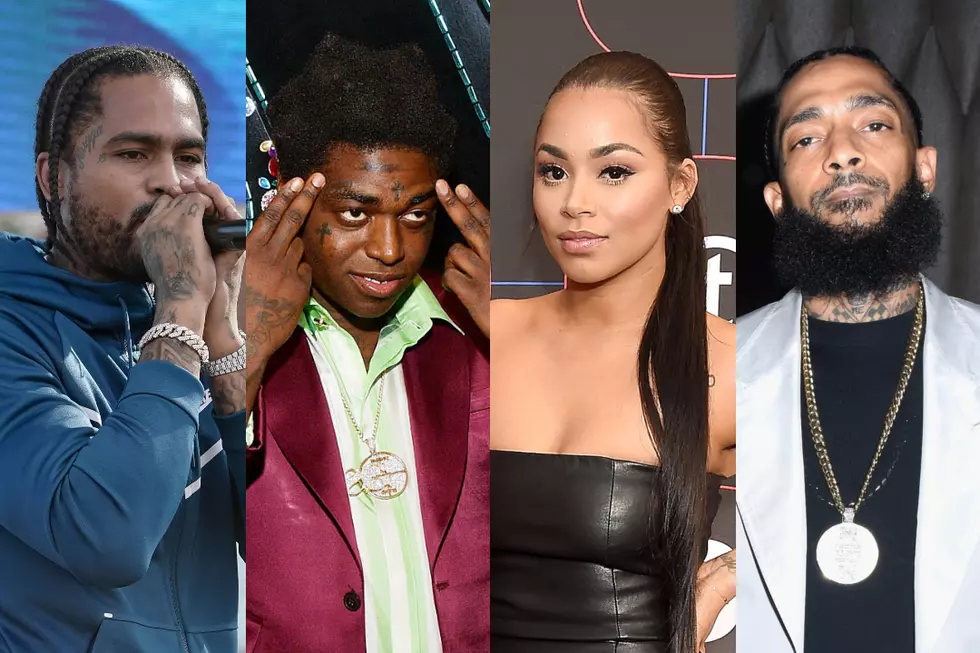 Dave East Explains He Removed Kodak Black From His New Album Because of Rapper's Lauren London Comments
Jemal Countess / Matt Winkelmeyer / Gregg DeGuire / Vivien Killilea , Getty Images (4)
During an interview with Big Boy that was published Tuesday (Nov. 12), the Harlem rapper told the Los Angeles-based, Real 92.3 radio that he doesn't have any personal beef with the Florida rapper. However, East didn't want to disrespect his deceased friend by having Kodak, who made some controversial remarks about Nipsey's girlfriend Lauren London after Nipsey's death, on his Survival album.
"I don't have a problem with Kodak personally," Dave East told Big Boy. "I don't even know him like that. We met maybe twice. I made the XXL cover with him. We was on that together, but me and Nip, like I said when you asked me, it was deeper than rap. So anybody, I don't care who it might've been, you know what I mean, don't speak on that man after that man gone if it's not in a good light. Don't speak on that man's woman, that man's kids. Don't bring that man up! That's just my opinion on it. Take it how you want to."
The song in question also featured a verse from both Lil Baby and Kodak. Despite his thoughts on the final cut of the song, East explained that he didn't feel right about having both a record with Kodak and a song memorializing the late Nipsey Hussle on the same LP.
Fans called out Kodak Black after he was seen in a video saying that he'd give Lauren some time to mourn the death of Nipsey, but that she could call him up when she was done. With this in mind, East says he couldn't let the song be on his album with a Kodak feature.
"Just sitting back listening to it, it was dope," East admitted. "But I just couldn't have a song called 'The Marathon Continues' where I'm talking to my brother and he's on it and then a few songs before that you know.... that's just me man. I'm a loyal dude. I'm real. I don't hold my tongue. I ain't got no filter. That's just me. The Internet is going to spin it how they want to spin it but like I said, I don't have a problem with homie. Free Kodak Black."
Watch Dave East speak on the matter below.
See Photos of Every XXL Freshman Ever Inducted Into the Freshman Class Over the Years