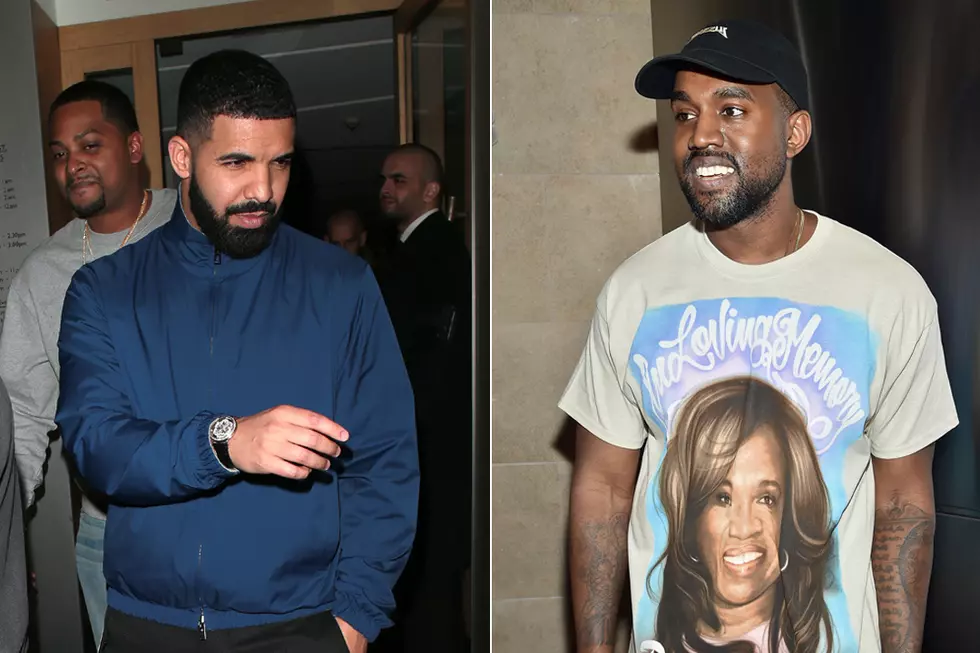 Drake May Have a Version of "Nice for What" With Kanye West
Ricky Vigil M / Dimitrios Kambouris, Getty Images (2)
On Tuesday (May 29), Drake once again found himself atop the Billboard Hot 100 chart when his Murda Beatz-produced new single, "Nice For What," reclaimed the No. 1 spot. As it turns out, his on-off friend/collaborator Kanye West was reportedly supposed to be right there with him.
Yesterday, Ebro in the Morning host Ebro Darden claimed that Drizzy and Kanye had been recording together in Wyoming before Drizzy left for unspecified reasons. He also says there is a version of "Nice for What" that includes a Yeezy feature.
"I'm told when [Drake] left Wyoming or wherever, he started calling around looking for beats," Ebro explained. "He was calling people looking for beats...Like yo, I need some records and people was like, in the producer world, like 'You just left Kanye.'"
"And yes, there's supposedly. Kanye was supposed to be on 'Nice For What,' or there's a version of 'Nice For What' with Kanye that we may never hear," he continued.
If you've been following the saga of Drizzy and Kanye, you know Yeezy called out Drake during an epic mid-concert rant in November 2016. While we didn't hear too much about how Aubrey and 'Ye did or didn't fix up their issues, Yeezy did appear on the 6ix God's More Life last spring.
Then, seemingly out of nowhere, Drake used a Pusha-T diss track ("Duppy Freestyle") to seemingly accuse Kanye of being jealous of his collaborator Virgil Abloh. If the two had been in the studio recently, we're only left with more questions about where and when their relationship once again soured.
Check out Ebro's bit about Drizzy and Kanye for yourself in the video below. It begins at around the 10:10 mark.
Check Out the 2018 Hip-Hop Music Festivals You Need to See