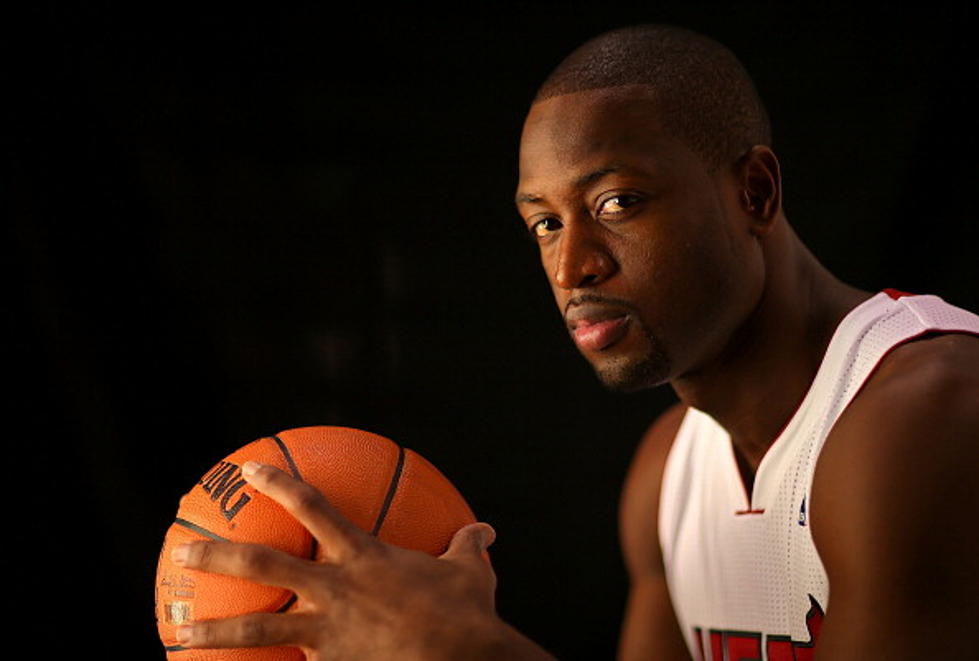 Dwyane Wade's New Baby Mama Revealed
Photo by Mike Ehrmann/Getty Images
Congratulations to Dwayne Wade and Gabriel Union.  The superstar couple was engaged a few days before Christmas.  Unfortunately, the new year is already getting off to a bumpy start.  During the couples "break", D-Wade got another woman pregnant. The baby is two months old and his mother is finally being revealed.
Up until recently, Aja Metoyer was pretty active on social media, but now her accounts are either deleted, made private, or edited down to pretty much nothing. Who is she? Aja Metoyer is described as someone Wade has known for "many years."  As a matter of fact, back in May of 2010 he sent out a tweet on Mothers' Day and showed his admiration to a few "strong women" and they included Aja Metoyer!
TMZ revealed she has two other children, daughters Amara and Aniya, both belonging to Damon Wayans, Jr.  As in, the son of comedian and actor Damon Wayans. It's also being reported that Damon is very involved in his daughter's lives
Wade also has two children with his ex-wife Siohvaughn Funches: Zaire; 11 and Zion; 6. He has custody of both children after a very public and bitter divorce, which lasted three years. By the way, it's being reported that one of Aja's sisters, Cristen Metoyer is the mother of NBA star Joe Crawford's daughter!
TMZ Sports has obtained the birth certificate for Dwyane Wade's brand new son ... which lists the child's name as Xavier Zechariah Wade.  Xavier was born in Los Angeles on Nov. 10, 2013, ironically just 6 weeks before Wade popped the question to Gabrielle Union.  The basketball baller got down on bended knee and put a "put a ring on it"........an 8.5-carat diamond stunner, made by Jason of Beverly Hills.  The two superstars have been dating since 2009, however Dwayne says his son was conceived while he and Gabby were supposedly "on a break".
In a recent interview regarding his new son and Gabrielle, Dwyane said "In our time apart, in our break, in our pain and our hurt, a blessing came out of it in my life, having a son who was born healthy."
When asked if Xavier's birth was a contradiction to what he wrote in his book Father first, "It would compromise it if I wasn't a father first," Wade continued, "This is something obviously private for my family that we will continue to deal with as a family. But we have a blessing, too, to the bloodline, the Wade bloodline. From that standpoint, to me, it doesn't state anything differently than what I've always shown."
Dwyane further stated, "I'm in the public eye, so obviously that's a part of it. It comes with the territory. But, it's kind of … as I've always done my whole life … is always focus on what's most important to me and my family, and that's being a great father. I've always tried to show my importance in my kids' lives and it doesn't change now."
Interestingly enough, Metoyer didn't list Wade as the father on the birth certificate, but she did give the child Dwyane's last name.
According to reports, Dwyane has been making a effort to be a part of his son's life and has visited Xavier several times since his birth.  Most recently, while he was in L.A. to play the Lakers on Christmas Day.