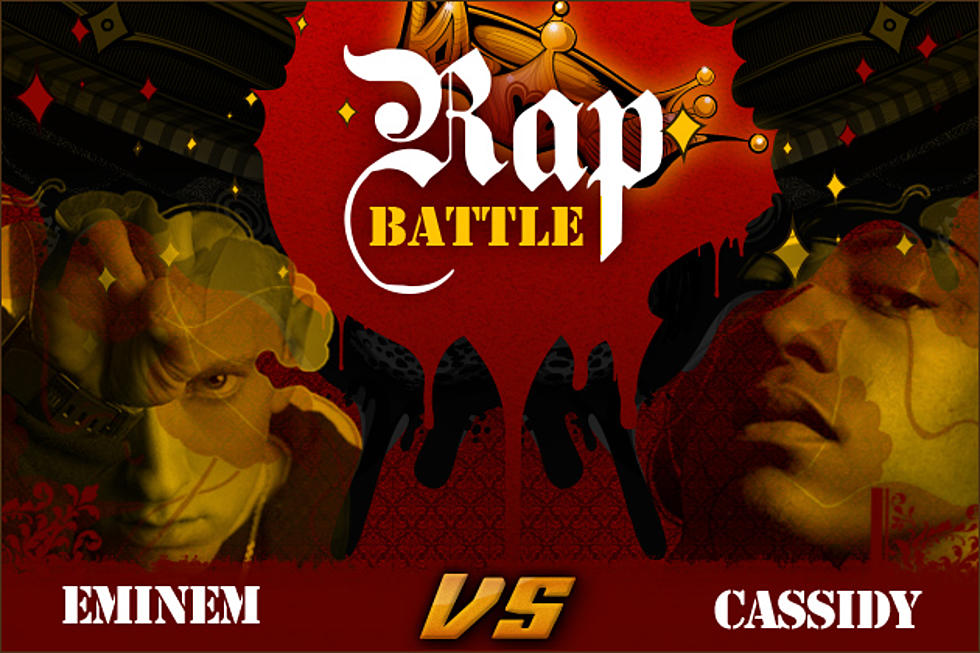 Eminem vs. Cassidy – Rap Battle
TheDrop.fm
Eminem's 'Berzerk' is holding on to the top spot in this week's Rap Battle, after beating Lil Wayne's 'You Song' featuring Chance the Rapper. Marshall Mathers walked away with 82.41 percent of the vote while Weezy only took 17.59.
Off his upcoming album, 'The Marshall Mathers LP 2,' 'Berzerk' is old school Slim Shady, where he takes it back with a Beastie Boys-inspired sound thanks to famed producer Rick Rubin. The video for the track debuted earlier this week.
"Now this s---'s about to kick off, this party looks wack / Let's take it back to straight hip-hop and start it from scratch," Eminem delivers in the beginning of the track.
The Detroit native goes up against Cassidy this week. The Philadelphia rapper is out for vengeance with his new track, 'Catch a Body (Meek Mill Diss).' Clearly stated in the title, Cassidy throws lyrical punches at Meek after he dropped his own diss, 'Kendrick You Next,' which targets Cassidy. Using the instrumental from Canibus' 'Second Round K.O.,' he not only blasts the fellow Philly spitter but also his mom, girlfriend and just about anyone who's associated with him.
"I'm a legend / You know what I did already / Everybody know I bodied you in your crib already / I bodied you on every song that we ever made / Then I bodied you again when I put together 'Raid,'" Cassidy delivers.
Will Eminem win for a third week or will Cassidy take his spot? You can vote once per hour until the poll closes on Thurs., Sept. 19, at 10AM ET.
Watch Eminem's 'Berzerk' Video
Listen to Cassidy's 'Catch a Body' (Meek Mill Diss)
Rules of Rap Battle
Two hip-hop artists compete against each other each week. The triumphant artist goes on to compete in the next Rap Battle. If an artist wins four straight Rap Battles, the song will be honored as immortal in TheDrop.fm Rap Battle Hall of Fame.