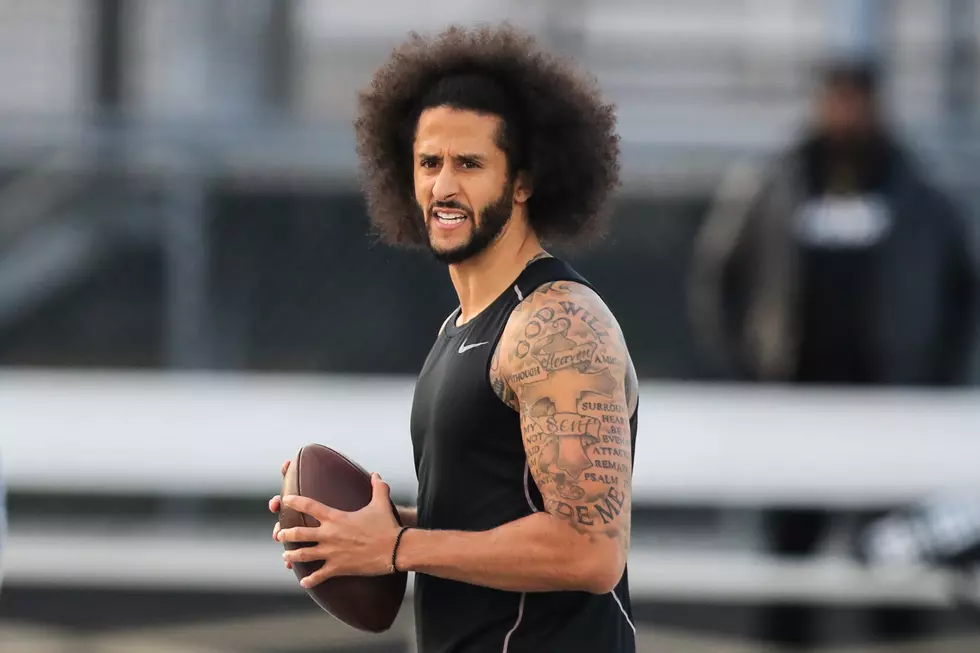 Eric Reid And Max Kellerman Check Stevie A. For New Pro-NFL Stance
Getty Images
ESPN sports analyst Stephen A. Smith went from Colin Kaepernick's cheerleader, to the main person criticizing his Saturday afternoon workout in Atlanta. If nothing else Kaep has everybody talking about how it all went down. The only thing is, folks can't decide if he'll get signed or if he blew his shot to play pro-football ever again. According to USAToday the day of, the former football superstar moved his NFL scheduled workout from the Falcons practice field to a nearby high school. The relocation was said to have taken place an hour to three hours before the event was supposed to go down.
Why? According to Kaepernick he wasn't down with all the secrecy and everything being behind closed doors so to speak. He reportedly wanted everything to be completely transparent so that EVERYONE could see the workout first hand and film it if they chose. If by chance you missed the workout, peep it below:

Fox News reports that there were not 25 teams present at Kaepernick's workout, there were 8. Those teams included: San Francisco 49er's, Kansas City Chiefs, Detroit Lions, Philadelphia Eagle, New York Jets, Buffalo Bills, and the Washington Redskins. Scouts from those teams reportedly had nothing but good things to say about Kaep's athletic ability and unanimously agreed he was in great physical condition. Yet none of the coaches or owners from those same teams, have issued a public statement, good or bad, about the workout nor Kaep's chances of getting a deal.
Monday during a pregame show on CBS,
Boomer Esiason, also took a pro-NFL stance
 suggesting
 Kaepernick's grievance with the NFL a "shakedown." Stephen A. picked up where he left off on Twitter and continued to blast Kaepernick for blowing his opportunity to play again. Meanwhile at the ranch, there are plenty of people in the sports world who feel Kaepernick and his camp are right on point. He didn't break any laws, or do anything wrong. 
Many feel the NFL planned workout was hastily done from the beginning, that the workout waiver was sketchy at best and the fact the famous athlete had no control over the video footage was foul. A war of words jumped off between the First Take host and Kaepernick's former 49er's teammate Eric Reid. The Carolina safety had enough of Smith's ranting and reminded him that Colin Kaepernick has no reason to trust the NFL. Reid is not by himself, other players and sports analysts share his sentiments.
Below, see what people are saying. Smith's own First Take co-host Max Kellerman went in on him, and recalled the facts surrounding why Kaep was in this situation in the first place. Kellerman called his fellow sports commentator out for drinking the kool aid and losing sight of how unfair the NFL has been to Kaepernick. Adding Smith was being down right petty for talking shots at Colin's T-shirt, saying "who the hell cares what his shirt said!"

As for a consensus on whether or not the 32-yr old still has what it takes to play in the NFL...the answer is a resounding YES.
CBS Sports reports all the NFL scouts got what they came for. That they were impressed with Kaepernick, who showed no fatigue during the workout, great mobility and extreme arm strength. The former football star put his skills on display throwing post routes, in routes, out routes, fly routes and even routes in the flat. He also threw several deep passes and hit 99% of them.
At the end of the day, Colin Kaepernick did what he was supposed to do at the workout. That was show the world he can still play and throw at a pro-level. Clearly his skills, athleticism and physical fitness are A-1. Is this enough to get signed? That's up to the NFL, the ball has always been in his court. I truly hope so though. I hope that one these teams/owners will set a new standard of tolerance. I truly hope one of the 32 NFL teams/owners has the courage to step-up and take a chance on a great human being.