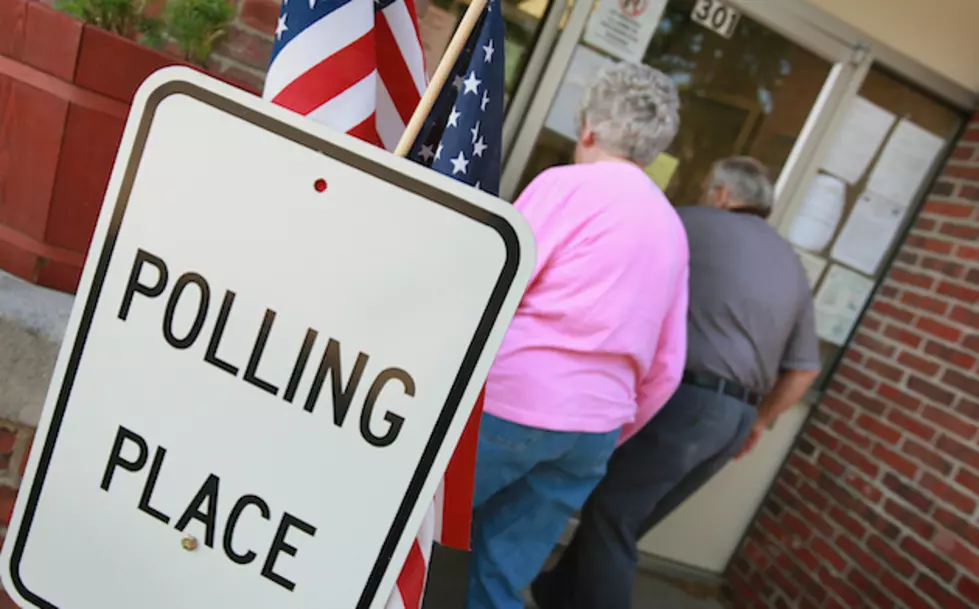 First Time Voter? Here's Some Things You Should Know Before Going To The Polls
Voters arrive at a polling place to cast ballots-getty images
If your a first time voter, congratulations!  Here's some helpful information on how to navigate your first time going to the polls. 
For starters, you should know that it is illegal to wear any type of political attire to the polls.  Another words, DO NOT wear a button, hat, wrist band, carry a sign or wear a T-Shirt with your candidates photo, political slogans or voting parties on them, because you WILL NOT be allowed to vote or stand anywhere on the voting precinct property.  This will include your vehicle, so if you have a campaign sticker on it park it away from the building or precinct.  If you choose to wear political attire anyway, you will have to leave or take it off before you will be allowed to enter the voting precinct or property.  This a the law and it will be strictly enforced, so just don't do it.  Secondly, try and take advantage of "early voting" on October 23rd through October 30th, polling hours for "early voting" will be from 8:30 a.m. to 6:30 p.m.
It is also important to know that you can call the Registrar of Voters at 721-4000 anythime their regular hours are 8:30 a.m. -6 p.m.  They will also be open 6am - 8pm on election day, so if you have any problems at the polls or any questions at all call them.  On election day if for some reason you can't get through to the Registrar of Voters office, call the Louisiana Secretary of State's office at 1-800-883-2805.
Third, there is a 3 minute time limit once you are in the voting booth.  So be prepared and know what's on the ballot before you get there.  A perfect way to be prepared is to print out a sample ballad.  Simple go to GEAUXVOTE.COM, click on "ARE YOU A VOTER", click "FIND VOTER", then click "BY VOTER" enter your info and click submit, at the top click "BALLOT INFORMATION", then "WHAT'S ON MY BALLOT" and there you have it.  Your sample ballot.  This is exactly what you will see when you get in the voting booth.  Print it out, fill it out and bring it with you to the polls on election day.
HERE ARE YOUR CANDIDATES FOR THE NOVEMBER 6TH ELECTION:
Also, the best source to read the amendments in plan English is to go to parlouisiana.com.
Also, if you registered to vote and have not received your voter registration card in the mail yet call the Registrar of Voters office to check the status of your registration at 721-4000.  All it means is your registration is being processed.  There is nothing to worry about, however you may not be able to vote during "early voting".  So, again if you didn't get your registration card in yet call the Registrar of Voters office.
Once again congratulations on being a registered voter!!  Remember to fill out the entire ballot when you go to vote.  Double check everything before you push the button to cast your vote.  Be extra careful not to press it on accident, because once you push it...that's it.