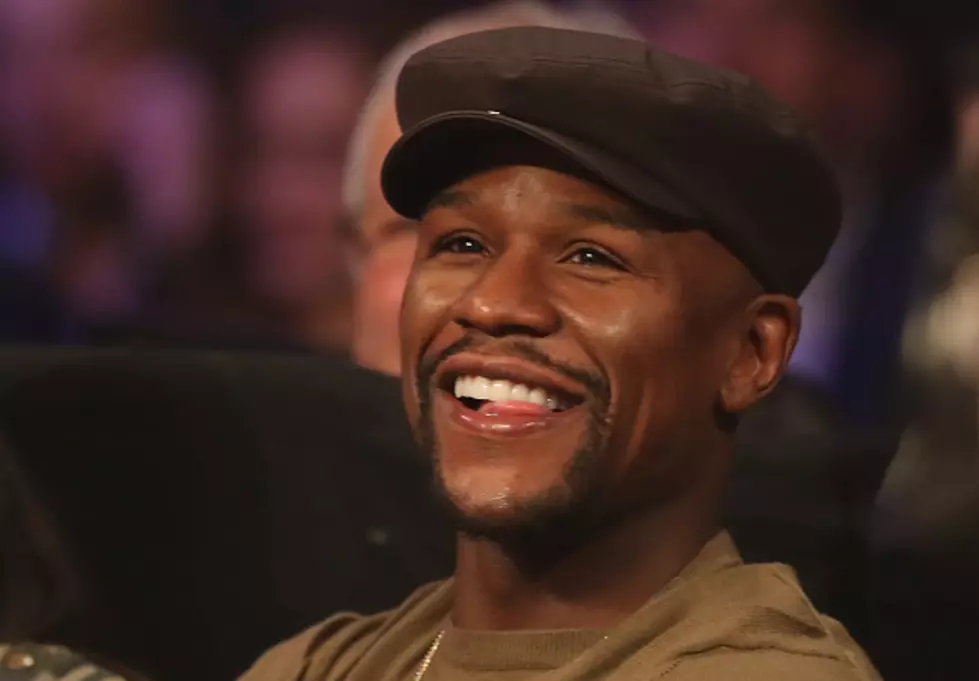 Floyd Mayweather TMT Van Set On Fire In England – Tha Wire
Getty Images
Today in Tha Wire boxer, Floyd Mayweather, was a victim of arson while in Birmingham, England over the weekend.  Money May was in the UK as part of his Undefeated Tour, when a custom van in his motorcade was torched.  TMZ reports no one was hurt, or in the van at the time. It's unclear as to whether or not anyone is in custody, but a rep for the Ladywood Fire Station told the news outlet, 2 individuals were responsible.
According to TMZ they assailants broke a window on the van and threw a Molotov cocktail inside, burning the custom Money Team (TMT) van to a crisp.  A bystander caught footage of the aftermath and uploaded a video of the burned out van on Instagram. Peep the video below.
It's obvious somebody don't like Floyd.  The van went up in flames outside the International Convention Centre, where Floyd was a guest speaker Saturday night. The incident is currently under investigation, as details unfold we will update this story. Meanwhile, in spite of being detailed with his TMT logo, it's being reported that Mayweather didn't actually own the van.  Word has it his promotions team had the van wrapped to promote the tour and traveling it while they were in the UK.
What's crazy though, this is the second time the boxer has lost a vehicle in a fire.  In 2015 Mayweather's longtime car guy was shipping 4 of his luxury vehicles from Vegas, to Miami when something went extremely wrong.  The boxer lost all of his vehicles when for some unknown reason, the 18-wheeler transporting the cars caught fire in Phoenix, Arizona. TMZ Sports managed to film the truck, while it was still on fire!  Check it out below.
They weren't just any kind of cars either.  Floyds limited edition Rolls Royce Phantom, a Rolls Royce Drophead, Bentley Mulsanne and custom Jeep, all burnt to a crisp when the trailer caught fire on October 7.  All together the insanely expensive supercars carried a price tag of about, $1.2 to $2 million.
Below Money May shows off a couple of the cars to TMZ Sports, prior to them going up in flames.
Wow!  The Birmingham fire is nothing compared to his loss in 2015.  As far as who did it, and why, I will keep you posted as the story is still developing.  For all things entertainment be sure to get the daily scoop with Tha Wire and only on The People's Station 107 Jamz.