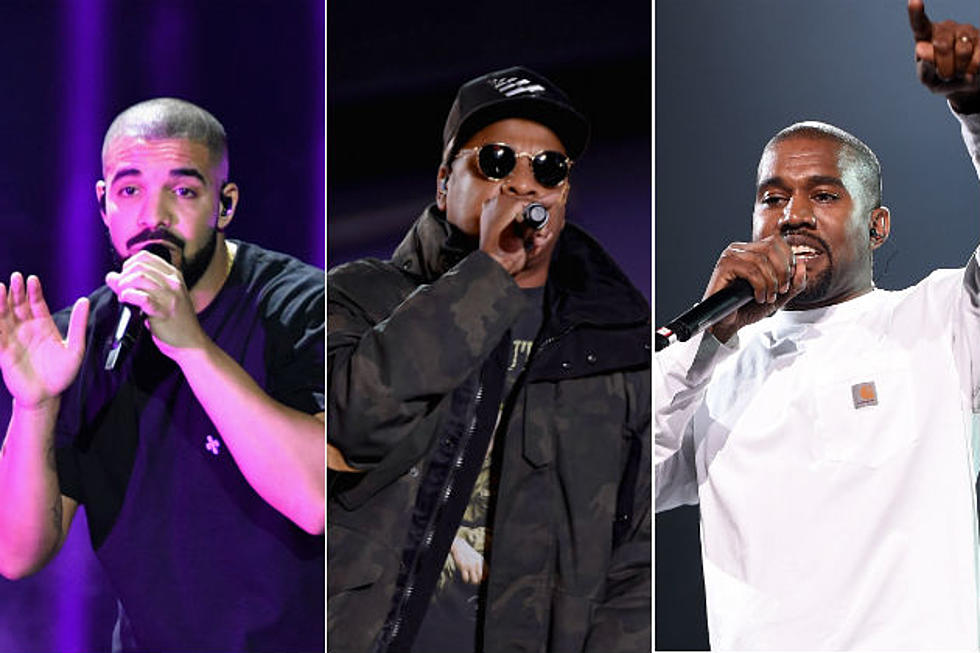 Here Are the Best Hip-Hop Memes of 2016
Mike Windle / Gary Gershoff / Dimitrios Kambouris, Getty Images (3)
Hip-hop in 2016 had its share of drama, controversy and storylines that are stranger than fiction. With every spectacle, rumor or beef, fans reacted with hilarious memes. The Drake and Meek Mill fiasco that spiraled out of control online in 2015 finally died down. This made way for new levels of meme hilarity unlike anything we've seen in the history of social media. The Internet jokes took on crazier twists as hip-hop fans became more creative with their editing skills. No artist -- big or small -- was safe this year.
Drizzy was surprisingly more lowkey on the meme rader than in the past, but he still slipped into the fold somehow. The always outspoken Kanye West found himself at the center of several meme cycles for his controversial rants on Twitter and at his concerts. No one would have predicted Beyonce's Lemonade would set off a wave of questions surrounding her and Jay Z's relationship, which would then inspire a stream of memes for weeks. Another rapper took advantage of the Internet's petty ways and used meme culture to his advantage to get his name buzzing again. The random nature of a veteran hip-hop mogul storming a radio station in April evolved into some of the best memes of 2016.
Any avid social media user knows memes come and go quickly. It's hard to remember what was hot even two weeks ago because the next better thing is always coming to grab our attention. So we dug up some of the best hip-hop memes of 2016 for your viewing pleasure.
1

Drake is easily the most meme-able rapper out there. This photo of him staring perplexed at his cell phone is all of us when we're in the middle of one of those awkward texting conversations. He could just be checking the weather, but it's funnier to imagine a more dramatic circumstance.

2

At first, Yung Joc's fresh perm and hair cut shocked all of us. But it turns out he was trolling. The rapper released most of the memes himself to stir conversation. It is also highly likely he is playing a role in a movie set in the 1960s, which explains the new 'do.

3

This Battle Rapper's Face

The most popular meme of 2016 is of battle rapper Conceited's infamous "you played yourself" face that was caught on camera during a lyrical matchup in 2009. His opponent had been fumbling, which stirred the facial reaction that has been photoshopped over and over. "It's the internet. It doesn't bother me one bit. I actually like it," he told Buzzfeed.

4

Rap Snacks, a brand of potato chips featuring hip-hop artists on the packaging recently added Migos to their product line-up. A video of the freestyle jingle for their "Dab of Ranch" flavor had folks going crazy and was turned into gifs and memes immediately after.

5

During Kanye's tour stop in Seattle this year he revealed possible trouble with he and Jay Z's relationship. "Our kids ain't never even played together," he lamented. Following the quote, the Internet took hold of images of Blue Ivy and Jay at lunch and had a field day coming up with interactions of her asking about her "uncle Kanye."

6

The words "put some respeck on my name" will forever be etched in our minds. Birdman had the biggest blow up at a radio station since Kanye's "you ain't got the answers" temper tantrum on the Sway in the Morning Show.

7

When Wiz Khalifa tweeted "KK" he was talking about his kush, but Kanye West thought he was taking a jab at Kim Kardashian. This set Yeezy off and he carried out a verbal attack on Wiz and Amber Rose. The vixen turned media personality hit back even lower by spilling tea about Kanye's sexual preferences which pretty much shut him up.

8

Jay Z was the butt of all the jokes after Beyonce released her Lemonade album. Some speculated whether her line "Becky with the good hair" and lyrics about infidelity and redemption were inspired by him. Many of the memes imagined Jay Z's reaction to the music.

9

Thanksgiving had a theme song this year. Instagram user RemixGodSuede took a clip of a gospel record by the legendary Shirley Ceaser that was circulating the web and put a trap spin on it. Several rappers hopped on the track including Kurupt, Snoop Dogg and a vegan rapper by the name of Grey.

10


We're used to seeing

Diddy

in low cut ceasers, deep waves and shiny suits, but he had a YOLO moment earlier this year when he rocked a wig for Beyonce's 70s themed birthday party. The folks over at Twitter held no punches though when it came to clowning it.

11

This year Quavo of Atlanta trio Migos broke out and shined on features. The group has proven their staying power, but now more people are noticing the star might be Quavo and some fans are hyping that he is the Beyonce of Migos.

12

Drake's 'Views' album art wasn't safe upon it's release. Everyone from Birdman to Beyonce to Kobe Bryant was photoshopped onto Toronto's CN Tower.