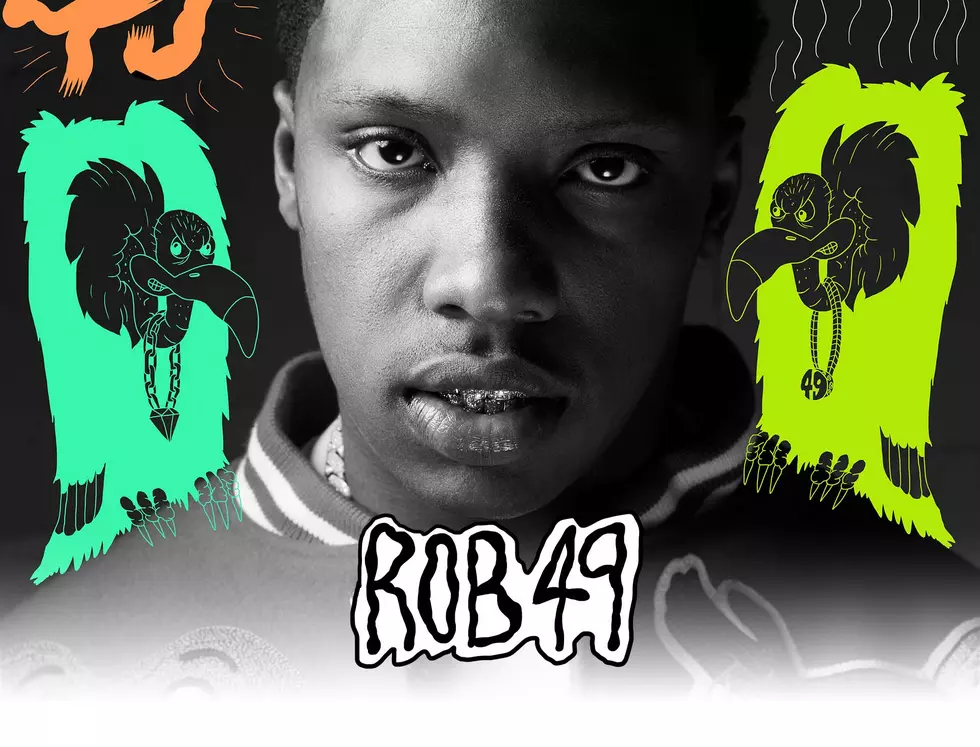 Rob49 – 2023 XXL Freshman
GOV'T NAME: Robert Thomas
AGE: 24
REPPIN': New Orleans
TWITTER: @rob49up
INSTAGRAM: @rob49up
TIKTOK: @rob49_
NOTABLE RELEASES: Songs: "Vulture Island V2" with Lil Baby, "Yes, You Did" featuring Real Boston Richey, "Hustler V2" featuring Kevin Gates and Birdman; Mixtapes: Vulture, Krazy Man, 4God, Welcome to Vulture Island; Albums: 4God II; Guest Appearances: Lil Durk's "Same Side," Trippie Redd's "Armageddon," NoCap's "How's It Going"
LABEL: Geffen Records
CURRENTLY WORKING ON: Untitled project dropping before the end of this year.
WHO ELSE SHOULD BE PART OF THIS YEAR'S CLASS: "Y'all got it. Y'all got that muthaf**ka on the nose."
INFLUENCED BY: "I like Future. I ain't really influenced by nobody. I just like music."
AS A FRESHMAN IN HIGH SCHOOL:


"Turnt, for sure [in] every way. Just the turntest n***a, you know what I'm sayin'? Yeah, I was the turntest. Not energetic. I ain't like all that. I was that n***a, though, throughout all four years. I ain't wanna be too bad in school.

I got put out class every day, but I didn't do it on purpose. It's after a while, your teachers just know you about to be bad and every little thing you do, she kicked you out class. That's the type of student I was.

I always wanted to make good grades. That s**t just ain't work for me. [I'd lean] back in my chair and my teacher be like, 'Get out.' I put this on my life. I was trying to do right and s**t. She know I was trying to do right, but she just probably was f**kin' with me."
TRUTH ON BEING AN XXL FRESHMAN: "I was really excited 'cause that's the only thing I wanted for this year for myself. I don't really give a f**k about nothing like that. I just wanted this, I ain't gon' cap. Just because I know, like, 10 years from now, n***as gonna remember this. Like 2023, 2024, 2025. Every year they got a group of 10 n***as who going to be them n***as. And I'm one of them now.
[Being part of the 2023 XXL Freshman Class means] legacy. That's about it. In my life, I just been focused on legacy-type s**t. So, that's probably it. I just want a legacy. [I started paying attention to Freshman] probably like last year. Just because I wasn't even rapping. I wasn't even a rapper. So, I ain't even thinking about that type of s**t. I just was looking at other n***as do it. So, last year I probably was like, I want to do that s**t. I hope it's me one day. Even though I ain't never think I was going to get it.
You know, like, when you running from something, and they shoot and you feel like you're going to be the one get shot just because you're just stupid like that? I just always felt I was the one that's not going to get it just to make an example out a n***a. Like, it's gon' be me. So, I end up feeling like I was going to get it anyway.
[My fans] are going to be proud, just because they seen me from nothing. They've been rooting for me since been. I ain't gon' cap, a lot of muthaf**kas been rooting for me since been. I think they're going to be proud and happy."
Watch Rob49's 2023 XXL Freshman Freestyle
Rob49 hasn't been rapping very long, but that isn't evident in his music. His year-long career as an artist has already earned him nods from some major hip-hop heavyweights—Birdman, Kevin Gates, Lil Baby, G Herbo, Lil Durk and much more. The Louisiana native has a gift when it comes to delivering rhymes, and it's a craft he doesn't take lightly. Right now is his time, and he's basking in this moment as a fresh face, but a name that is familiar to many. Hailing from New Orleans' 4th and 9th wards, areas plagued with violence, Rob has used his personal story to paint on his rap canvas. Among the many musical portraits he's made, his 2023 XXL Freshman freestyle can now be added to the list.
The 2023 XXL Freshman has seen tragedy strike on several occasions, but his tenacity and faith has allowed him to see a different outcome for himself. "Man, I wonder how my haters feel/I'm goin' hard 'til I can't breathe/They say I'm great, but I can't see potential in myself/Drugs ain't doing half as much (S**t)/I been high off life/Taking all my wrongs and tryna make 'em right," raps Rob, who released his new album, 4GodII, in early June.
Reminiscing on a friendship that apparently went sour, Rob49 spits, "Yeah, in a Hellcat Charger, thinking about my dog, but he ain't here/We were touchin' work in high school/First week, make s**t disappear/I feel like he went too far/We was locked in, that was my dawg/I guess when some n***as get some money, that s**t change their heart (Yeah)/F**k, I paid the cost/Gotta pay the cost to be the boss/I don't never say nothin', but I still feel a way every time you talk."
The survival of the fittest story isn't one that's unfamiliar to Rob49 as he transparently shares some of the losses he's experienced in his life. "I ain't need no n***a to turn me up/I came from out the dirt (Yeah)/I came from out the street, n***a/Puttin' all them n***as I see envy on a tee (Yeah)/I'm out here with vibes now/My bro bro a live wire/He'll get you stepped on, s**t (Alright)/N***a used to look down, I ain't never said nothin'/Guess that's why I'm turnt up, s**t (Alright)/I keep tellin' bro to put them percs down, s**t/He keeps sayin' he got them from out the store, but that s**t's stepped on/I'm still in the hood 'cause I just love home (Alright)/I don't ride around too, too deep 'cause most of my n***as died young," he raps.
In addition to his recent LP, Rob's growing catalog also includes 4God, Vulture, Krazy Man and Welcome to Vulture Island. With his second annual Vulture Weekend taking over the city he calls home in mid-June, singles hitting DSPs left and right, and a currently untitled project due by the end of the year, Rob49 is undoubtedly putting in work.
Check out Rob49's 2023 XXL Freshman freestyle below.
Watch Rob49's 2023 XXL Freshman ABCs
Rob49 has had more eyes in his direction lately after unleashing his new album, 4GodII. Before that, the New Orleans native delivered mixtapes Vulture, Krazy Man, 4God and Welcome to Vulture Island. Within that bed of music lies hits "Vulture Island V2" with Lil Baby, "Hustler V2" featuring Kevin Gates, "No Kizzy," "Yes You Did" with fellow 2023 XXL Freshman Real Boston Richey and much more. Aside from the experiences in Crescent City that Rob unapologetically shares in his music, he has a kid-like demeanor that is put on full display in his XXL ABCs.
Rob49 kicks off the alphabet very simply with apple. "I chose apple because I like apples," he says with a kiddish grin. "I like to eat apples." For B, he steps into his luxury bag. "Boats," he states. "I say boats because I like to be on... I don't know if it's considered a boat, but I like to be on yachts with girls and jet skis."
The Louisiana-bred rhymer also speaks on the importance of family and keeping their memories alive. "D3," he shares. "I say D3 because it's my brother's name and it's XXL. He passed away, so y'all gotta hear D's name." Going onto F, the self-proclaimed 4God taps into his healthy side, although eating fruits doesn't appear to be something he does often. "I say fruit because I just ate fruit yesterday and I really liked them," Rob49 explains. "It was kinda good. I ain't eat fruit in a long time, and they was good and cold. I think I like pineapples. I like watermelon, too, though."
Showing love to his city, Rob49 goes with interstate for the letter I. "Just because I drive a lot," he adds. "And I don't know a lot of words with I, but interstate. Interstate is one. Interstate 10, that's my interstate." Also a Marvel comics fan, Rob says quantum realm for Q. He tells the story behind his choice for the letter, saying, "Just because I once saw Ant-Man, quantum realm, and it was so fire. I like that movie. I ain't gon lie."
For R, Rob explains the origin of his rap moniker. "R for Rob49, first of all," he shares. "G.O.A.T. G. Everything, you know what I'm sayin'? All of that goes into one. Rob49. The 49 comes from New Orleans Iberville Projects, New Orleans Desire Projects, 4th ward, 9th ward."
As the alphabet nears the end, Rob49 goes with winning for W, affirming that he's winning right now and this is his time to shine.
Check out Rob49's ABCs below, where he shares some of his future wants, shows the utmost hometown pride and more.
Watch 2023 XXL Freshman Class Revealed
See the 2023 XXL Freshman Class