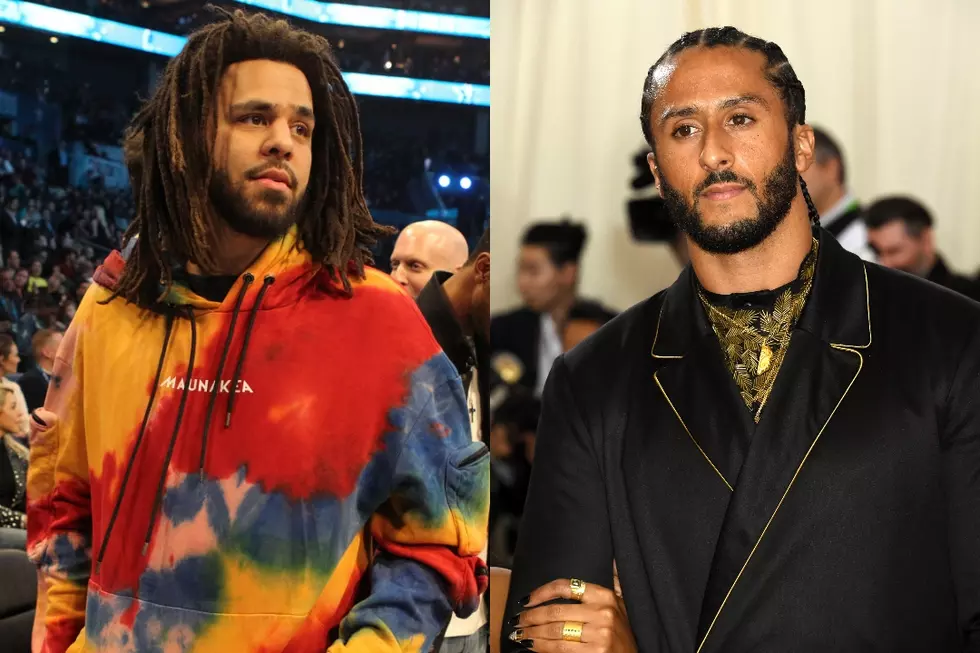 J. Cole Calls Out NFL Amid Colin Kaepernick Workout Controversy
Issac Baldizon, NBAE / Jennifer Graylock, PA Images
On Sunday (Nov. 17), Cole used his Twitter account to tweet out a message calling out the NFL after the league refused to grant a few specific conditions Kaepernick asked for the workout, which he ended up skipping in favor of a workout on his terms.
"Me thinking the NFL was about to do the right thing," Cole tweeted with three clown emojis.
Kaepernick's reps released a statement before the scheduled NFL-orchestrated workout saying that Kap had an issue with "an unusual liability waiver that addresses employment-related issues" requested by the NFL, though it's still not clear as to what exactly those issues were.
"From the outset, Mr. Kaepernick requested a legitimate process and from the outset the NFL league office has not provided one," the statement read. "Most recently, the NFL has demanded that as a precondition to the workout, Mr. Kaepernick sign an unusual liability waiver that addresses employment-related issues and rejected the standard liability waiver from physical injury proposed by Mr. Kaepernick's representatives.
"Additionally, Mr. Kaepernick requested all media be allowed into the workout to observe and film it and for an independent film crew to be there to ensure transparency. The NFL denied this request. Based on the prior conduct by the league office, Mr. Kaepernick simply asks for a transparent and open process which is why a new location has been selected for today. Mr. Kaepernick looks forward to seeing the representatives from the clubs today."
For their part, the NFL released a statement saying they were disappointed with Kaepernick skipping their workout, but that they made "a considerable effort to work cooperatively with Colin's representatives."
Reports state that Colin Kaepernick's workout "got some very positive feedback from the scouts in attendance about his elite arm strength and ability to throw the deep ball." He remains a free agent as of press time, however.
See 33 Rappers With Wild Neck Tattoos