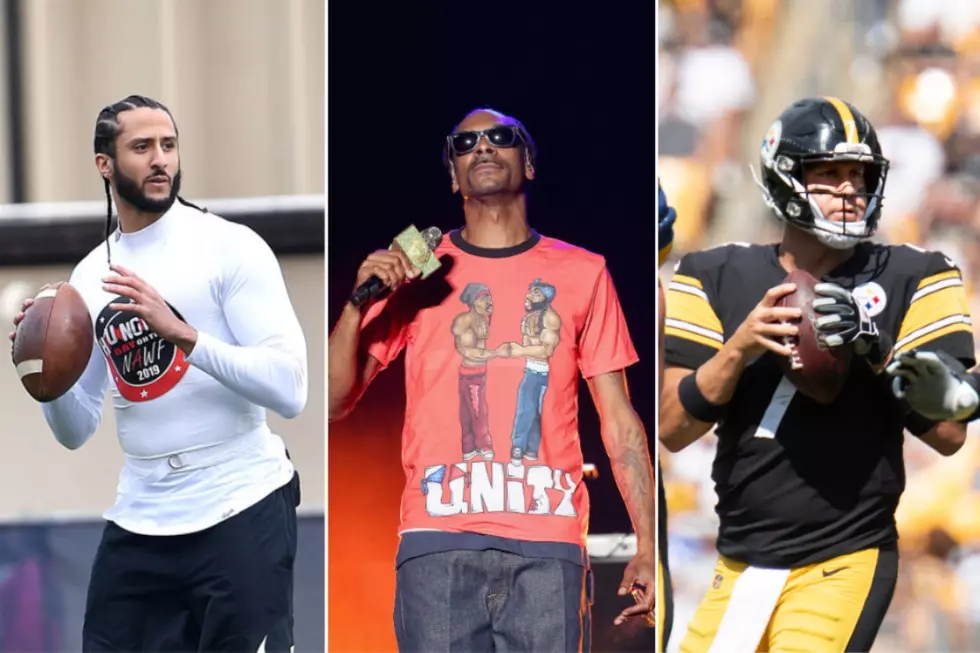 Snoop Dogg Wants the Pittsburgh Steelers to Sign Colin Kaepernick After Ben Roethlisberger's Season-Ending Injury
Prince Williams / Gary Miller / Shelley Lipton, Getty Images (3)
But this past Sunday (Sept. 15), the team's quarterback, Ben Roethlisberger, suffered a season-ending jury during a game against the Seattle Seahawks. Not only that, the Steelers lost to the Seahawks, which is their second straight loss to open the season.
Snoop seeing that his Steelers team are in trouble in the QB department has come up with an idea to help them out. In an Instagram post published on Monday (Sept. 16), the veteran rhymer/football fan suggested that the team hire Colin Kaepernick to take over quarterback duties.
"Steelers go get him now or we [gonna] look like the old Cleveland Browns he better than 70% of the [QBs] in the league let's. Go. Steel city," he wrote in the caption alongside a photo of Kaepernick.
Kaep hasn't played in a NFL game since being allegedly blackballed by the league following his kneeling protests during the National Anthem while playing with the San Francisco 49ers in 2016.
Kaepernick eventually filed a grievance against the NFL and its owners in 2017, accusing them of colluding to keep him out of the league. In February 2019, the 31-year-old athlete withdrew the grievance after reaching a confidential settlement with the NFL.
As for the Steelers, it appears they will look to second-year quarterback Mason Rudolph to take over the reins.
You can read Snoop Dogg's message to the Pittsburgh Steelers below.
65 Hip-Hop Albums Turning 20 in 2019