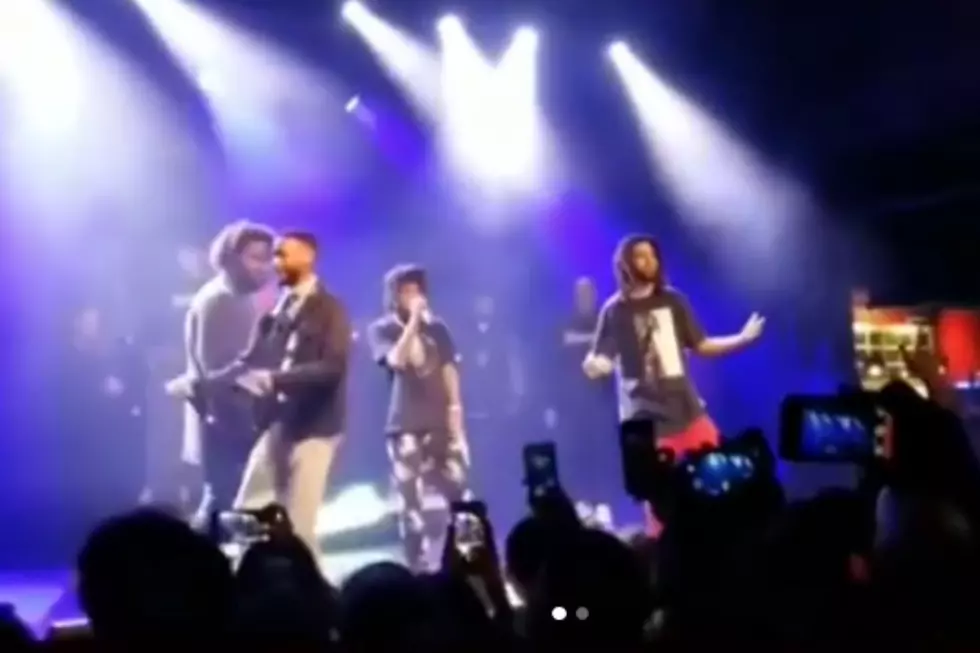 J. Cole Previews New Music: Hear Unreleased Verse
its_parrish_mitches via Instagram
J. Cole and Dreamville have been active all 2019 NBA All-Star Weekend, with festivities taking place in Jermaine's home state of North Carolina, Charlotte specifically. On Sunday night (Feb. 17), Cole and his crew put on a show that featured some new music that may be off the upcoming Revenge of the Dreamers 3 album.
Video of the show has made its way to the Internet. One clip shows the Dreamville team of J.I.D, Cozz, Bas, Omen, Lute and Ari Lennox (sans EarthGang) onstage when an unreleased track begins to play.
"Turn that shit up," Cole directs the DJ. The new track, which fans are calling "Dog Catcher," finds Cole spitting a rapid-fire flow over a chopped up sample.
"Nothing new under the Sun/Nobody fucking with son/I got a couple of sons, a couple of guns/A couple of lil' niggas that bust up the party and fuck up the fun," he raps. "She diggin' me and I'm cuffin' her friend/She kickin' you out while we fucking for fun/I got her sucking her thumb, that my lil' baby/She all me daddy like grandma, baby/And put Sunday dinner my hand on the gravy."
The crew debuts  a couple more tracks that appear to be off their highly anticipated posse project.
Cole has put on for his state throughout the weekend. On Saturday (Feb. 16), he assisted with a dunk at the NBA Slam Dunk Contest. He also performed his new single "Middle Child" and more at the NBA All-Star Game on Sunday..
Check out the Dreamville crew previewing new music below.
See Photos of J. Cole's Different Looks Over the Years