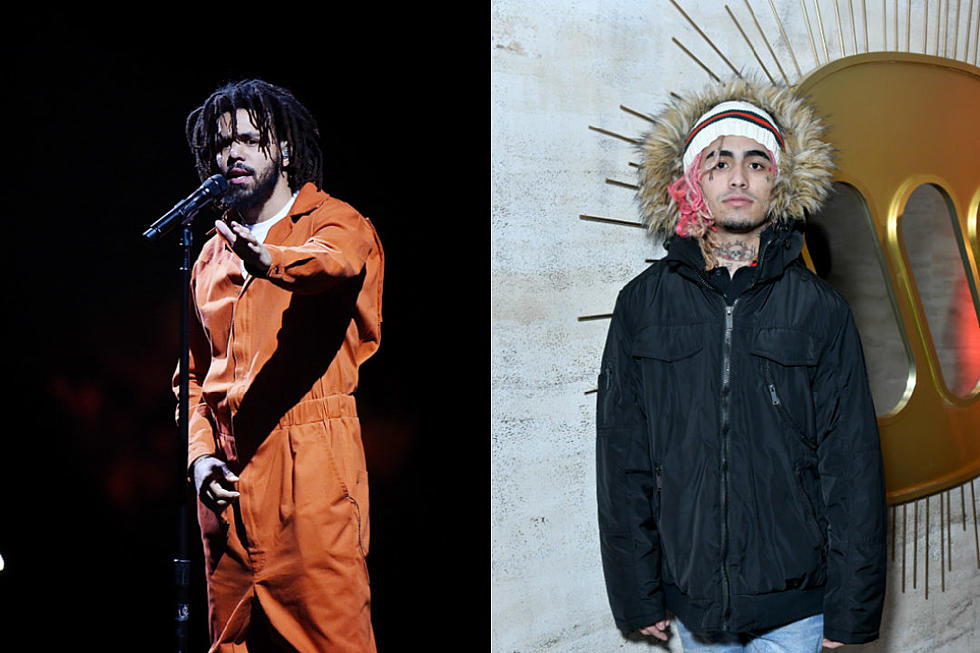 J. Cole Stops Fans From Chanting "F!*k Lil Pump" During 2018 JMBLYA Set
Nicholas Hunt / Jared Siskin, Getty Images (2)
Every now and then, a song comes along that changes the game, and J. Cole's "1985 - (Intro to 'The Fall Off')" from his new KOD album did just that. Surely intended to open the dialogue with the younger generation, the song has seemed to widen the gap on both sides. This was evident again during Jermaine's 2018 JMBLYA set where he had to stop fans from chanting "Fuck Lil Pump."
Cole headlined the show over the weekend and broke out tracks form his recently-released LP. During his performance of "1985," he stopped mid-song for an adjustment. During the break in the action, concertgoers began to yell out "fuck Lil Pump" in unison. After a few seconds, Jermaine raised his hand to the group and urged them to cut it out.
"Don't do that," he told them. The crowd then tried to start a "fuck 6ix9ine" chant. The North Carolina rapper quickly shut it down. "Don't say that," Cole added. He then rolled into an a cappella version of "1985."
Cole never addresses Pump by name on the track, but people have collectiveely concluded that he's one of the people Cole is talking about. A couple weeks back, Pump thanked Cole for all the publicity he was getting over the perception that the song was directed at him. "Cole, thank you for all the clout," he stated in an Instagram video. "Appreciate it."
In other J. Cole-related news, it was recently announced he will headline the upcoming 2018 Bumbershoot Festival along with Lil Wayne. The festival takes place on Labor Day Weekend from Aug. 31 to Sept. 2 at the Seattle Center in Seattle, Wash., and will also feature Young Thug, T-Pain, Ludacris, DVSN, Towkio, SZA, London on Da Track, Saweetie, Maxo Kream, Duckwrth, Cozz, Bas and more.
Watch footage of J. Cole putting a stop to fans' anti-Pump chant below.
Check Out the 2018 Hip-Hop Music Festivals You Need to See