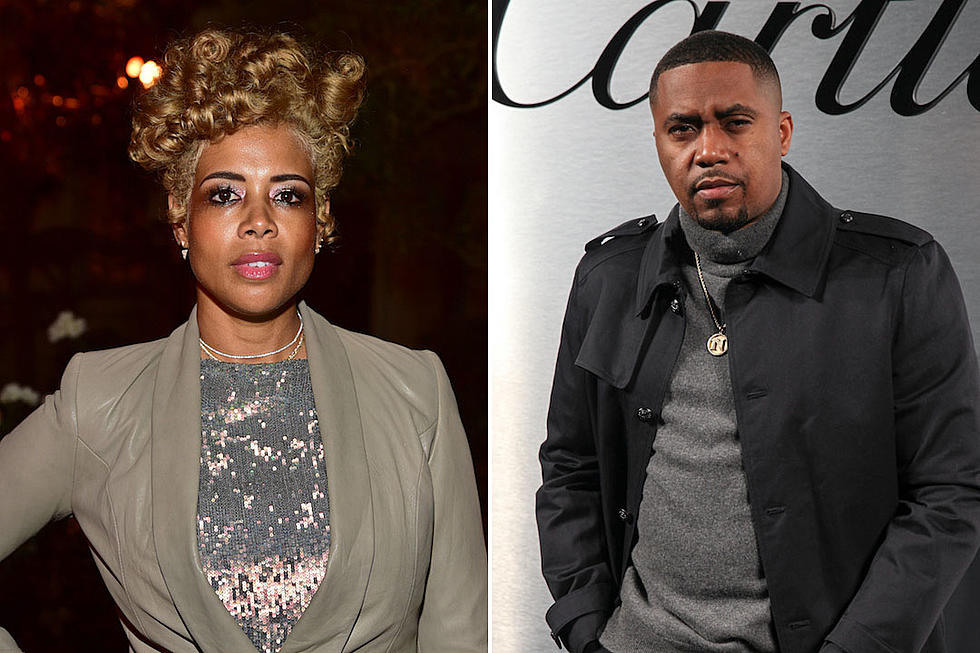 Kelis Claims Nas Physically Abused Her During Their Marriage
Frazer Harrison/Kelly Sullivan, Getty Images (2)
It's been almost a decade since Nas and Kelis' marriage came to an end, but they have been viewed for years by many fans as one of hip-hop's beloved former couples. While the Life Is Good rapper has expressed his thoughts on their union and their divorce in his music and some interviews, Kelis is finally sharing her side of the story in a new interview where she claims he physically abused her.
Hollywood Unlocked posted their full interview with the artist-turned-chef today (April 26), where she details the highs of her marriage to Nas, as well as the intense lows, which includes her claims of abuse. After elaborating on her current life as a chef and foodie, Kelis dives into the details of her relationship with the veteran MC, explaining how toxic it became due to alcohol, weed and spending lots of money.
"We had really intense highs and really intense lows," she explains. "It was never normal. An intense high would be when money was rolling in. We were young. But I was 22 when I met him. I was a baby. We were drinking too much, smoking too much, spending too much. I mean, balling out of control. It was all just too much. We lived hard. So when that comes down, it goes really low. Like, as low as possible."
Kelis later filed for divorce when she was pregnant with their son, Knight, who is now 8 years old, and says that while Nas had been cheating, there were other reasons that finally broke the camel's back on their marriage.
"I didn't file for divorce because of cheating." she admits. "He had been cheating for two years and I knew that. It was because on top of all the other stuff, then you're gonna cheat? Okay. This is too much. Then it was really toxic and I was pregnant, so at seven months pregnant I was terrified. I cannot bring a person into this. This is a frickin' mess, and I can't control this. I gotta get out."
Kelis claims that things got physically and mentally abusive in their relationship and admits that had she not been pregnant, she probably would have stayed longer with Nas.
"It was really dark," she states. "There was a lot of drinking. There was a lot of just mental and physical abuse. It just got to the point where, for me, God is so good because had I not been pregnant, I probably would have stayed longer. Because I really did love him and we were married. We weren't dating, we were married. This was my person."
While she claims that Nas would typically drink too much, leading to physical abuse at times, she said that the two would fight each other and that they both laid hands on one another.
"I have never painted myself as a saint," she continues. "Did he hit me? Mhm. Did I hit him back? Mhm...He would black out. He would drink too much. He drank way too much. He will never admit it."
The "Bossy" singer says that seeing the photos of Rihanna's bruised and bloodied face following her assault incident with Chris Brown helped her to realize some of her own pain and suffering. She even claims that she had bruises all over her body at the time that the pictures released, which left her feeling embarrassed. She questioned whether to come forward about it publicly or not, being that she is a pretty private person.
"Something reminded me of Rihanna," she responds. "I remember so clearly when the pictures came out with that whole thing that happened with her and Chris Brown. The only way I can describe it was like double dutch. Do I jump in? Do I say it? I had bruises all over my body at the time. That day I remember being in Atlanta, sitting in the kitchen...I wasn't ready to walk."
During the interview, Kelis also reveals that Nas foreclosed their home together when she got home from the hospital after giving birth to their son. When she confronted him about it on the phone, she claims that he told her to "go fuck yourself."
The conversation also turns to the former couple's ugly custody battle over their son, which they finally settled back in March. Kelis says that Nas has not been actively present for Knight, which is why he should not be allowed to regulate the visitation schedule and plan.
"I have been a parent," she exclaims. "I have been there. And it's not about not allowing you to see him. It's about the fact that if you've not been there, you can't show up when you feel like it and regulate. That's what you're not gonna do...You can't not show up for months and then wanna change the whole schedule, the whole plan, huh? Like what? No, sir. That is not what we are going to do."
She believes that he only shows up for their son when things are "fun" or if it's a good photo opportunity for them.
"He doesn't participate. He shows up when it's fun. He shows up when there's a good photo op. He shows up when he feels like he needs a snuggle."
While Kelis and Nas have come to an agreement over custody, it looks like there is definitely still a lot of hostility between the two.
Watch Kelis' full interview about her relationship and custody battle with Nas below.
See 60 Hip-Hop Albums Turning 20 in 2018