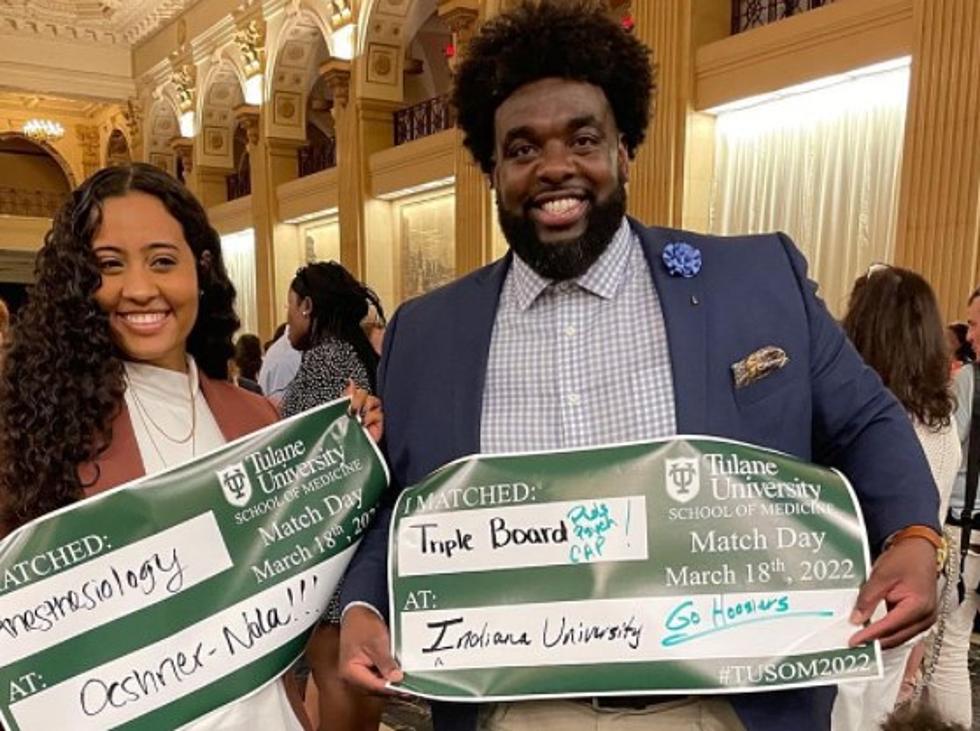 Lake Charles Native Goes From Security Guard Of A Hospital To Becoming A Doctor
Twitter/ The 15 White Coats
Russell J. Ledet is a native of Lake Charles and over the weekend he broke the stereotype that many have been plagued with of being a young Black man from a certain part of the area with many obstacles facing them. In 2010 Russel was a security Guard of a Baton Rouge hospital, and now he can add the prestigious M.D, Ph.D., and MBA to his resume as he is now Dr. Russell J. Ledet. A married father of 2 can now better serve his community and be the influential person to so many others who have a doubt of their future.
It all started with a decision to ask a Doctor to allow him to shadow him and the rest as they say is history. Check out the inspiring story below.
View this post on Instagram
Here he receives his match to Indiana with the Hoosiers and the Indiana Triple Board as he is surrounded by his beautiful family and several cameras and reporters catching this life-changing moment. There is no way you can have a heart and not be proud of this moment or shed a tear after watching the momentous occasion for this young man.
While it is not right or fair of the stereotypes that many in the Black community are faced with, the fact of the matter is that it is a reality. What Russell accomplished is something that a kid from Carshop is not supposed to ever accomplish or at least that would be the stigma. Congratulations to Dr. Russell J. Ledet on wanting something and actually pursuing it to the best of your ability. He is also the Co-Founder of "The 15 White Coats" which is a group that highlights diversity and allows other minorities access to scholarships to Medical programs. Finally, congratulations to his family and friends who knew that he had it in him. This goes to show that regardless of where you come from good or bad conditions. You can be the author of your own story.
15 Ways You Can Help People in Ukraine Right Now
As Americans watch events unfold in Ukraine, many wonder how they can help. Below is a list of organizations responding to the crisis in Ukraine along with information on how you can support their various missions.