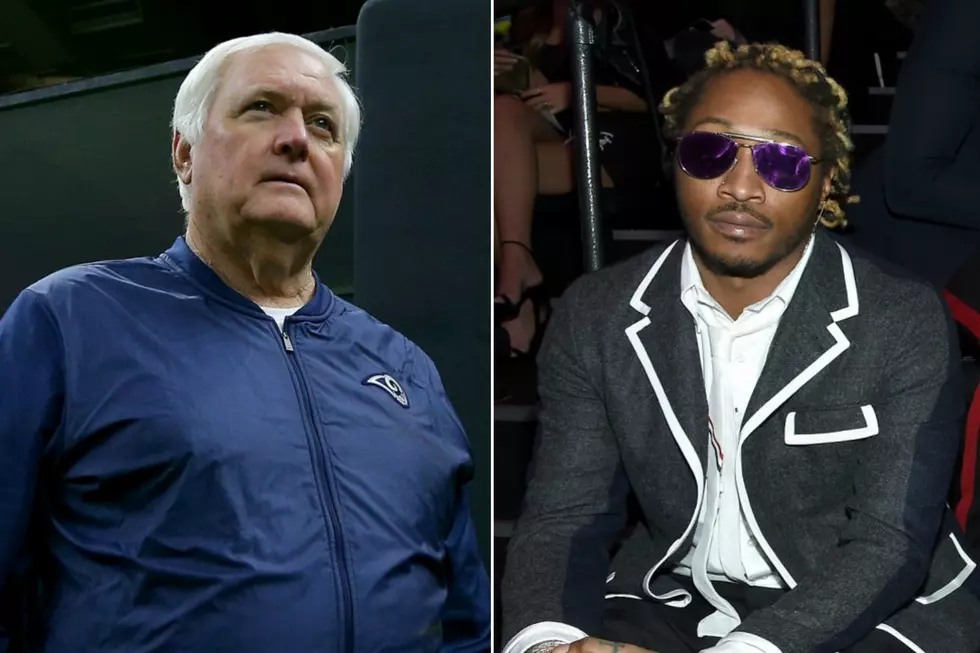 Los Angeles Rams Defensive Cooordinator Wade Phillips Quotes Future Lyrics in Interview
Jonathan Bachman / Dimitrios Kambouris , Getty Images (2)
As his position at the top of the Billboard 200 albums chart shows, Future remains a cultural force. Even still, it was a bit surprising when lyrics to the rapper's new song "Rocket Ship" were quoted by an NFL coach during an interview earlier this week.
During an interview Los Angeles Rams cornerback Aqib Talib posted Monday (Jan. 28), the team's defensive coordinator Wade Phillips described the moment he knew he had his career as a defense coach on lock by using a bar from Future's "Rocket Ship."
"Well, I've been poppin' since my demo, baby," Phillips told Tabib at the time.
The fact that a 70-year-old man already knows the lines to so a song from Future's recently released The Wizrd album amazes players like Rams safety John Johnson III to this day. Philips explains that he's able to bridge the generational gap between him and the team by simply keeping up with the topics of the players' everyday discussion.
"I just pick up stuff every once in a while," Philips told the Associated Press. "And I ask them what they're talking about."
Philips has always been the type of coach that connects with his players with valid rap references. Back when he was a defensive coordinator for the Denver Broncos in 2016, Philips celebrated their Super Bowl 50 win by quoting Drake and Future's "Big Rings" off their joint album What a Time to Be Alive. Phillips clearly rocks with Future, but he makes it clear he's Team Drizzy.
"I'm still with Drake, because I started at the bottom and I'm here right now," Philips said in another part of his interview with Talib. Dope.
Watch the Ram's defensive coordinator Wade Philips quote Future below.
See Photos of Future's Different Looks Over the Years