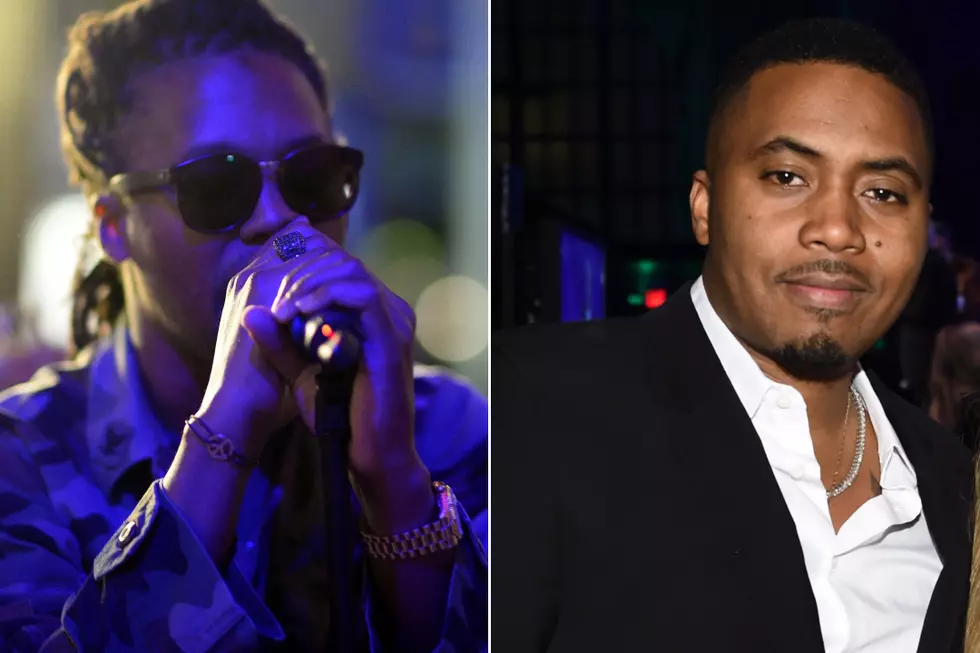 Lupe Fiasco and Nas Hit the Studio
Chris Weeks / Dimitrios Kambouris , Getty Images (2)
On Wednesday night (May 1), the Chicago rapper and the Queensbridge MC were spotted in Nas' Mass Appeal studio. No video clips of their meeting have surfaced yet. However, according to an Instagram post from entrepreneur Sky Gellatly, Fiasco and Nas had a "powerful conversation."
Their studio session occurred shortly after both artists met up at the 2019 City Harvest Gala in New York City on Tuesday night (April 30). Fiasco seemed more than a little excited to break bread with Nasir. On both Instagram and Twitter, the Drogas Wave spitta expressed how he felt about linking up with his sensei.
"He taught me a lot. Gave me half my name and still...@Nas," Fiasco said in a tweet with a photo of them from the gala. If you didn't know, Lupe got the second half of his rap name from the song "Firm Fiasco," which is a song from the Nas-featuring 1990s rap group, The Firm.
Fiasco has been a die-hard fan of Nas since before he began his music career. In the past, the rapper admitted that his critically-acclaimed debut album, Food & Liquor, was modeled after Nas' 1996 LP, It Was Written. With that in mind, Lupe's Nas shoutout makes plenty of sense and, in return, Nas also saluted Fiasco in his own Instagram post about the gala they attended.
"At @cityharvestnyc gala helping our fellow man, woman and child. Great to see my guy @lupefiasco here as well !!" Nas said in his caption.
There's no confirmation that a collaboration between the two is dropping anytime soon. Even Fiasco himself previously stated that he's no longer doing features, it seems as though he and Nas may have something the works.
Check out both Lupe Fiasco and Nas' posts below.
See 55 Hip-Hop Albums Turning 10 in 2019