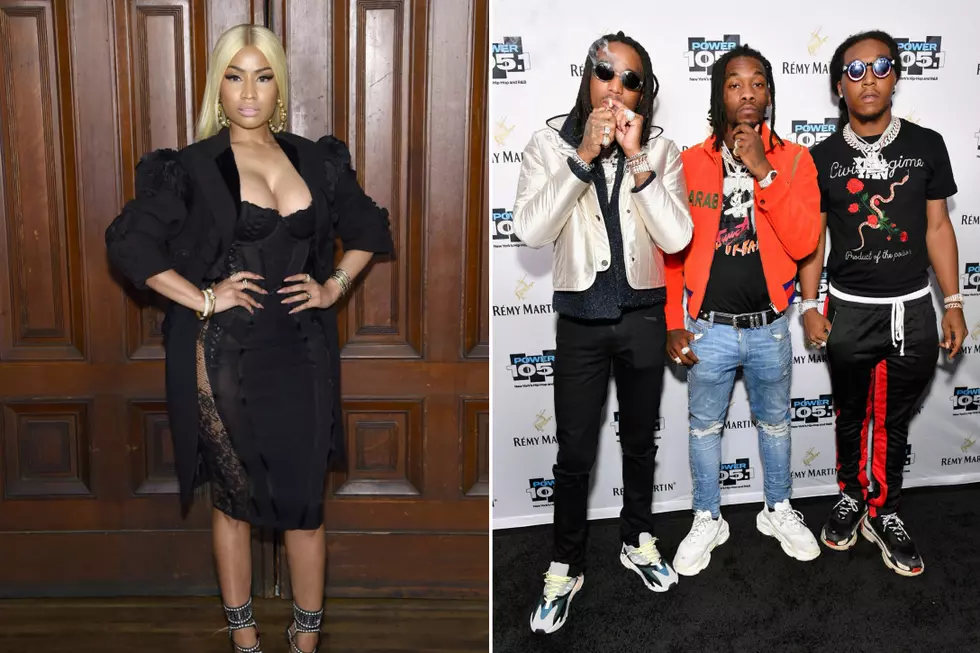 Nicki Minaj Clears Up How Migos' Collab "MotorSport" Happened
Jamie McCarthy / Dia Dipasupil, Getty Images (2)
While the internet may be having fun with a conspiracy involving Nicki Minaj and her collaboration Migos collaboration, "MotorSport," featuring Cardi B, The Pinkprint rapper isn't here for it.
On Tuesday evening (Oct. 31), Minaj hopped on Twitter to set the record straight and revealed how the song really came to be. "I was on the song w/Quavo," she tweeted. "No one else was on it. He called & asked if I think we should put Bardi on it, I said 'ok let's do it'. The end."
According to Nicki, "MotorSport" originally began as a Quavo-only track. "Migos weren't even on it yet," she continued. "Just Quavo. The conspiracy theories r just so tired. Relax. Breathe. Imagine me not knowing who on a song w/me."
The rapper went on to say that anything with her name on it must be approved by her and a song can't even go onto a streaming service before she hears it and gives her written approval. "These are men in our culture who simply refuse to let it go. They don't do this to male M.C.'s. But yo #Motorsport #1 added on urban radio🙏🏽," she added.
Nicki's tweets came after a Monday (Oct. 30) episode of Everyday Struggle where Joe Budden said Minaj was unaware the "Bodak Yellow" rapper would be appearing on the song. "I think that Kanye suggested to Migos to put Nicki on this song," Budden said. "I do not think that Migos or anybody stepped to Nicki and said, 'We have a record featuring Migos and Cardi and we would like you to get on it.' I don't think that happened."
The rapper went on to suggest that the song wasn't produced with Cardi in mind and even implied that Cardi was dissing Nicki with her verse. "When I heard the song for the first time and the Cardi verse came on, you know what my thought process was? I said, 'Wow. Different flow,'" he said. "This flow is different from what I've ever, ever, ever heard from Cardi."
Check out Nicki Minaj's tweets below.
See Nicki Minaj Explain What Happened With Migos' "Motorsport"