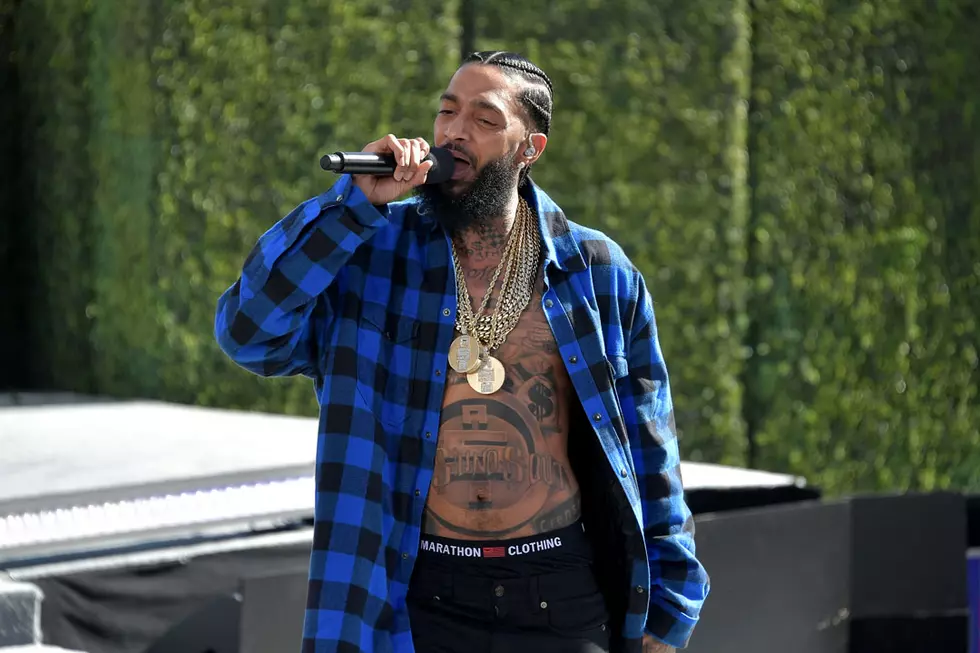 Surveillance Footage From Nipsey Hussle Murder Scene Leaks
Neilson Barnard, Getty Images
Less than one full day after his death, surveillance footage from the scene of Nipsey Hussle's murder has leaked online.
On Monday afternoon (April 1), TMZ posted the surveillance video from the scene. In the video, you can see someone who appears to be the murder suspect approach a group of people outside of Nipsey Hussle's Marathon Clothing Store. We don't see the gun, but we do see what appear to be flashes of light come from the possible suspect as he approaches a group of people. At least one person falls onto the ground after seemingly being shot. It can't be confirmed whether or not this person is Nipsey, as two other people were shot in the incident.
This footage was leaked shortly after the New York Daily News reported that law enforcement sources believe Nipsey's killer was someone he knew. The same sources believe that Nipsey's shooting death will be classified as a gang-related one. The source also says police don't believe the shooting was committed by someone from a rival gang. The insider believes this was a personal "deal gone wrong." A suspect has yet to be arrested, though the source says police believe they have their man.
Nipsey, who had released his debut major label album, Victory Lap, last year, was shot and killed yesterday afternoon (March 31), and two others were shot in the incident. While there are two people in the hospital, both victims are said to be in stable condition.
See 19 Rappers Who Were Shot While They Were in the Spotlight