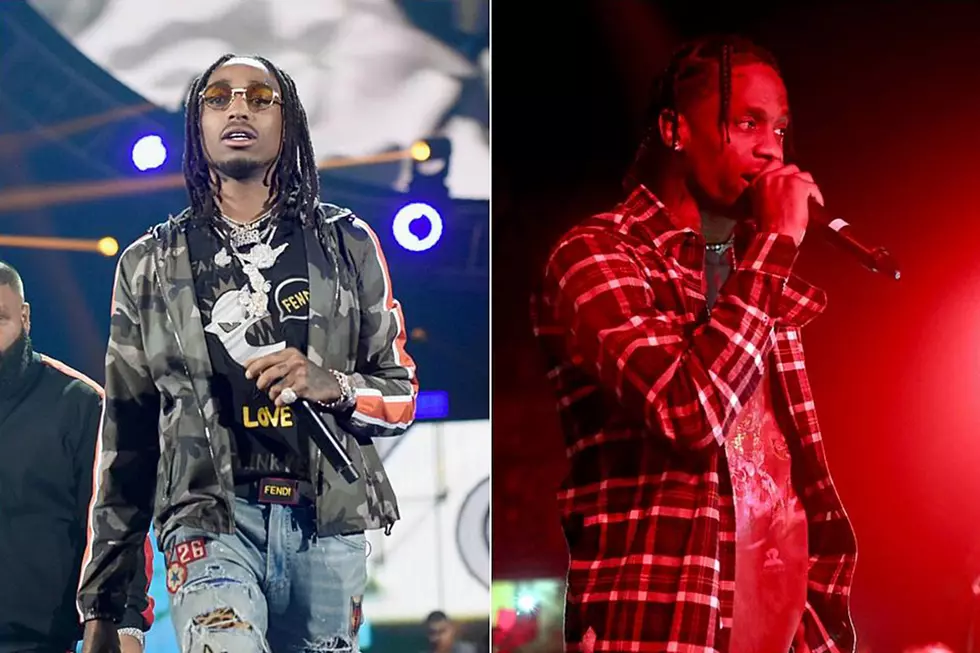 Here's the Title of Quavo and Travis Scott's Joint Project
David Becker / Randy Shropshire, Getty Images (2)
The long-awaited collaboration project from Quavo and Travis Scott finally has a name.
Speaking with Zane Lowe of Beats 1, the Migos rapper confirmed the project will be called Huncho Jack, Jack Huncho—a play on the rapper's nicknames, Huncho (Quavo) and Cactus Jack (Travis). "It's gonna be the biggest collab ever," said Quavo. "It's done. It's off for mixing. So you know when it's done for mixing, it's ready to go."
While the "Ice Tray" rapper is the first to officially confirm the project's title, producer Mike Dean actually leaked the name last week after posting a screenshot of files on his computer screen. A folder in the photo read, "Huncho Jack."
Quavo last discussed the project in September during an interview with Montreality. When asked about the record, the rapper said it was "going to drop real soon" and revealed the two had recorded a ton of songs. "We've been making a whole bunch of records; we got a lot of records together right now, we've probably got like 20 records, we just need to get some time and just sort 'em out."
Huncho Jack, Jack Huncho isn't the only project in the works for Travis Scott. The Houston rapper is still gearing up for his next solo album, AstroWorld, which he had previously said was ready to release "real soon."
Check out Quavo discussing Huncho Jack, Jack Huncho below.
See New Music Releases for December 2017