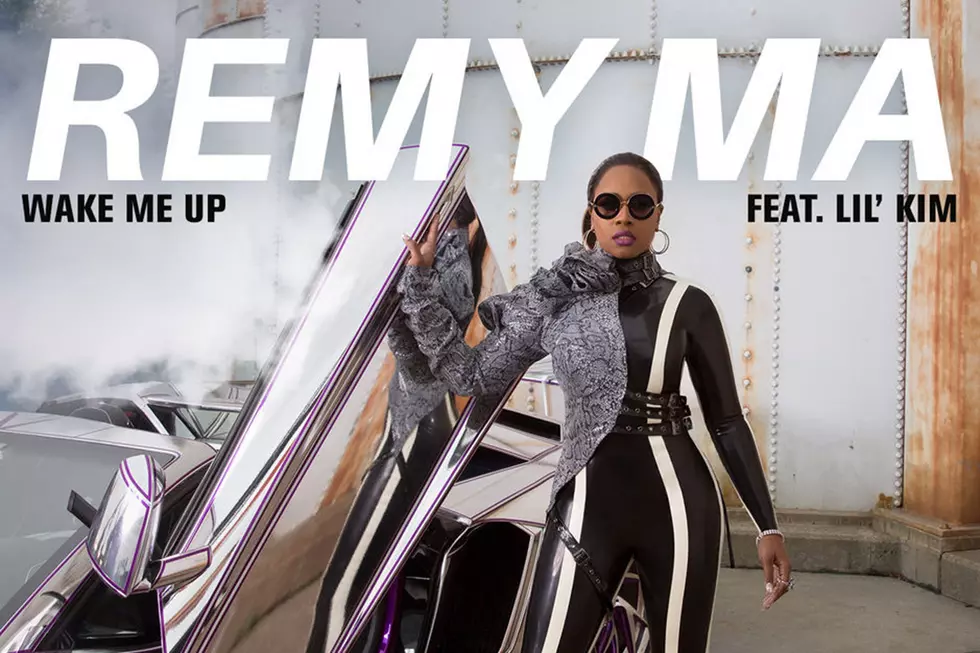 Remy Ma and Lil' Kim Team Up for New Song "Wake Me Up"
Reminisce Records
Rapping over a sample of Roberta Flack's 1969 song "Hey, That's No Way to Say Goodbye" (the same sample from Lil' Kim's classic "Queens Bitch" collab with Biggie) and heavy drums, Remy shows off her gritty style as she spits, "If Peter Piper pecked 'em, I bet you Remy ducked 'em/I told you not to touch 'em/It's not up for discussion."
While the Queen Bee doesn't rap a verse on "Wake Me Up," the rap veteran does handle the song's hook and bridge. "Kimmy B don't trust 'em, I bet you Remy bust/Got these niggas on lock, but we never cuff!" an Auto-tuned Kim raps.
Remy discussed the song with Beats 1, saying she wanted to salute a hip-hop legend. "I wanted to pay homage to Kim," Remy said. "I feel like she is the Madonna of the hip-hop world. Her style is iconic and I wanted to pay homage to that. I was like, 'I want you on this record, but I want you to just be Kim. I want you to be the girl that was squatting down in a leopard thong.'"
The rapper is also preparing for the release of her next album, 7 Winters & 6 Summers, which is set for an early 2018 release. Inspired by her time in prison, Remy revealed she would count down the days until her release in seasons. "I couldn't fathom counting in years," she said. "So, if I would look out the window and the trees were green, and say it was 2012, I knew I got three more summers to go."
7 Winters & 6 Summers will be Remy's first solo album in 12 years and serves as her first project with her new label. "Columbia Records is lucky to get to partner with Remy on this album. We could not be more proud to be her label home, and help provide a platform for the release of 7 Winters & 6 Summers," said Shawn "Tubby" Holiday, Columbia's Senior Vice President of A&R.
"It is an incredible album detailing Remy's story," he continued. "She has so much to give her fans and this industry. Remy is a true hip-hop Icon and we are beyond excited to share her music, and her vision, with the world."
Check out Remy discussing her new project and listen to "Wake Me Up" below.
See New Music Releases for November 2017