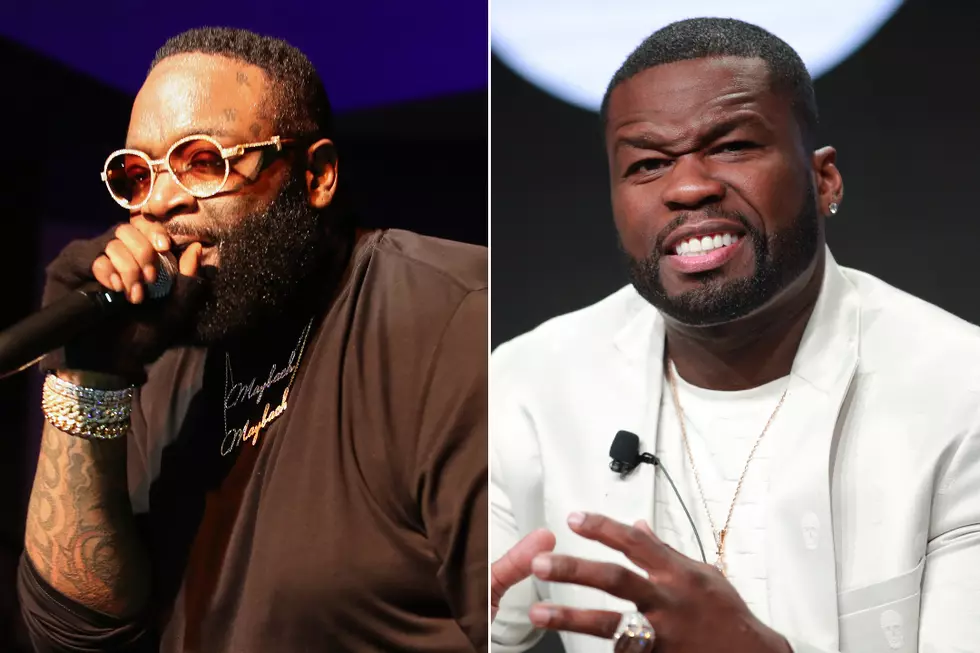 Rick Ross Says He'd Collab With 50 Cent If Rapper Was "Still Dope," Fif Responds
Cassidy Sparrow / Rich Fury , Getty Images (2)
While in Los Angeles, Rozay stopped by Big Boy's Neighborhood to talk about his new album, Port of Miami II. During their conversation, Big Boy asked Ross if he would ever do a collaboration with 50 Cent. Ross said that he may have considered the option if a feature from 50 was worth his time in 2019.
"Honestly, I'm a businessman," Ross told Big Boy. "If 50 Cent still had value, I may have been done it. But not being funny, homie just ain't that dude no more," he said. "We was riding through L.A. smoking to 'Hate It or Love It' yesterday. That shit was dope. We was saluting Cool & Dre, that's Miami who did the production. Game, 50 Cent… That was dope. If he was still making music like that, of course."
Rozay and Fofty's beef stretches over a decade back to when 50 first fired warning shots in 2008 at Ross for befriending his other foe at the time, Fat Joe. After Ross called out 50 on his 2009 song "Mafia Music," their war would rage on for the next 10 years before Ross reportedly deaded it in 2015.
After Ross made his comments, 50 Cent responded to the Miami rapper by disregarding his contributions to the music industry as a whole.
"I don't know what his value is to music culture at this moment," he said in an interview with Complex. "I never made music with him. I don't have interest in making music with him."
Check out Rozay's full interview below.
See Hip-Hop Fans Name The Most Disrespectful Diss Track of All Time