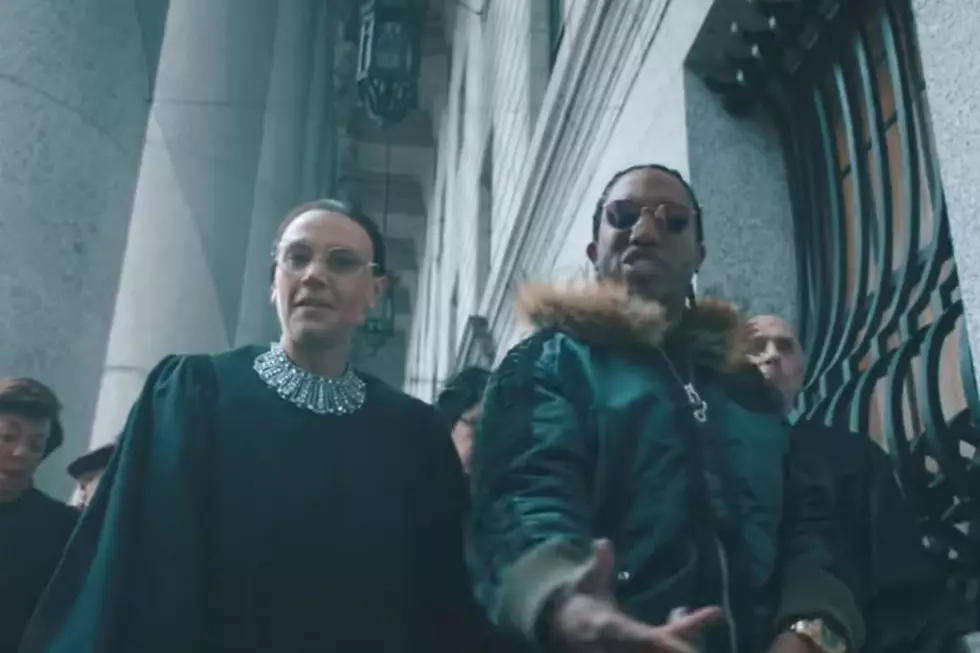 'Saturday Night Live' Parodies Sheck Wes Track in Tribute to Supreme Court Justice Ruth Bader Ginsburg
Saturday Night Live via YouTube
Sheck Wes finally seems to be getting his just due, with his song "Mo Bamba" catching on with the mainstream. The Harlem rapper got another major plug on Saturday night (Nov. 17) when Saturday Night Live parodied one of his tracks.
In the hilarious skit, SNL comedians Pete Davidson and Chris Redd pay a rap tribute to Supreme Court Justice Ruth Bader Ginsburg. In doing so, they utilize Wes' popular track "Live Sheck Wes" off his recently-released Mudboy project.
In the parody, the comedians use the same level 10 turn up that Sheck Wes is known for for their new "RBG" interpretation. The two rap homages about the tenured politician's many accolades and involvement in historic wins in the Supreme Court.
"Live Ginsburg and I die for Ginsburg," they snap on the chorus as they turn up with a Ginsburg lookalike.
"Her name RBG and she born in BK/Running the Supreme Court, killing it since '33," Davidson raps. "Went to law school, she was first in her class/If she ever wants a date, I'll please the court on that ass/She was out there on the strip telling Trump, 'Delete your account'/Fighting for women's right, equal rights she the shit."
It seems like Sheck got a kick out of the video. He reposted it on his Twitter account.
Check out the Saturday Night Live parody and Sheck Wes' original video for "Live Sheck Wes" below.
See 63 Hip-Hop Artists Who've Gone Gold in 2018