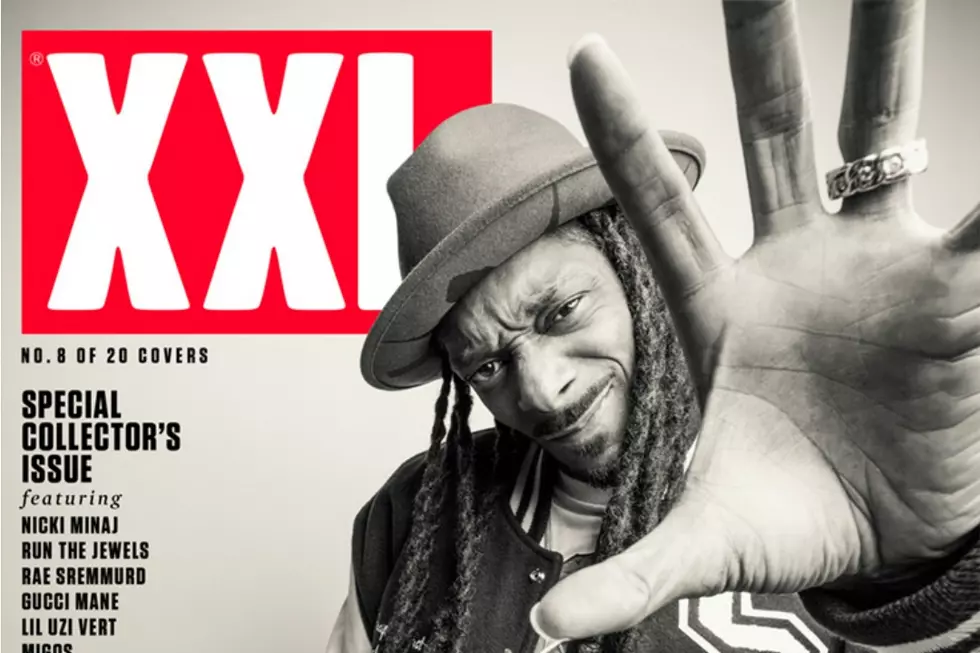 Snoop Dogg Upholds Hip-Hop for the Right Reasons in XXL 20th Anniversary Interview
Travis Shinn for XXL
From the block to the top of the charts to the Food Network for a cooking show with Martha Stewart, Snoop Dogg is a paragon of the sustained success that accompanies raw talent, charisma and a chameleon-like knack for reinvention.
To the younger crowd, he's Uncle Snoop, the hilarious stoner and rap game elder statesman that puts out music in between new TV ventures and unsanctioned meme appearances. To those who've followed the rapper for the last 25 years or so, he's Snoop Doggy Dogg, a lanky Long Beach, Calif. native with a vaguely southern drawl and a lethally agile flow that made him a centerpiece of Death Row Records' explosive rap game dynasty. To XXL, he's a longtime friend.
Indeed, Snoop appeared on the fifth issue of XXL Magazine, and he's appeared on four covers since. At the time he first graced the cover of XXL, he'd already done enough to be considered a rap game legend. Since first appearing on Dr. Dre's "Deep Cover" in 1991 and a few classic features from The Chronic, Snoog D-O double-G had dropped a classic album with Doggystyle, beat a murder trial and went on to become one of America's most wanted.
Through it all, Snoop's maintained a solid relationship with XXL, and that, along with his continual hip-hop presence is why he receives his own 20th anniversary edition cover. Snoop and XXL have been on the same wavelength from the start.
"I think XXL has been a platform for telling the truth, for being real, for being hip-hop, for being original, for giving us a platform to actually express ourselves to say what we wanna say," Snoop says in the interview for his Fall 2017 cover story, written by XXL Editor-in-Chief Vanessa Satten. "To also cover hip-hop from a different perspective, from a perspective where it's looked at from our peers. You know, we look at you guys as our peers, we don't look at you guys as just a magazine. We respect XXL as if they are a part of the hip-hop family. So we look at you guys as one of us."
Snoop Dogg is just one of the artists selected to appear on XXL's 20 special edition covers. Like Snoop, these rappers have been documented by XXL through the extent of their careers and have always shown love to the brand that helped raise their profiles along the away. The Doggfather's fellow cover stars are 50 Cent, the cover king with 15 total XXL covers and a career we've been documenting from the start; Diddy, the man who not only reinvented the remix but paved the way for rap moguls; Nicki Minaj, a queen in hip-hop building her own pinkprint in the game; Wiz Khalifa, the cool, calm and collected superstar; Cam'ron, Harlem's swag connoisseur; Lil Uzi Vert; the face of hip-hop's new generation; Migos, three rappers who helped redefine the culture; Pusha T, a success story as a group member, solo artist and record executive; Future, a trendsetting trap god; T.I., rap's gangsta and gentleman; Fabolous, a highly respected New York MC; Rae Sremmurd, the real crowd-pleasers; Birdman, a No. 1 stunna with a revered empire; Run The Jewels, partners in rhyme and reason; Yo Gotti, a testament to tenacity; Gucci Mane, the true comeback kid; Tech N9ne; an independent icon; E-40; hip-hop's in-the-know uncle; and The Lox, a trinity representing for the streets.
See All XXL Magazine 20th Anniversary Covers