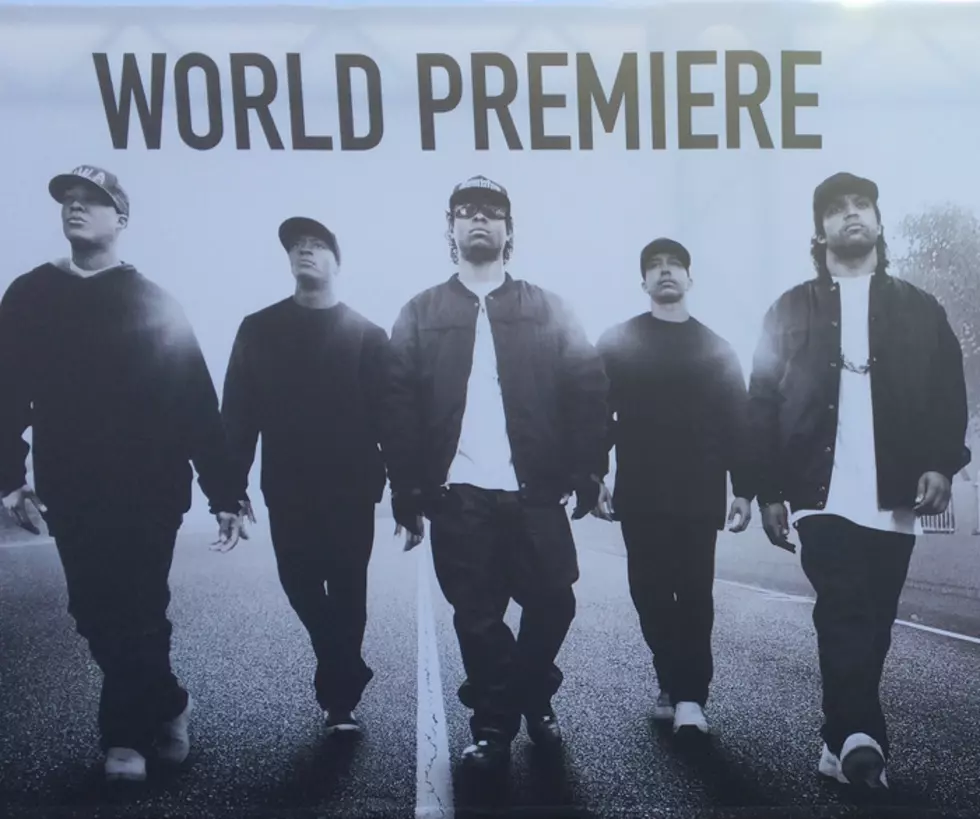 Straight Outta Compton: The Story Of N.W.A Opens Nationwide This Weekend – Tha Wire [VIDEO]
Straight Outta Compton world premiere - Getty Images
Who would of thought a group of young brotha's from the hood, would live long enough to see the story of their lives played out in theaters worldwide?  Being young and dealing with peer pressure, puberty, school and trying to fit in can be difficult. When you add the standard or living conditions, family dynamics or lack-there-of, education, opportunity and the surrounding environment of which a person lives...these factors can ultimately have a positive or negative effect on how they will turn out.
The biopic Straight Outta Compton: The Story of  N.W.A. gives a shocking, but brutally honest look at what it was like to grow-up South Central L.A. It also proves that no matter what your circumstances are, you can make it, be successful and change the world. Living in Compton, Calif. surrounded by destruction, drugs, gang violence and dirty cops gave Eric Wright, Andre' Young, O'Chea Jackson, Lorenzo Patterson and Antoine Carraby all the lyrics they needed.  Together they formed  N.W.A., vividly and explicitly painting of picture of their reality through Gangsta Rap.
Their truth was ugly and though many could relate to their story, N.W.A.'s music made others very uncomfortable and stirred up a ton of controversy.  The fact is they came into history during a turbulent time in America and like it or not, people needed to know what was really going on in the hood.  Named after their 1988 debut album "Straight Outta Compton," go see their story.
Their only sad story...is in the loss of Eazy-E, who died in 1995 from complications of the AIDS Virus at the age of 31.  If he were still with us, he would of been 52-years old today. The former dope dealer, was on his way to turning his life around.  He found fame with the success of his label Ruthless Records and N.W.A. He's credited for creating countless artists, including Bone Thugs-N-Harmony and selling millions of records until his life was cut short.  Four days before his death, the rapper drafted his final message to his fans.
DJ Yella and MC Ren are both highly responsible for the success of huge N.W.A. singles. Ren has always been a prolific song writer and penned most of Eazy's debut album, among other monster hits for the group, their solo projects, as well as his own music.  In fact, he may be dropping something new before the end of the year.  DJ Yella was and still is an incredible producer and worked independently and side-by-side with Dr. Dre creating mega hits for the group as well as other rap groups of the day.  Without Yella on the 1's & 2's N.W.A. wouldn't have had the stage presence they had either. or They are also still doing it big in music from forming labels, production, song writing and signing artists to DJ gigs, films and much more!
Last but not least Ice Cube, one of Hip Hop best lyricists and greatest storytellers.  At 46-years old the rapper/song writer/producer/actor has also changed the game in film. Bringing us more than 25 blockbuster movies like all the Friday flicks, Barbershop and Are We There Yet?, to his most recent Ride Along.  Cube is a beast of a director and film maker.  If he didn't make it, he's starred in more 40 major movies throughout the years such as  Boyz n the Hood, XXX: State of the Union, Torque, Higher Learning and on and on!  He's even conquered TV, with sitcoms, specials and documentaries airing in prime time slots on ABC, TBS and Showtime.
Tune into The Peoples Station 107 Jamz and LISTEN LIVE for Tha Wire to air twice a day, every weekday at 12:50 p.m. and 3:35 p.m.