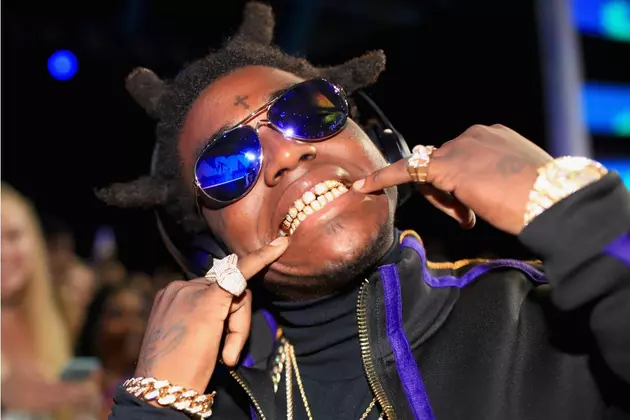 Georgia Teacher Suspended for Homework Assignment With Kodak Black Lyrics
Christopher Polk, Getty Images
Using rap songs in a classroom is often times a tricky proposition. One Georgia middle school teacher recently found out the hard way when he was suspended for giving his sixth-grade students an assignment featuring lyrics from Kodak Black's verse on A Boogie Wit Da Hoodie's platinum-selling single, "Drowning."
As reported by Atlanta news station, WSB-TV 2, Crishana Wright, contacted the station after finding a teacher at DeKalb County's Bethune Middle School had given her daughter Kalani a worksheet with explicit lyrics. The homework involved replacing Kodak's sexually explicit, racial slur-laden lyrics with "positive" words.
"It was really against everything I try to teach them, you know?" Wright told the station. "I'm reading all these words and I immediately asked her why she had this and she said it was an assignment."
In images of the worksheet, we can see some of Kodak's lyrics from the track. It reads, "Just bought a brand new chain from Avianne/Nigga with attitude but I ain't from Compton/Lil Kodak, bitch, I'm Polo'd down like Carlton/Sniper Gang I put a nigga on a carton/I'm the shit I'm fartin', I don't know how to potty."
Wright's daughter quickly noticed that bit of homework wasn't a typical assignment. "I saw that and I was like, 'My mom would be mad,'" she explained.
While Wright understood the ostensive purpose of the assignment, she didn't see any way it could be turned "positive," other than telling students they shouldn't do the things Kodak's talking about on the song. She quickly brought the lyrics to the attention of the school district, and the superintendent issued a statement.
"The assignment was inappropriate, unacceptable and contrary to our standards," reads the superintendent's statement. "The employee responsible has been removed from the classroom and will be held accountable for such poor judgment. While we encourage teacher creativity, the expectation is that the instruction is always standards-based and age appropriate."
Watch the news story covering this incident below.
See Behind-the-Scenes With Kodak Black at 2016 XXL Freshman Class Cover Shoot