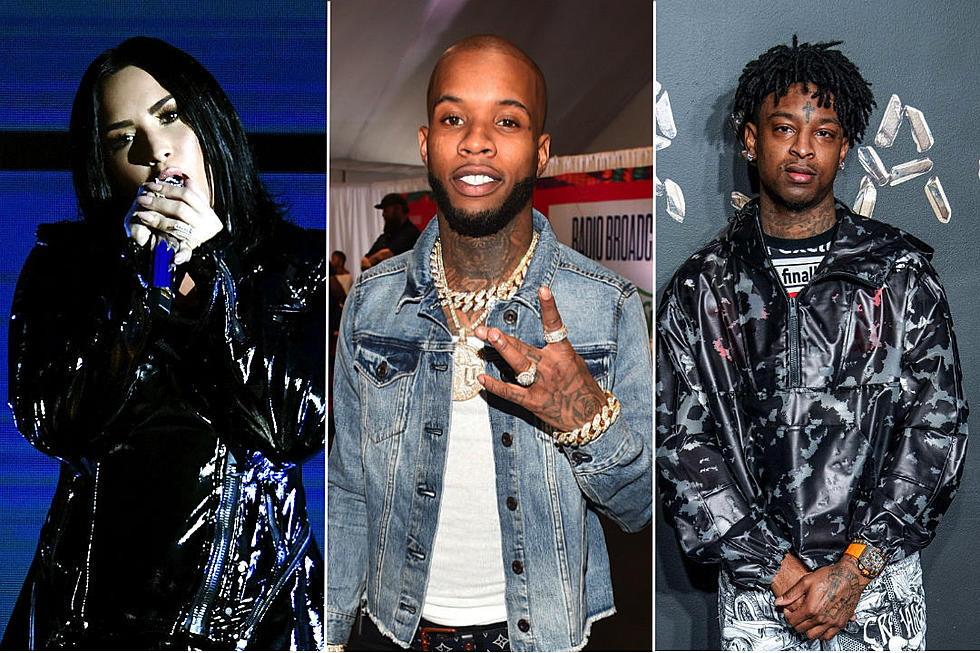 Tory Lanez Defends Demi Lovato for Saying She Enjoyed 21 Savage Arrest Memes
Kevin Winter / Alberto E. Rodriguez / Roy Rochlin, Getty Images (3)
People have been coming at Demi Lovato's neck after she tweeted that the memes about 21 Savage's ICE arrest were her "favorite part of the Super Bowl," but Tory Lanez isn't here for the slander. During his Instagram Live session on Monday night (Feb. 5), the Toronto artist came to Lovato's defense.
"I'm not feeling this whole come for Demi Lovato thing, b," Lanez said on IG Live. "I'm not feeling it! Some niggas really don't watch the Super Bowl, my nigga! And I'm not gon lie—that shit's wild entertaining, nigga! I'm not for this whole come for Demi Lovato thing!"
Lovato's original tweet about the memes was posted during the 2019 Super Bowl on Sunday (Feb. 3). The tweet read, "The 21 Savage memes have been my favorite part of the Super Bowl." The singer/actress later deleted the tweet amid heavy backlash, and tried to explain her thought process.
"Wasn't laughing at anyone getting deported. I know that's not a joke," she wrote. "Not have I EVER laughed at that. The meme I posted/was talking about was of him being writing with a feather pen. Sorry if I offended anyone. But it's no excuse to laugh at someone's addiction let alone their OD," Lovato said in her Instagram story."
In response to Lovato's original tweet, Kei Henderson, who works as one of 21 Savage's co-managers, posted a tweet that made it clear she wasn't cool with what the singer had to say.
"Damn. We was def Demi Lovato fans. When she was going through her shit, I remember being on the tour bus and Savage said I hope she make it through that shit," Henderson wrote. "People r weird bro."
Check out what Tory had to say on Instagram Live below.
                     See Tory Lanez's Different Looks Over the Years