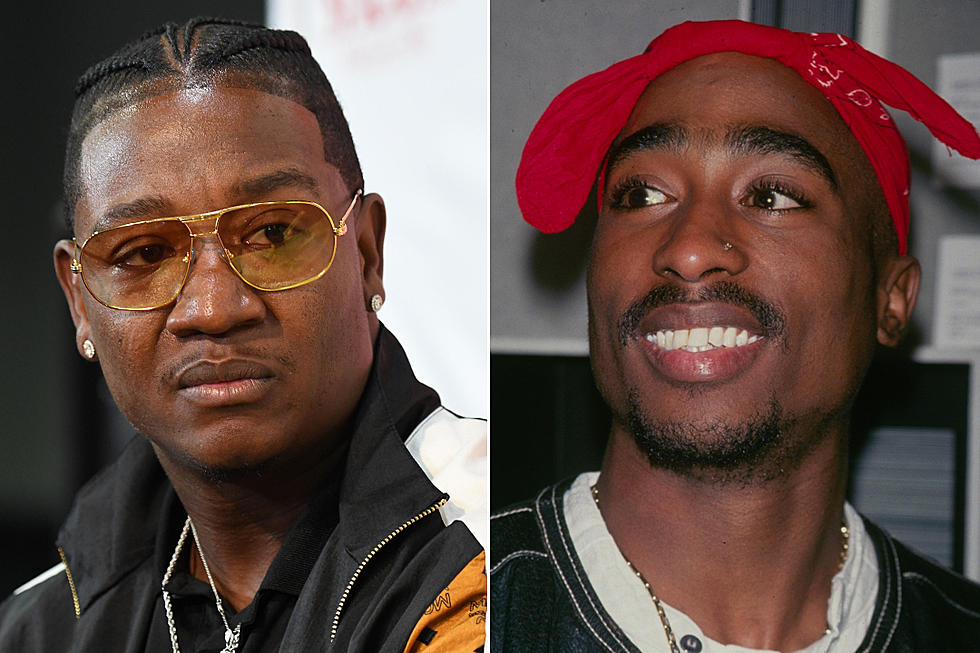 Yung Joc Gets Tupac Shakur Image Designed in New Haircut
Paras Griffin / Time & Life Pictures , Getty Images (2)
Yung Joc has become known for his outrageous hairstyles over the years. The rapper-radio host is more than aware that his technicolor hairdos get the people going, but the latest creation on his head is guaranteed to break necks across the country.
On Sunday (March 24), Joc reposted a video of his new haircut, which includes the likeness of Tupac Shakur, to his Instagram story.
In the video, we can see Joc's bright lime green braids are tied up so that nothing obscures the perfect view of 'Pac's face on his head. The image was inspired by Shakur's role in the 1992 film Juice. Rob The Original, who is the person responsible for Joc's new cut, has also delivered cuts that depict artists like XXXTentacion, Queen Latifah, J. Cole, Trippie Redd and DJ Khaled.
The new cut comes three months after Joc challenged Usher Raymond, who also recently debuted his own unique hairdo. The R&B singer attempted to rock the Hair & Fleek for New Year's Eve, which was similar to the Love & Hip-Hop Atlanta star's. After Usher got roasted for his cut, Joc issued a King of Hair & Fleek challenge to see who could wear the style the best.
"[Usher] needs to keep the look beyond just a transformation for his party if he even wants to be considered for the title," Yung Joc told TMZ in January.
Check out Yung Joc's new Tupac-inspired cut below.
See 10 Rappers' Purchases That Broke the Bank