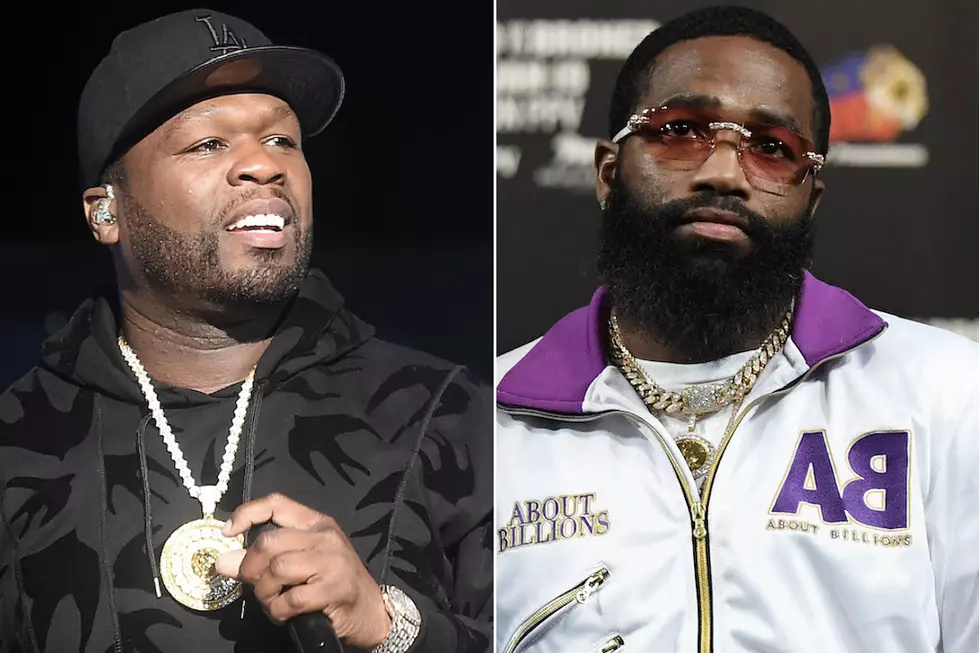 50 Cent Says "F*!k" Adrien Broner: "Have Something for Me by Monday"
Jamie McCarthy / Ethan Miller, Getty Images (2)
50 Cent wants another celebrity to pay up.
On Monday (June 17), Fif and former welterweight champion boxer Adrien Broner got into a war of words on Instagram.
Broner jumped on his Instagram account and called for Fif to loan him $1 million. "@50cent you blocked me, Nigga, I need to borrow a million punk ass nigga call me," Broner wrote in a post. The boxer's social media post is seemingly just another entry into a steady stream of jokes about Fif's alleged monetary loans to celebrities that have come to light over the past few weeks.
In response, 50 reposted Broner's message on his IG account and admitted that he did block Broner—but for a good reason. "Fuck you AB, we still mad about that money you made us lose on ya fight," the rapper wrote. "Yeah I blocked your ass because you fucking up the money."
50 then went into the comment section and offered up what's become a familiar refrain for him at this point: "Have Something for Me by Monday."
Broner shot back with another IG post, writing, "Fuck you too @50cent and we can fight to solve our differences," and adding a brown middle-fingered emoji for good measure.
During that hangout session, which Bow Wow was part of, Fif accused Bow Wow of stealing stacks of cash that was intended for the dancers. 50 Cent demanded that Bow Wow pay him back—by Monday of course. "Oh shit, this little Nigga BOW WOW took the Money home with him. @antthaladiesman get him before I kill EM," he wrote on his IG account on June 12.
Check out 50 Cent and Adrien Broner go tit for tat on Instagram below.
Peep The 26 Hip-Hop Albums You Need To Hear This Summer