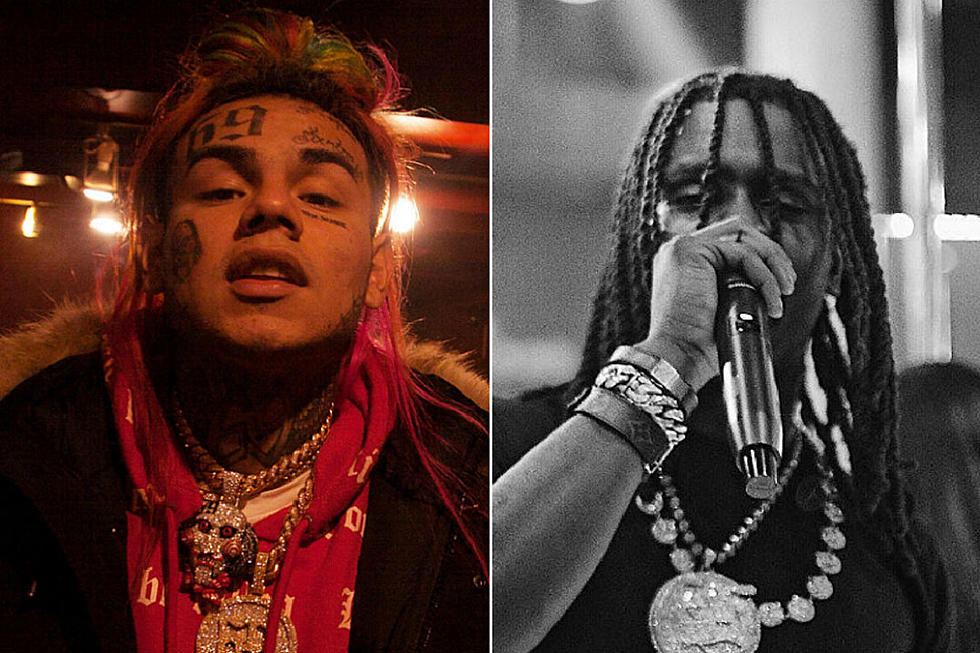 6ix9ine Identified Associate in Attempted Chief Keef Shooting: Report
Johnny Nunez, Getty Images / Benny Flash
UPDATE: XXL initially reported that 6ix9ine was testifying against one of his associates in the attempted Chief Keef shooting, but that isn't necessarily the case. He has reportedly identified one of his associates as a shooter in the attempted Keef shooting, but there's no word on whether or not he is testifying against said associate.
Three associates of 6ix9ine have just gotten hit with indictments for the federal racketeering and firearms charges the rapper had previously been indicted for. One of those associates has also been indicted for their alleged role in the attempted Chief Keef shooting last summer.
According to a report from TMZ, Tekashi has "dropped a dime" on his associate and identified him as the gunman in the attempted shooting.
Law enforcement sources tell the celebrity news site that Kintea McKenzie, Anthony Ellison and Denard Butler have been indicted, and that McKenzie is reportedly the person responsible for the attempted Keef shooting back in June 2018.
McKenzie, known to 6ix9ine fans as Kooda B, was reportedly indicted because 6ix9ine spoke with investigators and told them McKenzie was the shooter. The celebrity news site also says Tekashi paid McKenzie $10,000 to handle the shooting after he offered $20,000 to begin with. McKenzie has not yet been apprehended by authorities.
As previously reported, there was an investigation into 6ix9ine's involvement in the attempted shooting, which happened after his public beef with Keef one month earlier. Supporting that belief was a leaked video showing a conversation between 6ix9ine and Keef's cousin Tadoe. In it, 6ix9ine claimed to have a "30 pack" on Tadoe, leading police to believe that Tadoe was the original target of the attempted Keef shooting outside of a New York City hotel. "30 Pack" was thought to mean $30,000.
This news arrives just a bit over a week after Tekashi appeared in court for his pre-trial conference. It was expected that Tekashi would apply for bail during the hearing, but that didn't end up happening. Speaking with XXL, Tekashi's attorney Dawn Florio explained that it was the removal of 6ix9ine's attorney Lance Lazzaro that led to the postponement of their bail application.
"The lawyers for two of the defendants raised issues of conflict of interest that Lance Lazzaro had represented two other co-defendants in the case and the judge removed him from the case until the conflicts could be waived by Mr. Hernandez and also by [6ix9ine's co-defendants'] respective clients," explained Florio, who is still operating as one of Tekashi's lawyers.
She continued, "So until that could be done, Lance is not representing Daniel Hernandez [6ix9ine] right now because of what happened, of course, we're going to postpone the bail hearing until Lance can come back on the case."
XXL has reached out to Tekashi's attorney for comment on reports that he's involved in the attempted Chief Keef shooting case.
See Photos of 6ix9ine on the Red Carpet and More