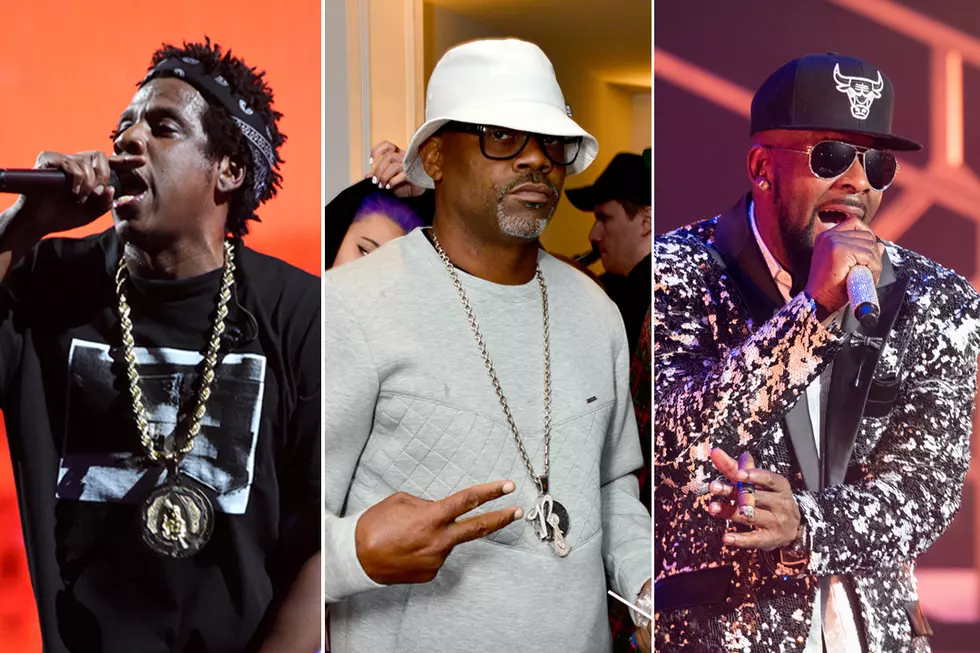 Dame Dash Admits He Looked the Other Way When Jay-Z Collaborated With R. Kelly
Kevin Mazur / Jerod Harris / Noam Gala, Getty Images (3)
Earlier today (Jan. 8), Nick Cannon posted a snippet of his upcoming Cannon's Class podcast episode with Dame, and in it, the entrepreneur admitted that he looked the other way when Jay-Z began working with Kelly, who had married Dame's then-girlfriend, Aaliyah when she was just 15 years old.
"So what you think I felt. I'm human bro. I had to look the other way, all these years," Dame says. "That nigga did a record with the nigga that raped my girl, that he liked as well. But no one said nothing," Dame continued.
The rest of the conversation, or at least the snippet Nick Cannon provided, finds Dame and Cannon speaking about the nature of business relationships and friendships before they reach the subject of R. Kelly, a person whose abuse allegations have once again come into light following the premiere of Lifetime's Surviving R. Kelly docuseries. Cannon addresses the way that Dame was still affiliated with Roc-A-Fella when Jay collaborated with Kelly for their Best of Both Worlds joint album. Dame, who'd been engaged to Aaliyah at the time of her death in 2001, also recalls having a difficult conversation regarding the late singer's relationship with Kelly.
"I remember having the conversation with Aaliyah, and I was like, 'Yo, tell me what happened,'" Dame recalls. "And she was just like, 'Leave it alone.'"
See what Dame and Nick Cannon have to say for yourself just below.
See 20 of Your Favorite Rappers Naming Their Favorite Rappers