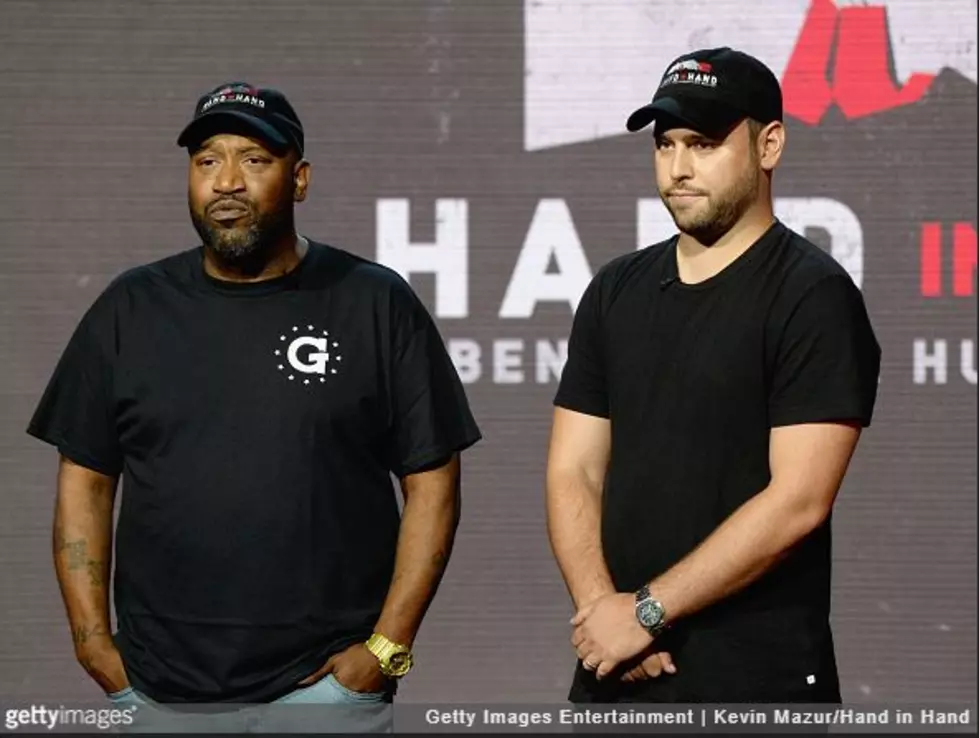 Hand In Hand Telethon Raises More Than $44 Million – Tha Wire
Bun B and Scooter Braun - Kevin Mazur via Getty Images
Today in Tha Wire big up's to UGK legend, Bun B, and Justin Beiber's manager Scooter Braun. The two teamed-up and within a couple of weeks pulled off an epic fundraiser. The all star event went down last night and for the first time in almost a year, this country pulled together. There's been a lot of animosity across the nation, especially after the 2016 presidential election. Everyone has picked a side, and the nation has been divided ever since then.
Race issues, and political party feuds have been at the forefront of American news for months. Yet two weeks ago, all of that drama kinda went out the window. Hurricane's Harvey and Irma, as tragic as they were, helped us see one another for who we are....HUMAN BEINGS. Funny how tragedy brings us together, isn't it? However sometimes we all need a wake-up call. Sometimes we take our lives, and the things we have for granted. When a natural disaster occurs, we discover it doesn't matter how much money you have, how important you think you are, or who you know. We all have the same basic needs: family, food, a home, a car, a phone, water, and gas. Pretty much everything you think about during a natural disaster like the aftermath of a hurricane.
One thing about mother nature, she doesn't care about how much money you have, what color you are, nor which political party you identify with. All the money in the world can't help you if there's no gas, when flood water is chest deep, or electricity is out citywide. You can't go anywhere whether it be a plane, train or automobile. You stranded just like EVERYONE else. You are sitting in the dark, and hot just like EVERYONE else. During national disasters like Harvey and Irma, we find it easy to relate to one another, because we're ALL in the same boat.
Tuesday September 12, 2017 America stepped up, and the rest of the world we do know how to love each other. It's that love that helped make Bun and Scooter's Hand In Hand Hurricane : A Benefit For Hurricane Relief ,a major success. According to reports the telethon raised over $44 million dollars in one hour! That is certainly wonderful news, and will go a long way to help those affected by the hurricanes. Meanwhile celebs, everyday citizens, businesses, and major corporations have donated and pledged massive amounts of money to further progress.
Big props to everyone who's stepped up thus far. The damage price tag from Harvey and Irma is estimated to be well over $200 billion. That said, more money is needed to reach the mark. If you wish to donate to hurricane relief, do so here. We will keep you posted on further fundraising efforts, as details are made available. As for the latest entertainment news, get the daily scoop with Tha Wire on The People's Station 107 Jamz.