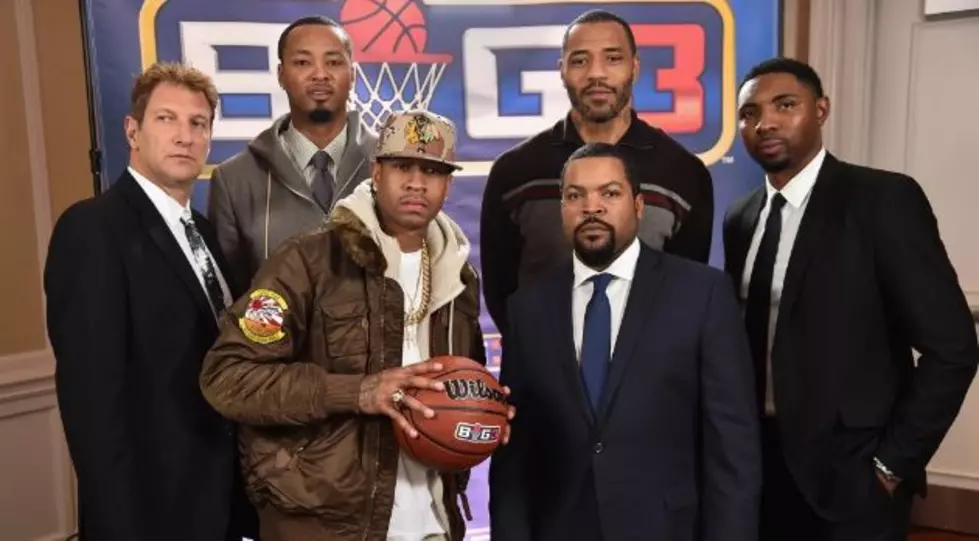 Ice Cube And A.I. Launch New Pro 3-on-3 Basketball League, BIG3 – Tha Wire
Ice Cube BIG3 - michael Loccisano via Getty Images
BIG3
is a 3-on-3, pro basketball league, featuring some of the biggest Ex-NBA ballers the game has ever seen.
According to reports the big announcement was made this week and behind the BIG idea is none other than rap icon/actor/movie director, Ice Cube.  Cube explained at a press conference in New York this week what inspired his idea to launch the new league saying,
"It sucks to see your favorite players retire. There's nothing good about it, especially when you know they still got game." The Hip Hop legend said, "My father always told me if you don't think big, you will always be small. So, we came up with a big idea. It was to bring a style of basketball that I grew up playing, watching, and loving, which is 3-on-3 basketball."
By the way BIG3 already has a 2017 schedule laid out, and the first game jumps-off this June! So it's going down.  Cube is also gearing up for a massive draft this March and he's reportedly hoping to gain the interest of other retired basketball greats like Kobe Bryant, Vince Carter,  Paul Pierce, and maybe even Tracy McGrady.
FYI the brand new 3-on-3 bball league will be made up of eight teams, with five players and their looking at 10-week season that's scheduled to begin on June 24.  Wow!  This is exciting and a great idea.  Can't wait to see the first game.