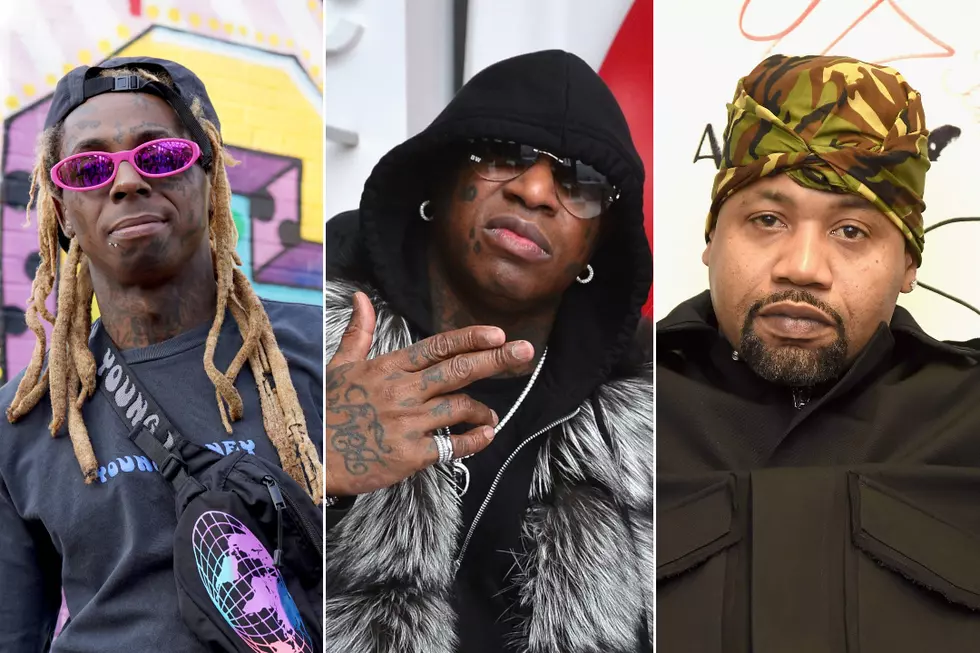 Lil Wayne and Birdman Reunite on New Song "Ride Dat" With Juvenile: Listen
Gonzalo Marroquin / Noam Galai / Gary Gershoff , Getty Images (3)
A trio of the original Cash Money millionaires are back on the block with a brand new song.
On Thursday (Aug. 29), Birdman and Juvenile dropped their new song "Ride Dat" which features Lil Wayne. It's the first time Lil Wayne and Birdman have reunited on wax since their ugly legal battle over Tha Carter V kicked off in 2015. The song has a classic Louisiana sound that allows Baby and Juvie to spit effortlessly over the bouncy beat.
Juvie kicks things off on the mellow Carl Paul-produced single. "You hear the crickets and birds chirping that's paradise/Penthouse suit on reserve, we dining candlelight/Don't like that lying shit, I'm the one you confide with/Victoria Secret her secret, God, quit hiding shit," he raps.
Baby bats second. "Big paper, one size, kept me one in the hand/Niggas know the rules, we'll kill for them bands," the Big Tymer spits.
Wayne steps in towards the end to lay down his grimy raps alongside his childhood crew. "Ride this dick don't fall baby, Sippin' lean like Paul Wall baby/And the pussy better be bald-headed, Fat like Star Jones baby, got a nigga star-gazing," Wayne raps at the beginning of his verse.
The release of "Ride Dat" is more evidence that Lil Wayne and Birdman have put their legal troubles behind them. Back in 2015, Wayne sued Birdman and Cash Money for $51 million because he was allegedly short-changed on royalty payments and not given advances. Three years after he filed the lawsuit, Wayne was finally released from his longstanding contract with Cash Money. Not long afterward, Birdman pulled up to Wayne's 2018 Lil Weezyana Fest, publicly apologized for the drama he caused him and performed with Wayne like they were taking over for the '99s and the 2000s.
"Ride Dat" also marks the impending arrival of the sequel to Birdman and Juvenile's Just Another Gangsta. Earlier this summer, Birdman made the announcement on Instagram and even included a release date. However, the sequel has yet to drop.
Listen to "Ride Dat" with Lil Wayne, Birdman and Juvenile below.
See 55 Hip-Hop Albums Turning 10 in 2019