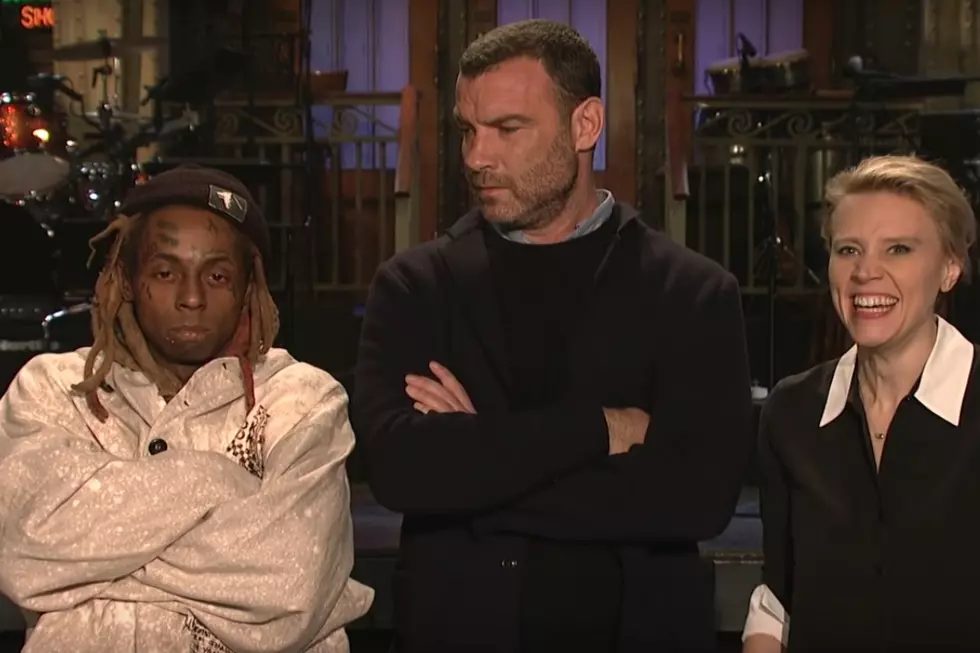 Lil Wayne Imitates Actor Liev Schreiber in Hilarious 'Saturday Night Live' Promo
SaturdayNightLive via YouTube
Lil Wayne is more than ready to take over Saturday Night Live this week. Yesterday (Nov. 8), the "Uproar" MC appeared in the official episode teaser with host Liev Schreiber and cast member Kate McKinnon, and he had jokes for seasoned actor.
In the clip, McKinnon tells the I Am Hip-Hop award winner to show the people his impression of Schreiber. That's when Wayne transitions from his grill-gleaming smile to his extremely serious mean mug.
Along with joking around with the SNL crew, Wayne is also expected to take the stage to perform. Maybe he'll call on Shiggy once again to help bring his "Uproar" challenge to life onstage.
This won't be Wayne's first time performing live on NBC's variety show. Back in 2010, Weezy hit the SNL stage with Eminem to perform their single "No Love." He also performed songs like "Got Money" and "Lollipop" on SNL in 2008.
In other Weezy news, the Young Money CEO plans to lends his vocals to Mike Will Made-It for the upcoming Creed II soundtrack. In an Instagram post uploaded last month (Oct. 22), Mike Will, who is curating the soundtrack, teased a preview of Wayne's vocals that will appear alongside the likes of Rick Ross and Kendrick Lamar on the soundtrack.
"DWAYNE CARTER VOCALS ARE IN, AND ARE CURRENTLY BEING MIXED & MASTERED... CAN I GET AN AMEN, #CREEDIISOUNDTRACK," Mike WIll wrote in the caption of the Instagram post.
While we wait for the soundtrack to drop later this month. Watch Lil Wayne imitate Liev Schreiber in the SNL teaser below. Check out Weezy's performance on the latest episode of SNL when it airs tomorrow (Nov. 10) at 11:30 p.m. EST.
See Photos of Lil Wayne's Different Looks Over the Years