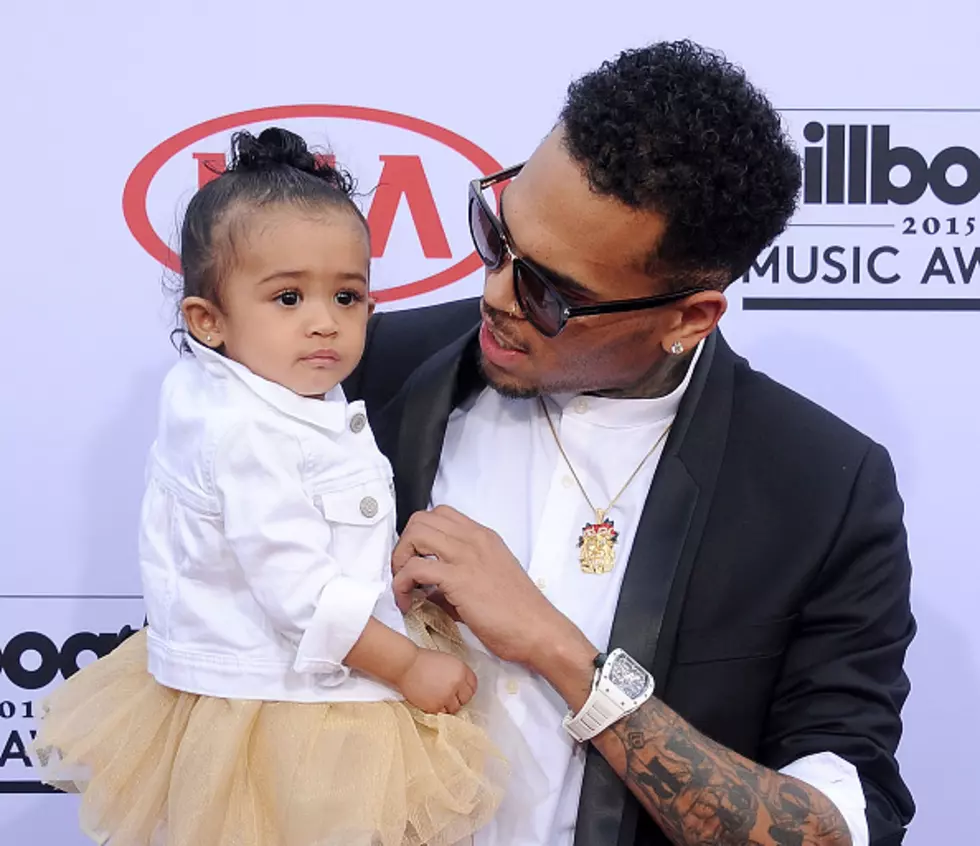 Nia Guzman Fears For Daughters Safety, Files For Chris Brown To Have Supervised Visits -Tha Wire [VIDEO]
Getty Images
The Boom Box reports, Chris Brown is having some major baby mama drama. The singer is currently seeking to establish paternity of his 1-year old daughter Royalty.  The baby's mother, Nia Guzman receives $2, 500 a month in child support, but apparently that's not enough.  In early July she filed for additional support and requested that she receives up to $15,000 per month.  According to TMZ Breezy ain't having it and in a fight to keep the payments were they are, he filed for paternity in Houston in hopes of establishing custody.
In  addition, the singer is trying to get a judge to rule on clear custody guidelines so that he can see his daughter on a regular bases.  In light of the support dispute, the Grammy Award-winning entertainer claims Guzman refuses to let him see their daughter and he wants that to change.
Now comes word Nia Guzman has filed more papers, this time in an attempt to make Chris have supervised visits when he's with their daughter.  TMZ's reporting Royalty's mother is trying to gain full custody by claiming she doesn't think the child safe around her dad.
Guzman is alleging the 26-year old singer has a substance abuse problem and is too irresponsible to care for their daughter.  With Breezy's home invasion last month still fresh on everyone's mind, she may be able to persuade a judge to rule in her favor.
Though L.A. family court lawyer Scott Weston isn't representing Chris, he told The Boombox, the recent home burglary could be a big problem saying,
"[The court] can see this as he isn't providing safety for this child and that it's not in best interest for her to be there because it's not secure. Also, that he doesn't have enough security. The [home invasion] can certainly play a role and show that his daughter is at risk.

 

This also bolsters the mother's need to have the child live in a gated community with full-time security and added protection so that her child is not abducted or taken for monetary purposes."
The lawyer also warned, the robbery can also point to the fact that the singer hangs out with the wrong crowd and bring into question whether he's should allow those people in his house.
Meanwhile all Chris Brown can do legally, is wait for a ruling to come down on his paternity suit. Once he gets that, he can turn around and fight for joint or full custody of his daughter.  He may also wanna use this time to do some house cleaning in the friends department to rid himself of anyone that could hurt his chances.
One things for sure, fatherhood looks good on the singer.  Now-a-days Royalty is all he talks about and he's constantly showing his baby girl off to fans on Instagram.  On Sunday (Aug. 2), Breezy posted an adorable snapshot of his toddler with the caption she's "the best thing in my life."
Hope it all works out for him.  For even more news on Tha Wire, LISTEN LIVE to The Peoples Station 107 Jamz and find out what celebs are celebrating birthdays today.