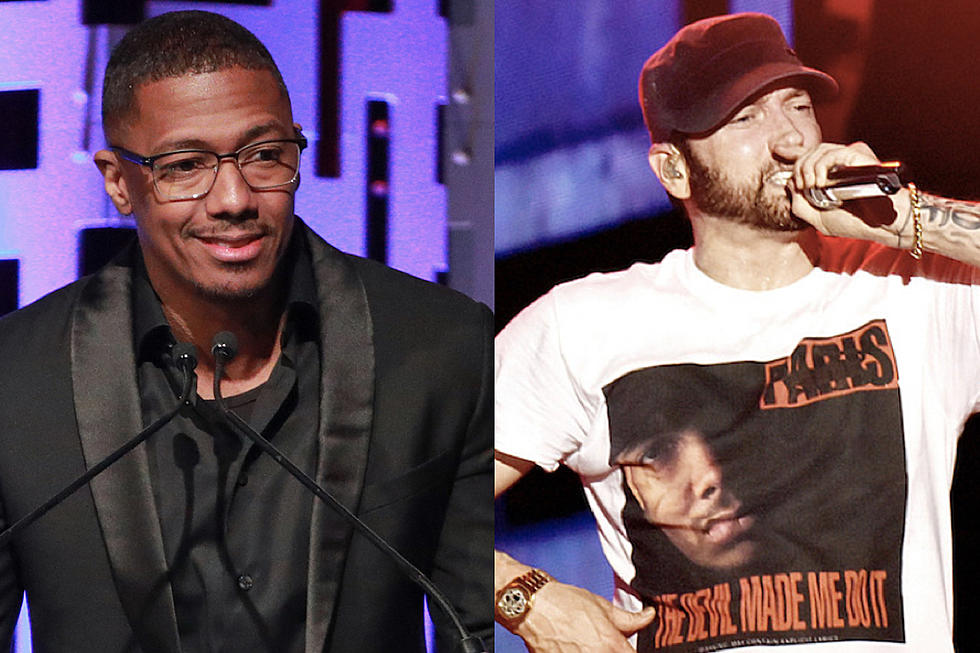 Nick Cannon Claims He Won Eminem Beef
Rich Fury / C Flanigan, Getty Images (2)
On Thursday morning (Dec. 12), Nick jumped on Twitter and announced his victory. "@Eminem I won!!!" he wrote in a tweet. "This has been fun. Now back to your regularly scheduled programs."
Although Nick feels he's the victor in his rap beef with Slim Shady, fans are seeing it a little differently. Many people are clowning the Wild'N Out creator for thinking he won with what they have deemed are his two subpar diss tracks, "The Invitation" and "Pray for Him."
"You won what? you got clowned hard and he didnt even have to drop a song lol," wrote one fan. Another person tweeted, "Won? You didn't even win best bars on your own "diss" tracks. You don't even qualify for a participation trophy."
So far, Eminem's only response to Nick was on his own Twitter account last Monday evening (Dec. 9). "U mad bro? Stop lying on my dick," he wrote in the tweet. "I never even have a chauffeur, you bougie f*ck," he added, referencing to Nick's verse on "The Invitation," where he alleges that Em's chauffeur has video of him "sucking a cock."
In another tweet, Em demanded an apology from Nick. "I demand an apology Nicholas," he wrote, "you've made my gardener so jealous!"
Read tweets from fans who think Nick Cannon is delusional in thinking he won his rap battle against Eminem below.
See 21 of Hip-Hop's Most Unfortunate Rap Beefs
[gallery galleryid="812:526524" galleryindex="0" template="xxl" showthumbs="yes" enablefullscreen="no" ids="526734,526730,526731,526732,526733,526735,526736,526737,526738,526739,526741,526742,526743,526745,526746,526747,526748,526749,526750,526751,526740,619513"]