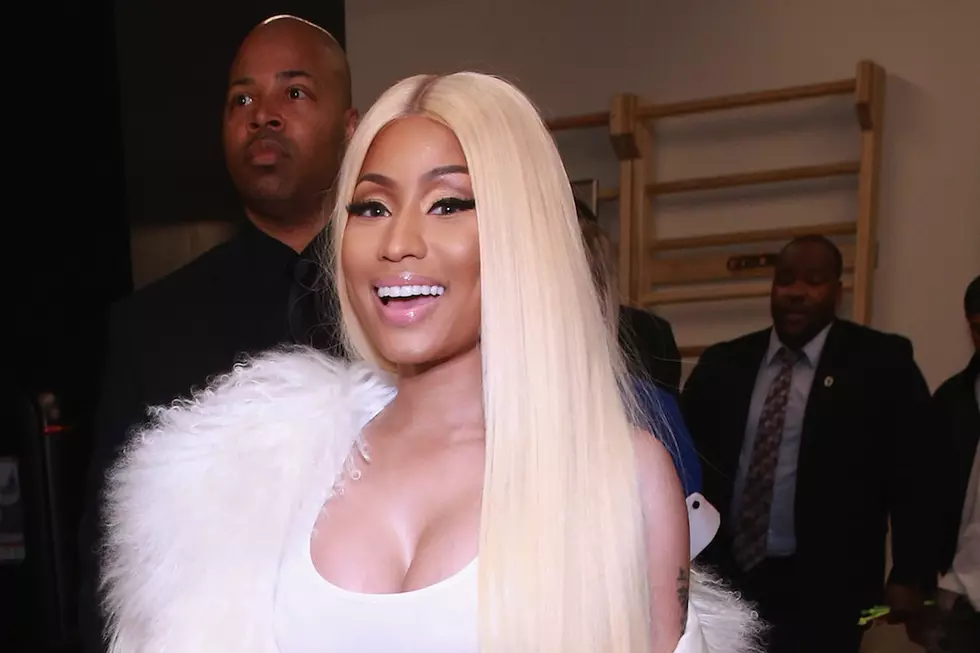 Nicki Minaj Brother's Rape Case Takes Dive After Victims Brother Testifies – Tha Wire
Robin Marchant, Getty Images
Today in Tha Wire things just took a turn for the worse, in the Jelani Maraj
rape case. Jelani is the older brother of rap superstar, Nicki Minaj. As previously reported the 38-year old was accused of repeatedly raping his stepdaughter in 2015. She was only 11-years old at the time. Long Island authorities arrested Jelani in December that same year, however the a little help from his famous sister, he wasn't in custody long. Shortly after being booked, Nicki put up his $100,000 bail and he was released from the Nassau County Jail.
The Sun reports Maraj was later indicted in April 2016. His charges include predatory sexual assault against a child, first-degree rape, first-degree sexual conduct against a child, and endangering the welfare of a child. The young girl told authorities that Jelani had raped her from April, right to the day before he was arrested.
Bossip reports in May of 2016 authorities obtained a search warrant, and recovered the victims semen stained pants from his residence. Analysis from the county Medical Examiner's Office concluded the DNA found on the child's clothing could only be a match, for one man, out of 291 billion. Immediately thereafter the prosecution got a court order and forced Maraj to be tested. Jelani's defense attorney, David Schwartz, went into attack mode, and suggested the victim's family was trying to extort money from Nicki. Schwartz went on to accuse Jelani's wife, Jacqueline Robinson, of planting his DNA on her daughters clothes for police to find.
Speaking of which, a couple of months later the DNA results came in and revealed Jelani Maraj was a perfect match. According to Bossip Anthony Pirri with the Nassau County D.A.'s Office, stated they offered Maraj a deal of 15 years to life. So far it's unclear if he took it, but a trial date for his sentencing was set for November.
Meanwhile, the victim's 10-year old brother testified in court. He offered damaging testimony that he actually caught Jelani raping his sister. The Sun reports the boy was 8-years old at the time. He stated at the last hearing, that he knew something "wasn't right" when entered the room. The young boy continued with the disturbing details saying, "What happened was I was looking for [her]," he continued. "My pencil broke and I didn't have any others." He said he seen his sister's pants were "around her ankles."
The Sun reports the young boy further testified, "I saw [Jelani's] underwear close to his knees," he added. "I thought it wasn't right. It looked weird to me so I ran upstairs." He went on the say that Jelani came after him and, threatened him to stay quiet. He told the court his step dad hit him in the face several times, and told him he'd never see his mother again he told her.
The boy said Jelani later slapped him in the face multiple of times, threatening that if he said anything to his mother, he would never see her again. During cross examination, David Schwartz, asked the child, "You would agree that when the light is not on, the room is very dark?" To which the boy answered. "Yes." I doubt if that's going to help his client any. There's a tremendous amount of evidence, proving Maraj is guilty. Plus testimony from the physician who examined the victim, didn't make things any better for him. The Sun reports Dr Aaron Miller took the stand and answered questions about the young girls medical records. He stated, "I can say with a reasonable degree of certainty that [the girl's] medical exam can prove penetration."
Yeah, it's not looking good for Jelani at all. I'll keep you posted with further details on the case, as they become available. For the latest entertainment news, listen to Tha Wire daily on The People's Station 107 Jamz.