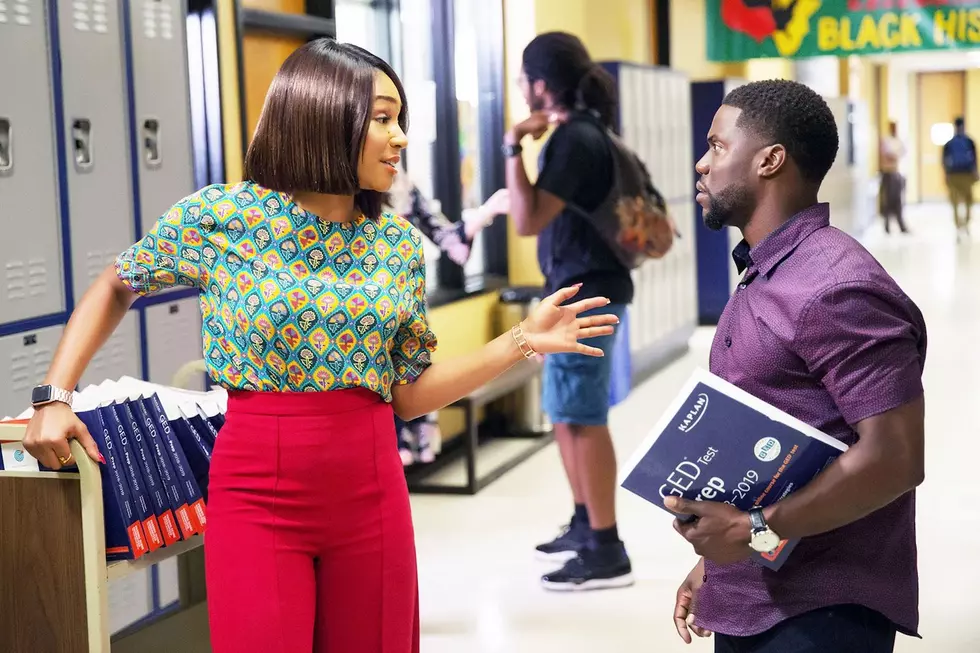 Weekend Box Office: 'Night School' Schools the Competition, Lands at Number One
Universal
| | | | | |
| --- | --- | --- | --- | --- |
| | Film | Weekend | Per Screen | Total |
| 1 | Night School | $28,000,000 | $9,302 | $28,000,000 |
| 2 | Smallfoot | $23,020,000 | $5,573 | $23,020,000 |
| 3 | The House With a Clock In Its Walls | $12,510,000 (-53%) | $3,483 | $44,765,225 |
| 4 | A Simple Favor | $6,600,000 (-36%) | $2,148 | $43,066,808 |
| 5 | The Nun | $5,435,000 (-46%) | $1,632 | $109,018,048 |
| 6 | Hell Fest | $5,075,000 | $2,209 | $5,075,000 |
| 7 | Crazy Rich Asians | $4,150,000 (-35%) | $1,768 | $165,681,775 |
| 8 | The Predator | $3,700,000 (-60%) | $1,265 | $47,634,251 |
| 9 | White Boy Rick | $2,385,000 (-51%) | $1,182 | $21,714,781 |
| 10 | Peppermint | $1,770,000 (-52%) | $884 | $33,536,908 |
I like to think of the world divided into two time periods: there's pre-Girl's Trip and post-Girl's Trip. Since last summer, we've been blessed to be living in a post-Girl's Trip era full of Tiffany Haddish. The Haddish domination continued this past weekend as Night School exceeded opening weekend expectations and topped the chart with $28 million.
The Malcom D. Lee film, which follows Hart going back to school to get his GED and Haddish as the adult school teacher, also earned an A- CinemaScore. The comedy cost about $29 million to make and outpaced the weekend's other wide release, Smallfoot, which had a budget of about $80 million. The animated musical landed at the number two spot with $23 million and also earned an A- CinemaScore from audiences. The weekend's other new release, CBS Films' horror thriller Hell Fest landed in the sixth spot, taking in $5 million.
The weekend brought big news for the Conjuring franchise: The Nun has made more money worldwide than the original Conjuring! The Taissa Farmiga-led spinoff earned $5 million in its fourth weekend domestically, but overseas it made $16.2 million. That brings the film's total global earnings to $330 million – the first Conjuring made $319 million worldwide. The original 2013 movie still reigns supreme state-side, but The Nun is officially the highest grossing film in the Conjuring universe. Can we expect some spooky nun spinoffs now? 
In some more major news for Warner Bros, Crazy Rich Asians also just became the sixth highest grossing rom-com ever. Its domestic gross reached $165 million, nudging it past The Proposal ($163 million).
At the specialty box office, National Geographic's Free Solo was the biggest success. The documentary about the first free solo climb of Yosemite's El Capitan vertical rock had the best screen average of the year so far. The doc took in $300,804 from just four locations and had a per-theater-average of $75,201, pushing it past this year's previous record holder surpassing Eighth Grade with a $63,071 PTA. David Lowery's The Old Man and the Gun, which may (or may not, who knows!) be Robert Redford's final role opened to $150,000 on five screens.
Gallery – The Highest Grossing Movies In History: