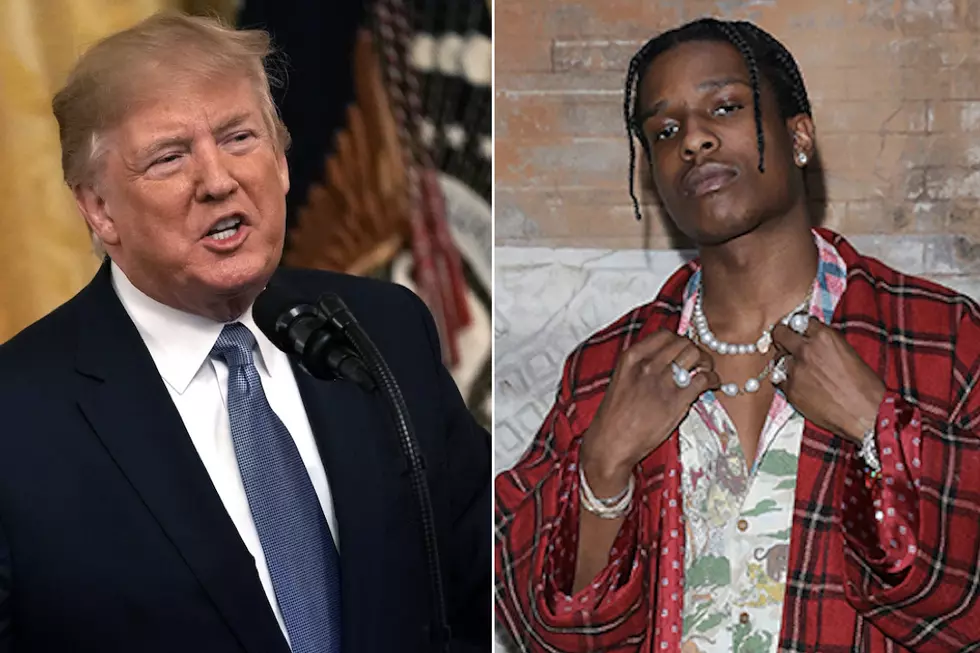 President Trump Calls Sweden Prime Minister in Defense of ASAP Rocky, Offers to Personally Vouch for His Bail
Alex Wong / Vittorio Zunino Celotto, Getty Images
It looks like President Trump has stayed true on his word that he would intercede in the A$AP Rocky situation to try and get a positive outcome for the rapper who is sitting in a Swedish jail while authorities investigate a fight he was involved with in Stockholm.
On Saturday (July 20), No. 45 tweeted an update about the situation, and said he had a productive conversation with Swedish Prime Minister Stefan Löfven on the matter.
"Just had a very good call with @SwedishPM Stefan Löfven who assured me that American citizen A$AP Rocky will be treated fairly," Trump posted. "Likewise, I assured him that A$AP was not a flight risk and offered to personally vouch for his bail, or an alternative."
Trump said the negotiations are not complete and will resume within the next couple of days. "Our teams will be talking further, and we agreed to speak again in the next 48 hours!" he added.
Rocky has been locked up abroad since July 2, after he turned himself in to police to be questioned about a street fight he was involved in that went viral. He was subsequently detained by police and has been denied bail while police look into the matter. The man Rocky fought with on camera is also reportedly being investigated for his part in the alleged crime.
Trump released a statement on the situation on Friday (July 19). "A$AP Rocky is a situation in Sweden, a great country, and friends of mine and the leadership," Trump said. "And we're going to be talking to them, we've already started. Many members of the African-American community have called me, friends of mine, and said can you help? I personally don't know A$AP Rocky, but I can tell you he has tremendous support from the African American community in this country. When I say African American, I think I can really say from everybody in this country because we're all one. I have been called by so many people asking me to help A$AP Rocky."
Check out Trump's latest tweets below.
Read 10 Wild Stories That Took Place During Hip-Hop Tours