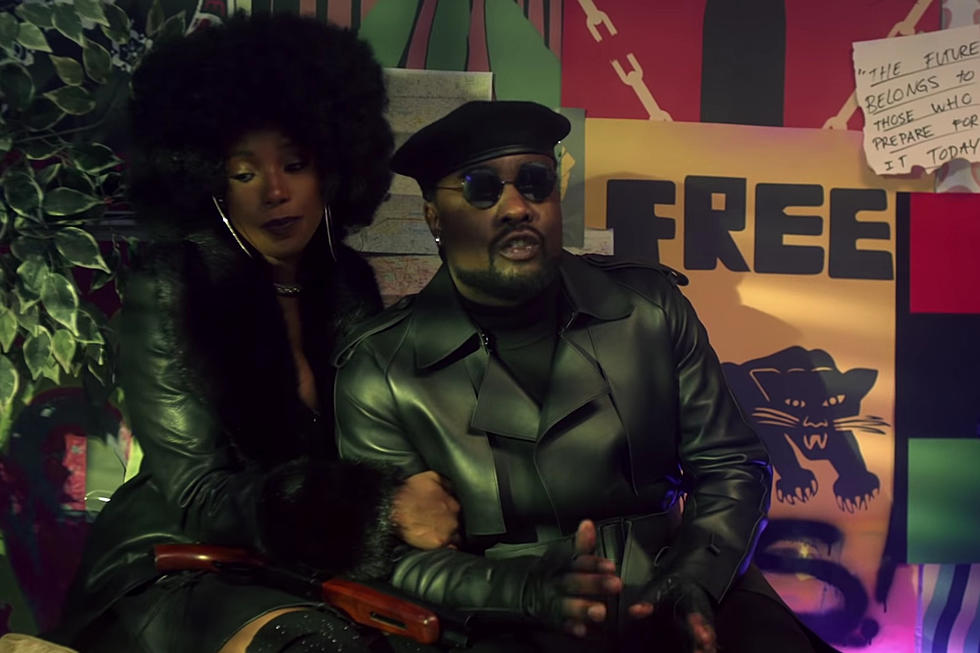 Wale Plays a Black Panther in New "Black Bonnie" Video With Jacquees
Wale via YouTube
Wale gets political in the new music video for the Jacquees-assisted song "Black Bonnie" released today (July 31).
In the Yasha Gruben-directed visual, the Washington, D.C. rapper tells the story of a romance that reincarnates itself across time. In the first act, Folarin dons Black Panther garb and protects his lover amid protests and F.B.I. raids. His opening verse depicts a relationship built around revolution and riches that name-drops the sitting president.
"Let's go to Neiman's, let's go to Lenox/Spend a whole check and run a play to get the next one/Let's create the vibe, let's not take our time/Let's spray paint the Trump Towers, letters U and I/It's you and I 'til it's suicide/Or 'til the cracker pull us over, ain't no one around, bang/We woke, shawty, protest and party/I know you love nostalgia, I got you Barney's," he raps.
As the song goes on, the video reunites the couple decades later as different characters, and then again in modern day—something like a sci-fi Bonnie and Clyde. In his second verse, Wale adds that the song is equally devoted to adult actress Bonnie Rotten as to Bonnie Parker.
Watch Wale's "Black Bonnie" video below.
See Photos of Wale's Different Looks Over the Years