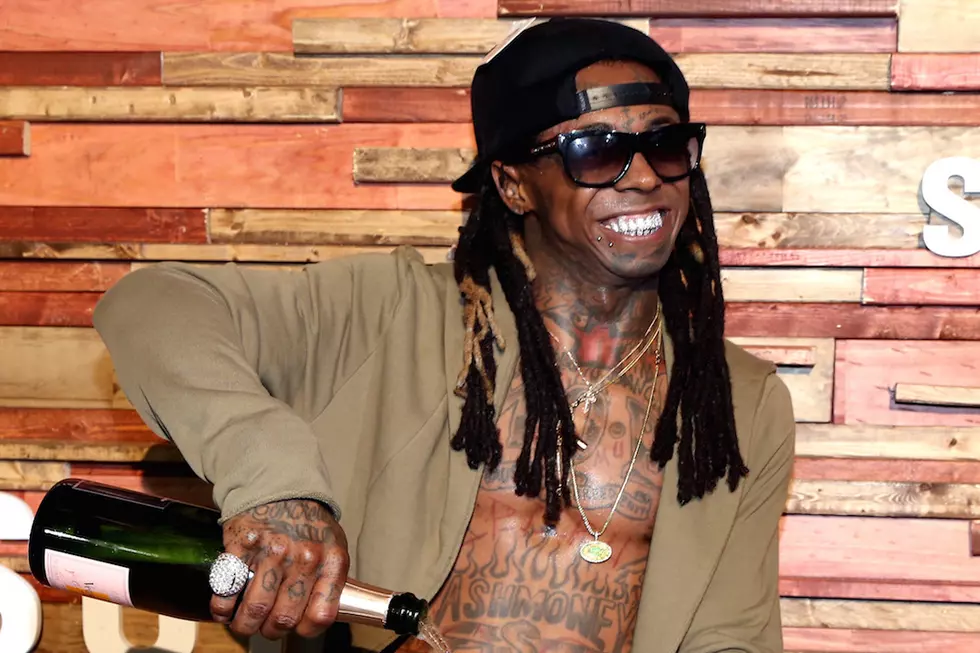 Weezy's Former Tour Bus Driver Sues Him, Young Money, Birdman & Young Thug – Tha Wire
Jonathan Leibson, Getty Images
Today in Tha Wire Lil Wayne's former tour bus driver, Alvin Lewis, has hit the Young Money MC and his label with a lawsuit.  According to reports Lewis is suing over the April 26th bus shooting incident.  He was a driving the tour bus carrying Lil Wayne and his entourage, when it was sprayed with bullets after the rappers concert at the Compound nightclub in Atlanta.
Rapper Peewee Roscoe, born Jimmy Carlton Winfrey, was the shooter and pursued the tour bus after he and Weezy exchanged words at the club.  At the time of the shooting, he drove his white Camaro up alongside the bus, which was traveling on Interstate 285, and opened fire.  The tour bus was riddled with bullet holes, yet somehow no one was injured. The Atlanta Journal reports Peewee was also the former tour manager for Young Thug, who at the time had a very public feud going on with Wayne.  Though Police said the 25-year old was a gang member looking for street cred, it's also been alleged that he was carrying out a hit for Baby.  To be clear, that accusation was never proven.
The Cobb County D.A.'s Office reported that Peewee, pleaded guilty to six charges and was ultimately sentenced to 20 years, 10 of which he will serve in prison.  Alvin Lewis claims that doesn't change the fact that whatever beef he and Wayne had, nearly cost him his life.  That's more or less the basis behind the lawsuit and he's not only suing Peewee, but Lil Wayne, his label Young Money, but Birdman and Young Thug too.
By the way a detailed police indictment, released after the shooting revealed that Peewee had placed calls to Birdman and Thugger.  Though both rappers have denied putting a hit out on Wayne, the indictment suggests they had something to do with the shooting.
Meanwhile Lewis is seeking an unspecified amount in damages and I'll keep you posted on any further developments on this story.
Finally, in an update on Kanye West.  The rapper is reportedly still in the hospital and apparently, because he wants to make sure he's good, before checking out.  As previously reported Kanye was admitted into the UCLA Medical Center last week, after suffering a mental/nervous breakdown.  According to the latest reports, Kanye underwent a psychiatric evaluation and being treated for dehydration, sleep deprivation and exhaustion.
Sources say the rapper goes days without sleeping and that the lack of sleep had a lot to do with his recent rants and bizarre behavior.  The biggest issue they say...is the fact that he's never gotten over the loss of his mother, Dr. Donna West, who died in 2007. According the news he canceled his show on November 20th show, because that date marked the anniversary of her funeral.
A few days afterward he was admitted to the hospital for acting erratically at his personal trainer's home in L.A.
This has been a stressful year for Ye, especially with Kim's robbery in Paris.  Sources tell E! News, "He needs to keep up with counseling even though he has an intense work schedule. He is just really drained and still weak."  The insider went on to explain "Kim is being patient and staying by his side. They both have been through a lot but are staying strong as a married couple and helping one another get back up."
With that we wish him the best and a speedy recovery.  Tune in for the latest in entertainment every weekday and only on The Peoples Station 107 Jamz.