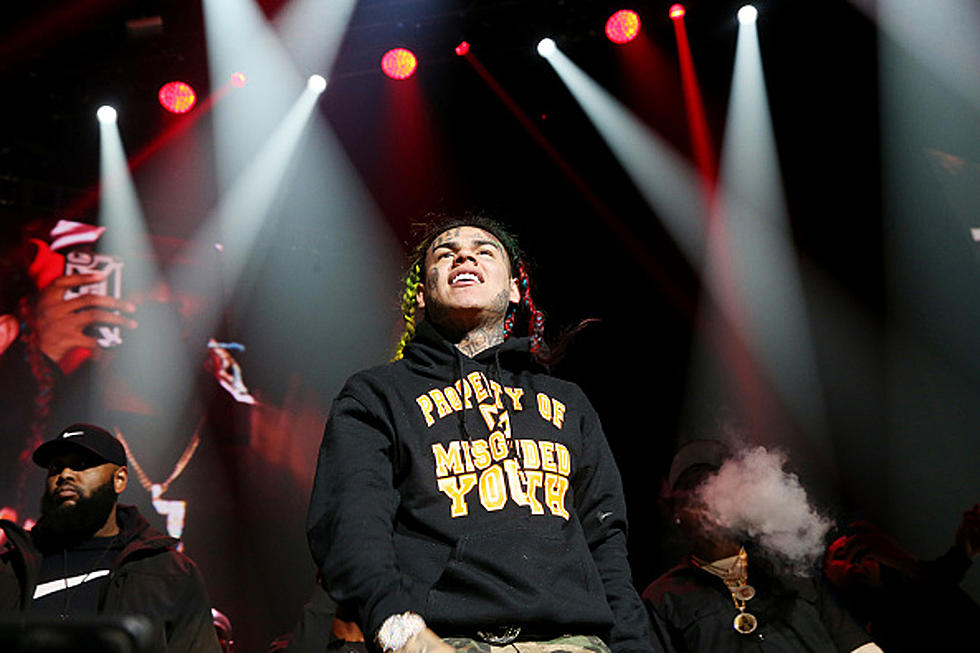 6ix9ine Pleads Not Guilty in Federal Racketeering, Firearms and Drugs Case
Bennett Raglin, Getty Images
Just a little over a week ago, at 7 p.m. EST on Nov. 18, U.S. federal agents arrested Brooklyn's 6ix9ine and a few of his associates on various federal racketeering, weapons and drugs charges. During an arraignment hearing at Manhattan's Thurgood Marshall United States Courthouse Monday afternoon (Nov. 26), the rainbow-haired rapper pleaded not guilty to the charges.
Walking into the courtroom in a navy blue, federal detention-center-issued jumpsuit, the embattled rapper was joined in the juror's box by three other reputed members of the Brooklyn-based Nine Trey Gangsta Bloods, including Jamel "Mel Murda" Jones, Kifano "Shotti" Jordan and Jensel "Ish" Butler. 6ix9ine sat on the last row while the other three men sat next to each other.
Toward the beginning of the hearing, which lasted just a bit over an hour, 6ix9ine and all three other men pled not guilty to the charges. The trial date for the case is all set to begin on Sept. 4, 2019, and a pre-trial conference will take place on Jan. 22.
During the course of today's hearing, prosecutors for the U.S. government began presenting the nature of their investigation and the methods they used to obtain information they will use against 6ix9ine and the rest of the indicted Nine Trey members, which include Jamel Jones (Mel Murda), Kifano Jordan (Shotti), Jensel Butler (Ish), Fuguan Lovick (Fu Banga) and Faheem Walter (Crippy).
According to the prosecutors, 6ix9ine's cell phone information was accessed when he crossed the border in March 2018. The government also secured evidence from an extensive search through his social media and iCloud accounts after they got the warrants to conduct the search. They obtained similar information from other members of the set.
At another point of the hearing, which was noted in part for the absence of Faheem Walter, who is still recovering from injuries he sustained in an Oct. 26 shooting, it was said that a July 16 shooting was intended for a Nine Trey member who had reportedly fallen out with the gang. Police allege that Tekashi was one of the Nine Trey members who ordered his shooting, and they learned of the Nine Trey member's location because he was on Instagram Live.
Authorities also cite Tekashi as being responsible for an armed robbery on April 3 while also being a part of the Barclays Center shooting on April 21. They say the shooting unfolded after Tekashi met a rival rapper (reportedly Casanova) who was set to perform for another boxer as said boxer entered the arena that day. 6ix9ine was supposed to perform for that boxer's opponent.
6ix9ine, who the NYPD has confirmed was transferred from Brooklyn Metropolitan Detention Center to another federal detention center, has been hit with six charges, including counts of racketeering conspiracy and using and carrying firearms he discharged in connection to the Nine Trey Gangsta Bloods.
The charges Tekashi faces are very serious ones, but his lawyer Lance Lazzaro believes he will make it out of this case completely fine. He said as much while speaking to XXL last week.
"I believe that the charges against him is an over-charge by the U.S. Attorney's Office and that when the facts come out I am confident that the charges will be dismissed as it relates to Daniel Hernandez Tekashi 6ix9ine," Lazzaro said.
6ix9ine hasn't been granted bail, but Lazzaro will apply for it directly to the trial judge. Because the trial date isn't for nearly one year, there is a good chance 6ix9ine will remain behind bars for the duration of the time until then.
6ix9ine faces 32 years to life in prison. XXL has reached out to Lazzaro for an additional comment.
See Photos of 6ix9ine on the Red Carpet and More