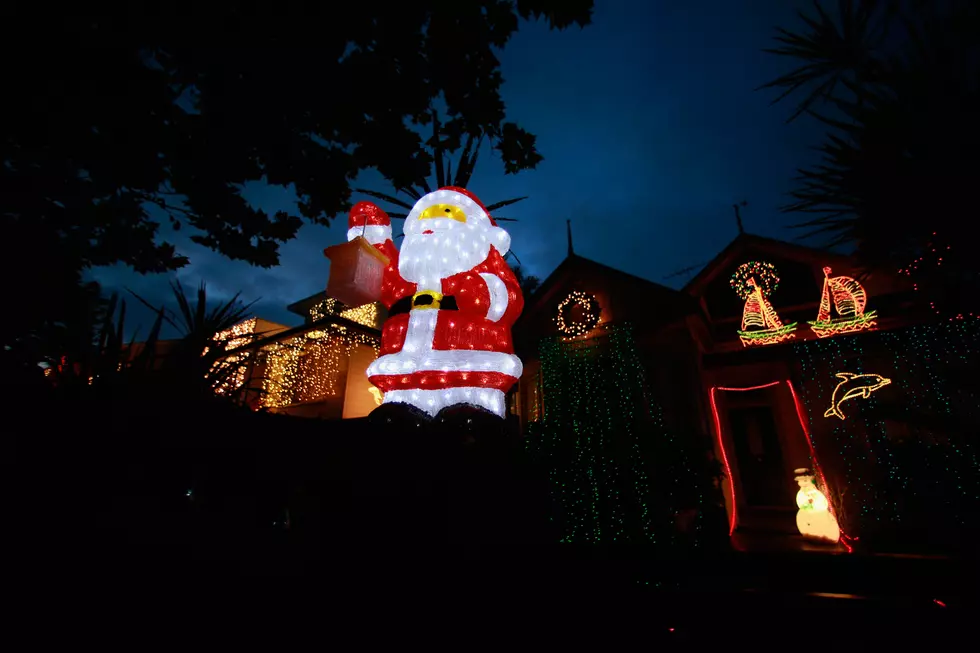 Erik Tee's Top 10 Christmas Albums For Your Collection [VIDEOS]
Getty Images
Well I already have a list of some of my favorite Christmas movies that I always look forward to watching. Now I decided to put together a list of some of my favorite Christmas albums. These are the ones that you need in your life. While there are numbered, this is just my interpretation of how the list would be ordered.
I have included classics like The Temptations and The Jackson 5, to some of the modern stars like Mariah Carey, Cee-Lo and more. Check out the list and always feel free to add yours as well, again this is my list. So any and everyone is welcomed to create their own list.
10. Luther Vandross- This Is Christmas: I am a big Luther Vandross fan and have to admit that when he passed there was a serious void left in the music game. This album featured one of my favorite songs "Every Year, Every Christmas". There is just something about the wording and the message of what Luther is saying and this album features plenty of great songs for years to come.
Luther Vandross- Every Year, Every Christmas:
9. Mariah Carey- Merry Christmas: Mariah came with the soul on this album and one of the most memorable songs on the album is call "Miss You Most". This talks about missing your loved one during the holidays and we all know when it comes to the holidays, you want to be with that someone special.
Mariah Carey- All I Want For Christmas Is You:
8. The Jackson 5- Ultimate Christmas:  If you don't have some Jackson 5 in your collection you are missing out. Of course there are the jams like ABC, Ben and more. But the younger generation is probably more familiar with their Christmas songs as they are played heavily twice a year. Some of my favorite songs were "I saw mommy kissing Santa Claus", "Santa Claus is coming to town",  and "Give Love on Christmas Day", which New Edition did later in the 80's.
The Jackson 5- Someday At Christmas:
7. The Temptations - Give Love On Christmas Day: This should probably be number one simply due to one song that we all love. That particular song would be "Silent Night" which features Melvin Franklin with his deep baritone voice that takes the song home. Everyone knows that the song has been done plenty of times before, but one The Temptations did it, there has not been one done that could take its place.
The Temptations- "Silent Night":
6. Boyz To Men- Christmas Interpretation: Although this song is well over twenty years old. It has one of my favorite songs that Brian Mcknight actually wrote and produced called "Let It Snow". I remember the video like yesterday and it showed the guys roaming in the snow in a place that seemed like the North Pole. They also had a song called "Share Love" and they actually did a version of "Silent Night" as well.
Boyz To Men -"Let It Snow":
5. Whitney Houston- One Wish: This showed Whitney Houston at her best, she had the vocals that made every song on the album. When you hear "Joy To The World", "The First Noel" and some of the other collectors on the album then you know that you have a classic album. Whitney's voice would make you like a Christmas album even if you were Ebenezer Scrooge himself.
Whitney Houston- "One Wish":
4. Stevie Wonder- Someday at Christmas: Stevie Wonder literally made one for the books with this album. One of the biggest songs on the album was "Ava Maria",  and "Someday at Christmas" This was a younger version of Stevie, but he made a great collectors for everyone whose a fan of god holiday music.
Stevie Wonder- "That's What Christmas Means To Me":
3. Christmas At Deathrow: While the title may not be the most appealing, one of the biggest songs off of the album is "Santa Claus Goes Straight To The Ghetto" featuring Snoop Dogg and Nate Dogg. This is possibly the first Christmas album that I have seen with a parental advisory sticker, but there are still some pretty good songs on the album all together including singers like Danny Boy, Michel'le and more.
Snoop Doggy Dogg- "Santa Claus Goes Straight To The Ghetto":
2. Luke- Christmas at Luke's House: You can't talk about Luke's Christmas album without talking about H-Town's "Knocking Boots for Christmas", this is a track that was released in the nineties and will last for decades to come as we have already seen some twenty years later.
H- Town- "Knockin Da Boots 4 Christmas":
1. Christmas Rappin:  This was a collection of songs from artist on the Profile label which had a roster of Run- D.M.C, Dana Dane, Sweet Tee and more. This was the first full Christmas rap album that I heard, but "Dana Dane is coming to town" and "Christmas in Hollis" are still gems that I Love to hear to this day.
Run- D.M.C- "Christmas In Hollis":
There may be several that I didn't list, but these are just some of my favorites. Let me know what makes your ipod list when it comes to Christmas music.