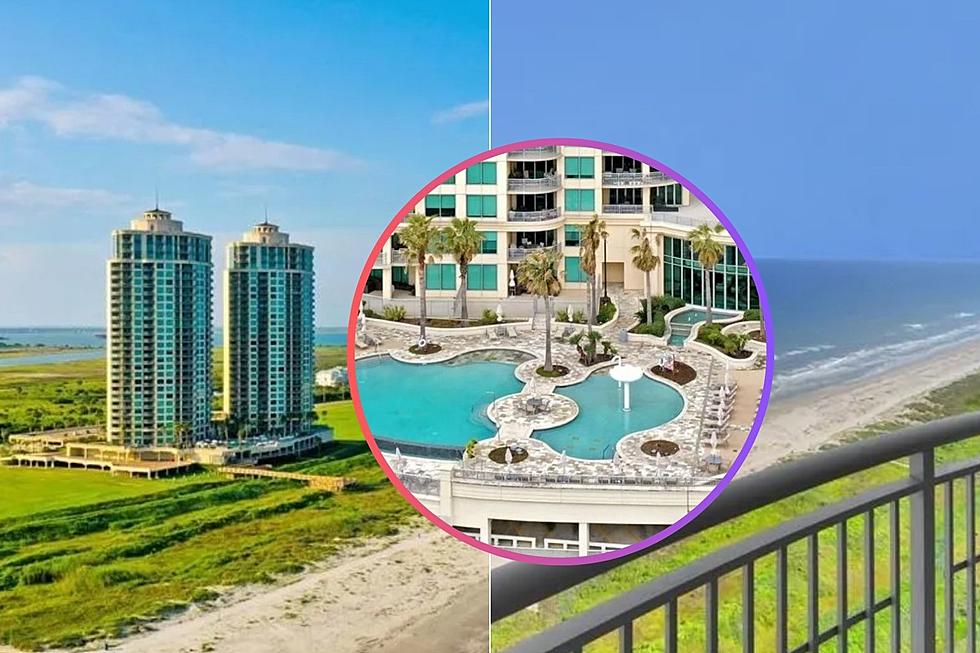 Breathtaking Beachfront Penthouse Listed for $3.9M in Galveston, Texas
Dawn Walther with HomeSmart/realtor.com
An absolutely stunning penthouse recently hit the market in Galveston, Texas. Listed for $3,950,000 by Dawn Walther with HomeSmart, the property is within the Palisade Palms condo complex, located at 801 E Beach Drive.
The penthouse can be found on the 28th floor and features panoramic views of the Gulf of Mexico and Galveston Bay from its six--yes, SIX, balconies.
You'll find four bathrooms and five-and-a-half bathrooms in the 5,616 square foot penthouse which, according to the listing, is actually a "coveted combination" of two floorplans. There's also a theater room, a study, a workroom, and a laundry room with beautiful views of the beach and bay.
As part of the Palisade Palms complex, the penthouse also has access to awesome amenities like a putting green, tennis and basketball courts, fitness center, and heated pools.
In addition to these luxury amenities, the penthouse comes fully furnished and with two reserved parking spots for its new owners. Check out the listing for 801 E Beach Drive #2804 ✨HERE.✨
LOOK: Gorgeous Galveston Penthouse Can Be Yours for $3.9M
Live a life of luxury at the 28th-floor penthouse of Palisade Palms on the beaches of Galveston, Texas. This perfect property,
listed by Dawn Walther with HomeSmart
, can be yours for $3,950,000.
UPDATE: Texas' Top 10 Most Expensive High School Football Stadiums in '23
There's a reason every good high school football movie is based in Texas. Here in the Lone Star State Friday nights are revered and our young men in football pads exalted to legends in their hometowns.
Spectacular $3.5 Million Home For Sale Near San Augustine, Texas
This beautiful home is perched on top of a secluded hill overlooking the 400+ acres that comes with this property.